When you move to a new place, it's super tempting to scrap everything and start all over with a moving detox. Especially when you're in the middle of packing and it would be easier to just scrap everything than haul it all with you. A new home feels like a fresh start and a chance to try out some new color schemes, styles, textiles, etc.
Sometimes, though, a full revamp isn't in the budget. But still, it just feels kinda wrong to set up the same exact stuff in your new place. Suddenly the stuff you loved before seems dated.
There are tons of small, cost-effective changes that you can do to freshen up the vibe in your new place. Spoiler: it doesn't involve getting all new furniture.
I've included some links below each suggestion with some great options for you. There's a super budget, regular, and semi-splurge pick for each.
the really small stuff
Each of these can be done for under $50, some of them well under that. Since they're so low cost, I would recommend switching them all up, but even a handful of these can make a big impact.
towels
No matter how you take care of them, towels always seem to get disgusting and faded and ripped up so fast. And then you get new random ones over time and end up with a stack of raggedy, mismatched towels in your bathroom. It's not cute. This goes for hand towels, kitchen towels, and bath towels. You can't have a luxurious, celebratory move-in bubble bath with those nasty ass towels.
Regardless of their condition, switching up the colors can add a needed refresh. You've gotten used to seeing the same color towels day after day, so a simple color change can make a big difference.
decorative pillows/pillowcases
I'm guilty of keeping the same throw pillows and pillowcases for far too long just because I think they're cute. The "fuck" pillow on my couch right now is literally 4 years old.
But no more, it ends with this move.
If you want to splurge just a little, you can get a $20-30 pillow at HomeGoods or TJ Maxx. But for an even more affordable option, Amazon has tons of really cheap throws and pillowcases. With the low cost, you can feel free to try out more daring trends.
Pro tip: if you're really with it, you can find fabric at the thrift store and sew up your own pillowcases.
shower curtain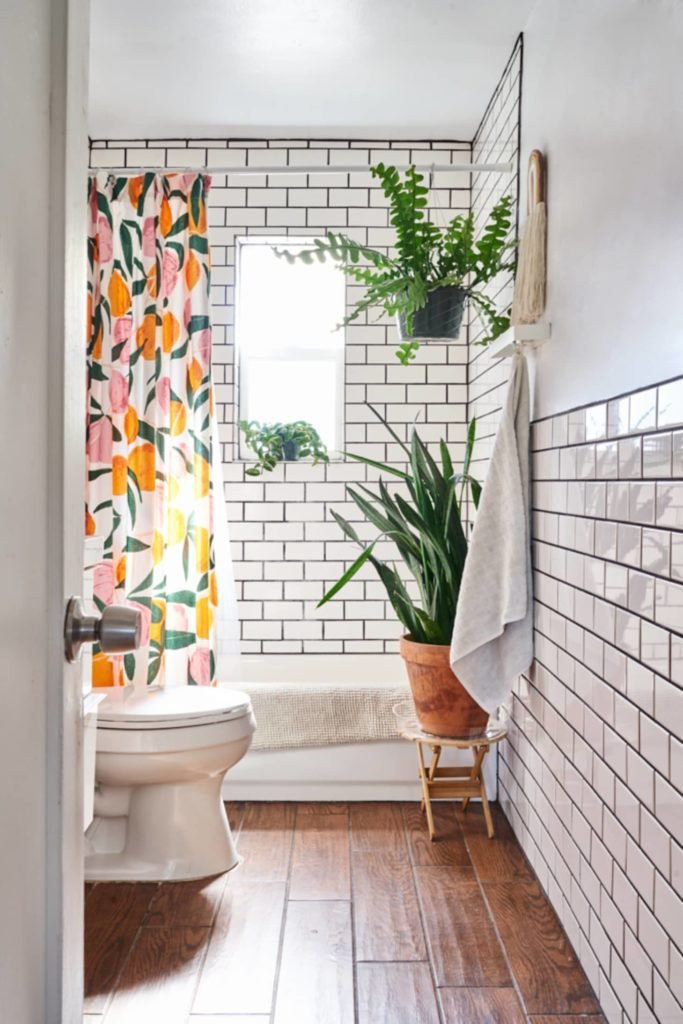 Just like kitchens, I feel like bathrooms get no love a lot of the time. Because there aren't a lot of obvious opportunities for decoration, the only place design happens a lot of the time is the shower curtain.
Hopefully you have other moments of design in your bathroom. But either way, changing out the curtain can really transform the space. Try to challenge yourself with a pattern instead of a plain color or simple gradient. A trend I have been loving is really textured textiles, so my goal in my new place is to find a really cool, thick woven one.
small pieces of art/decor
This one is super easy, and could potentially be the cheapest possible option.
Go around your house right now and take count of how many little nick nacks you have laying around. There are probably tons of little trays, trickets, and photos. And how many pieces on your gallery wall have you had there forever? So easy to replace but have such a big effect on the visual freshness of your house.
I know a lot of these little collected objects can be really sentimental, so keep those, of course. But rotate the placement between rooms and get rid of the non-emotional stuff. Thrift stores are the perfect place to look for stuff like this. Figurines, pieces of art, trays, random objects that you would never think of. And they'll be so cheap.
Sometimes, things can be worth the splurge, though. So if there's that fancy vase or key holder or whatever that you've been eying, use this opportunity to spoil yourself a little.
Just please, don't get a tapestry.
soap container
I talked in my kitchen post about how much of a difference something as simple as transferring your soap to a decorative dispenser can make. So whether you're still softsoap-bottling it up or not, moving might be a good time to get something new.
kind of a splurge, but not new couch-level splurge
Maybe you're at the point where you can't get any new major furniture pieces, but you're willing to spend a couple hundred dollars. Make your money go the longest by spending that the right way.
rugs
I have about 5 rugs in my house, and I make it a point to switch out at least one or two every single time I move. Because 1. they get so nasty, especially having a dog and 2. it allows me to totally change up the focus of the room.
When I first moved into the apartment I'm about to move out of, I had this big, dark gray rug. It did the job and was pretty cozy on the feet, but it just wasn't what I needed anymore. So I went on Amazon and found one for $50 with such a striking design that it totally made the room a space I loved.
For $50, it was honestly pretty decent quality (you can get it here if you want) but it definitely didn't feel like a $300/400 rug. For my next place, I'm going to invest in a higher quality rug that won't be quite as disposable, and hopefully I can find something that's just as much of a statement.
I don't want to categorize any of these as "budget" or "splurge" because it all depends on how big of a rug you want. So I'll just say option 1, 2 and 3.
lighting
A boob light doesn't do a room any good. If you have the expertise, switch that shit out right away for something with more of an impact. YouTube has tons of tutorials that can show you how to do it.
Or if you're scared to touch the wiring, can't blame you. There are still other ways to get some great new light sources. Of course, you could just go for a bomb ass lamp. Whether it's a table lamp or a big standing lamp, it can help to distract away from any not-so-cute light sources you have. Or add on to the cute ones you do have.
There are also lots of faux chandeliers out there. Instead of having to wire them into the ceiling, there's just a long cord that you plug into your wall. It's not as grand as a real ass chandelier, but hey it's no boob light.
Now go out there and don't let money get in the way of a good moving detox
Hopefully this gave you a little more guidance on how to do a broke bitch moving detox. On top of anything that I listed here, I think in general shopping secondhand is going to be your saving grace. You could maybe even find a whole new bedframe/dining table/couch for under $100, and thrifted things usually have more character anyway.
But if the thrift stores end up being a bust, at least you'll have these surefire ways to give your new place a little refresh.
At the time of publishing, I am just one day away from moving, so stay tuned for upcoming updates on the moving process and full decoration process. I'll be updating you guys both here and on Instagram.
keep it homey, homies