I'm a big proponent of DIYing. It's cheap, you're creating one-of-a-kind things, and it can be super sustainable if you're reworking old items. Plus it's just fun to flex your creative muscles. I've been dabbling with crafts since I was a little kid, but I never started with a "diy toolkit" per se. I just kind of picked up tools as I went. But I'm not sure if I'd necessarily recommend that. It's so much easier to have some basic tools on hand so you're all set to go when inspiration strikes.
So if you're looking to get started with — or get serious about — that DIY lifestyle, this list should be a good first step.
1. all different types of paint (and brushes)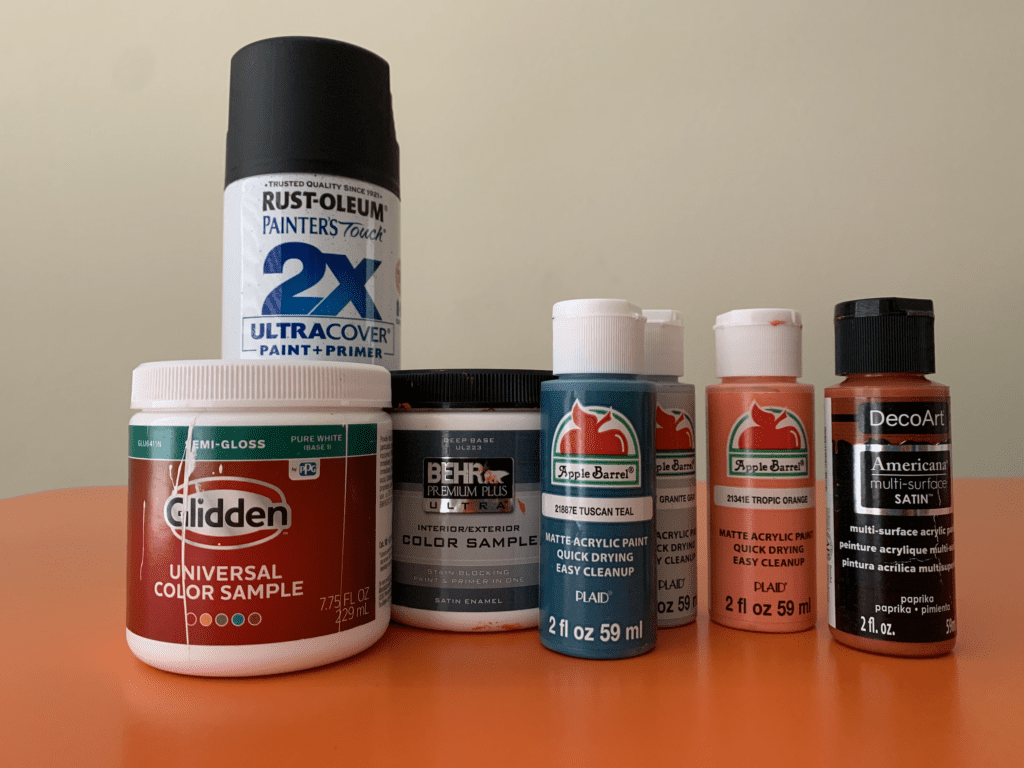 Paint is probably the most necessary DIY tool you could possibly think of, because painting something can have the biggest impact all by itself.
The most common paint that I find myself grabbing for during a DIY project is either spray paint, acrylic paint, or just regular paint that you put on walls.
A really great, cheap hack for paint is getting those really small samples from Home Depot that are between $3-4 each. You can't create any different shades of white than what it already comes as, but you can do any other color. Just pick you paint swatch from that huge wall of swatches, pick the sample in the finish of your choice, and you'll leave with a sample that's perfect for small projects like doors/doorways, tables, or frames. (That's what I used on all of those projects linked there).
2. painter's tape
Take it from someone who has learned from far too many fucked up DIY projects because I thought I didn't "need" painter's tape — you need it.
3. drill
I just recently (finally) got a drill and wish I would have just gotten one earlier.
If you're planning on doing heavy-duty projects like building or totally re-vamping furniture, a drill is an absolute must. And even for smaller things like mounting heavy pieces of artwork or hanging a pendant light, a dinky lil manual screwdriver is not going to cut it, and you're just going to strip the screws and hurt the hell outta your hands.
Plus, you just feel like a cool power tool girl (or guy) when you press the button a couple of times in the air.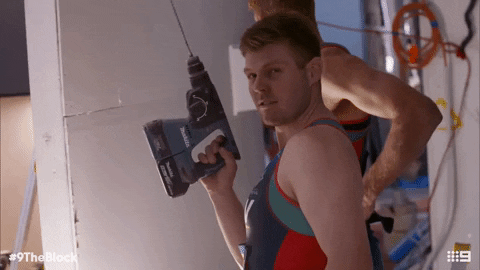 4. tons of nails
Just get a million of them. You never know when you're going to need them. If you want to hang up something you just made then realized you don't have nails so you have to go to the store just for nails, you're not going to be the happiest DIY-er.
The awesome thing about nails is that they're cheap as shit. You can get a ton of the little baby ones for just a couple of dollars at Walmart, Target, Meijer, etc., or you could "splurge" (literally just 5 dollars more) and get a bigger pack like this. Then you're set fo' life. Or for the next year or so.
5. mini hacksaw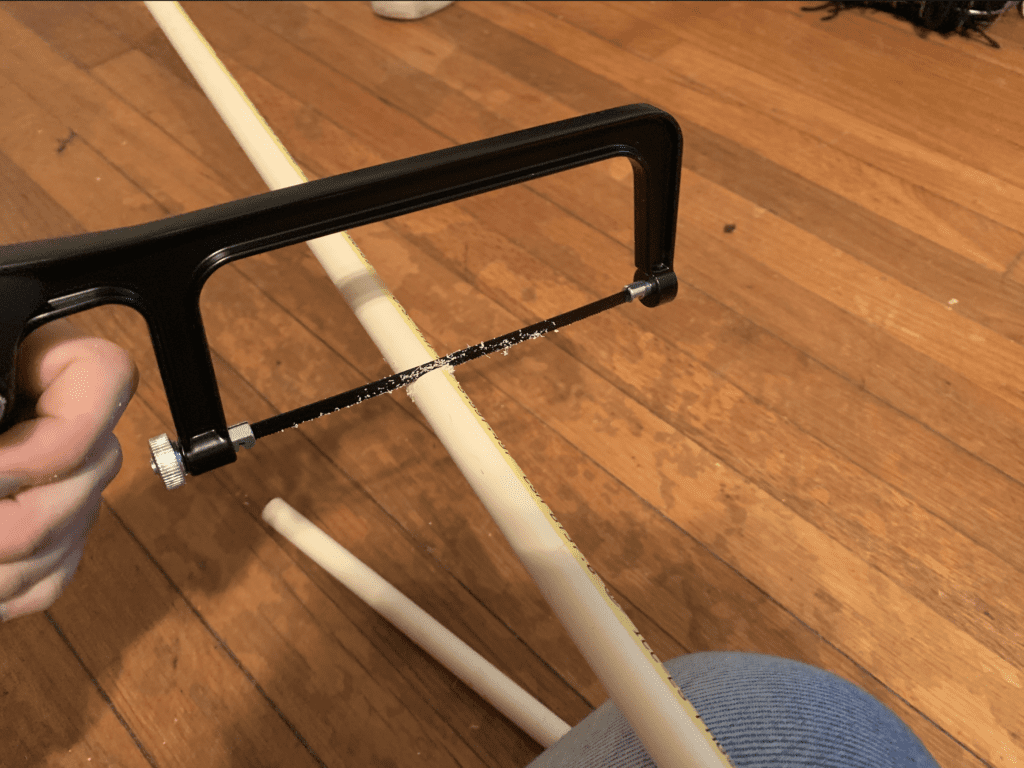 This was another recent addition to my diy toolkit.
Saws always scared me, because I thought, "oh that's not for me, I'm not ready for that." But guess what? I used it, it worked, and we all survived.
I actually recently used it for a little DIY project for my dog, and it was so simple, and surprisingly so cheap. (You can get the one I bought here).
It's nice to have it on hand to cut small little tidbits you need, like metal pipes, PVC, wood. You're not gonna be cutting any huge, thick pieces of wood with this (leave that to Home Depot, they will do it for you for free!), but it's perfect for those little projects.
And again, it kinda makes you feel badass to have a saw in your tool collection. One day soon we will graduate to a cooler saw like a circular saw or table saw.
6. x-acto knife
If precision is the name of the game, x-acto knife is your friend.
Scissors will only get you so far in the DIY world. The x-acto knife allows you to have a lot more control over the cuts you're.
You know how when you want to cut out the center of something with scissors, you have to fold it over and cut it and it always looks just a little funky? X-acto knives can easily and smoothly get in there.
It's also great for more irregular shapes that have lots of curves and twists and turns.
7. measuring tape
I have about 3 measuring tapes, and I keep one of them in my purse at all times because it's necessary so much of the time.
Measuring rooms or walls to figure out the scale of something you're making, measuring out the size of pieces before you cut, measuring the size of supplies you pick up at the store.
Just eyeballing it is a surefire way to fuck something up, or best case just make it look a little wonky. Precision of your cuts and pieces is what can bring your project from amataeur to "wow, that's a diy??" And it's really super easy if you just measure with precision.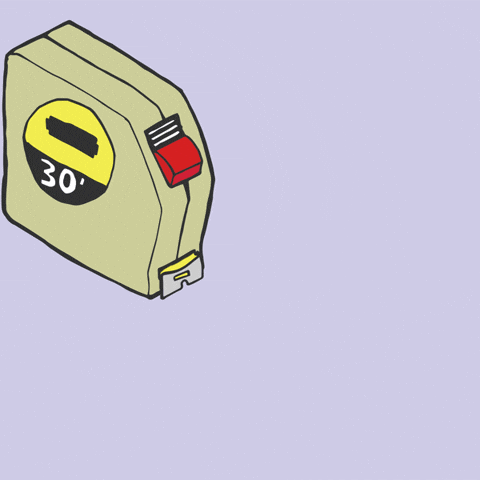 8. hot glue gun
I have always been a DIYer, pretty much since childhood. BUT there is one moment when the switch really flipped and I took it up a notch, and that was when I got my hot glue gun a few years ago.
I truly don't know how anyone can live without one of these.
Sure, you can use super glue, E6000, or Elmers glue (lol), but none of them give both the immediate hold and strength that hot glue does.
I've done many things with hot glue. I've attached hardware to a piece of art, fixed a small piece of furniture, and the whole dog wardrobe I mentioned earlier. You can even use glue formations for decor.
The average price ranges a little, but you can get a cheap option like this to start out with. You'll be set for most any project with that little guy.
9. level
No one wants a crooked picture. Or worse, a crooked shelf or piece of furniture. You can try to eyeball if something is level or not. But for me, everything looks crooked if you stare at it enough. Just do yourself a favor and buy a level to give you a helping hand. You can get one for literally $3.
10. misc. fabric, paper, cutouts, wood, anything you see that might have potential
When you have all of your tools in your DIY toolkit, this is where you can really up your game.
Anytime you see something — piece of fabric, unique paper, nice chunks of wood, leather pieces — grab it. Even if you don't have a use for it right at that moment, you probably will later.
There's no better feeling than seeing a DIY idea you wanna do and realizing you already have a lot of the materials.
I have a huge bin of tons of bits and pieces that I'm consistently adding to. Thrift stores are going to be a huge resource for you here.
Get creative with this, too. A shirt can be fabric scraps. A book page can be great for a collage. A old box can be torn apart for scrap wood.
now go make some shit
Now that you've got your DIY toolkit all assembled, you'll be all set to go whenever that next big idea hits you.
I've got so many DIY ideas in mind for my new house. I'm so excited to bring them all to life and share everything with you all.
keep it crafty, and
keep it homey, homies