I'm so excited to finally share a completed project other than my own house with y'all on the blog! I just wrapped up a super fun project with my friends Viki (aka ickyvikiii) and Kandyce Jewel. They're new to Atlanta and wanted some help getting their (already dope) apartment furnished and decorated. So I was already in, but when they said that they wanted it to be good for entertaining, creating content, and have some hypebeast loft elements sprinkled in here and there, I was totally sold.
what they wanted
Their main priorities for their home were that it was comfy, unique and good for having people over. They love having guests stay with them when they come and visit, so their home needed to be suited for that.
Since they are both content creators themselves, they wanted a fun, unique backdrop for any content they are creating. So they were wanting to have a little fun with the decor. Which was a huge plus.
They also have 2 adorable cats, smudge and marble, so they needed some spaces dedicated to them as well.
So let's get right into it and see the before and afters!
here's what the loft looked like before
Not a bad blank canvas for me to work with.
The high ceilings, huge windows, and cool staircase leading to the upstairs were all such great features that were fun to highlight.
Although the weird layout of the space meant we couldn't place a tv or a small dining table, the rest came together even better than we expected.
Post-design, here's what you see immediately as you walk in:
You'll also see a huge mirror to your left.
Pro tip: buy one of those huge bathroom vanity mirrors from Home Depot and lean it against your wall. It's at least $100 less than the leaning mirrors you'd see at other stores but works just as well. Here's a link to the one that we got.
the statement piece
When Kandyce said that she wanted to incorporate this Offwhite x Ikea rug, I gotta be honest, I was a little nervous.
Working with a bright green rug is a little intimidating. But now that I can see the results, I don't think I'd want any other rug to be there. I don't think we could make as big of a hypebeast loft statement without it.
It's so unique and immediately makes an impact as you walk in the apartment. Plus it totally fits the personalities of Viki and Kandyce. It screams, I have taste, I'm not afraid to take risks, and I like to have fun with my home. Tbh, they have me contemplating getting one of these rugs now.
I decided to pair it with a clear glass coffee table to leave an unobstructed view of the lettering. Underneath, we put a large, cream-colored rug. This helps distinguish the living area and put some separation between the couch and the flooring, which were similar colors.
the cat zone
Like I said, they have two adorable little cats. And although they seem to make themselves comfortable anywhere (see above), we wanted to create a dedicated "cat zone" for them.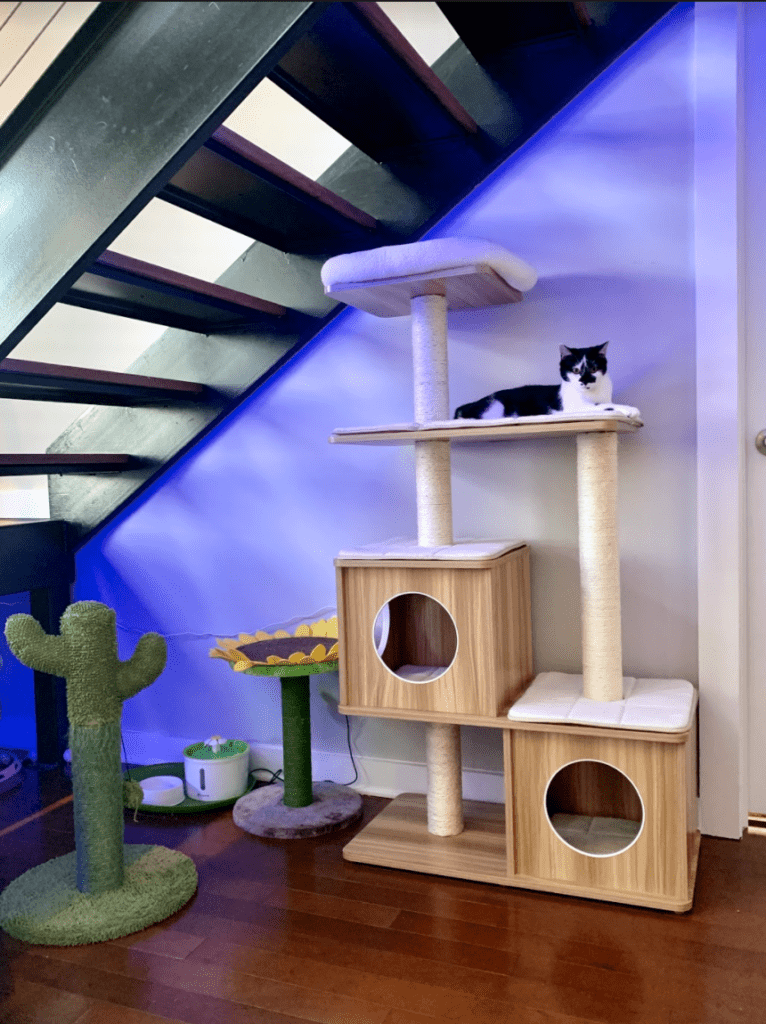 Since we had to let go of having a dining table, luckily there was as already a built in bar that we just had to get some stools for. We chose a dark leather color with black legs to match the industrial vibe of the whole apartment, but especially the kitchen.
I'm dying for the exposed pipes and cement walls.
Stay tuned for a custom yarn-lined mirror to fill the space above the cabinet.
the vibes come out at night
This apartment truly is made for the nighttime. Although the LED lights look dope during the day, too, they really stand out when it gets dark. I'll let you just scroll through below to see all of the vibes.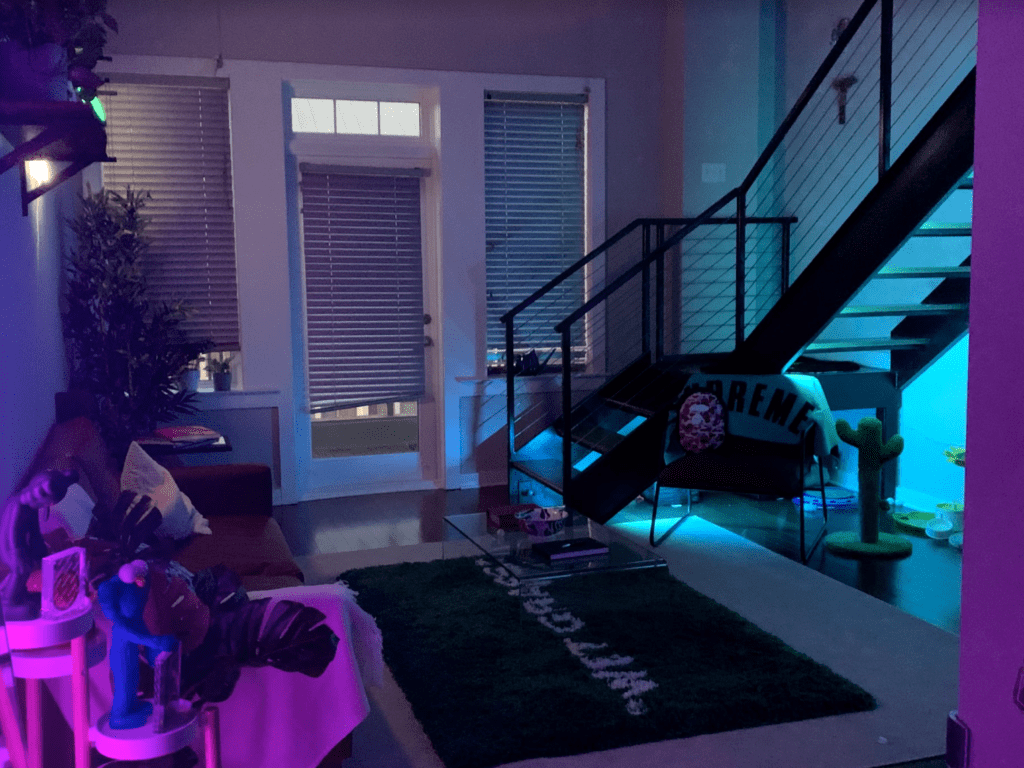 looking for a dope custom rug from a small business?
I just wanna give a quick shoutout to Kandyce and Viki's business, Carpet Muncherz. They are just launching their custom rug-making company, so if you're looking to get a custom rug made (like the one above/below), make sure to connect with them! You can find their business page at instagram.com/carpetmuncherz.
get the hypebeast loft look for your home
This makeover has been getting a lot of buzz lately. So I wanted to make it easy for you to recreate it in your own home! I included some feature pieces below that you may want to add to cart:
Thanks so much for tuning into this blog post today! I can't wait to get more completed projects photographed so I can share more great content with you. Let me know what you think of Viki and Kandyce's hypebeast, content-ready loft in the comments below!
If you wanna see a full walkthrough of their hip, hypebeast apartment process, head to my Instagram @homeyhomies to watch my IGTV.
And if you're not already, make sure you're subscribed to my biweekly email. I let you know when some new content drops and give you tons more practical interior design advice/recommendations/etc. every other sunday right in your inbox. You can sub here.
keep it homey, homies
pin this!
About me
Hey my name's Hannah Michelle Lambert, the voice behind homey homies. I'm an LA-based blogger and interior designer. I'm passionate about fun, adaptive, and affordable design that is filled with personality. And I'm a huge believer in a good DIY. Thanks for stopping by and I hope you find the inspiration you're looking for – and maybe a little extra 😉
---