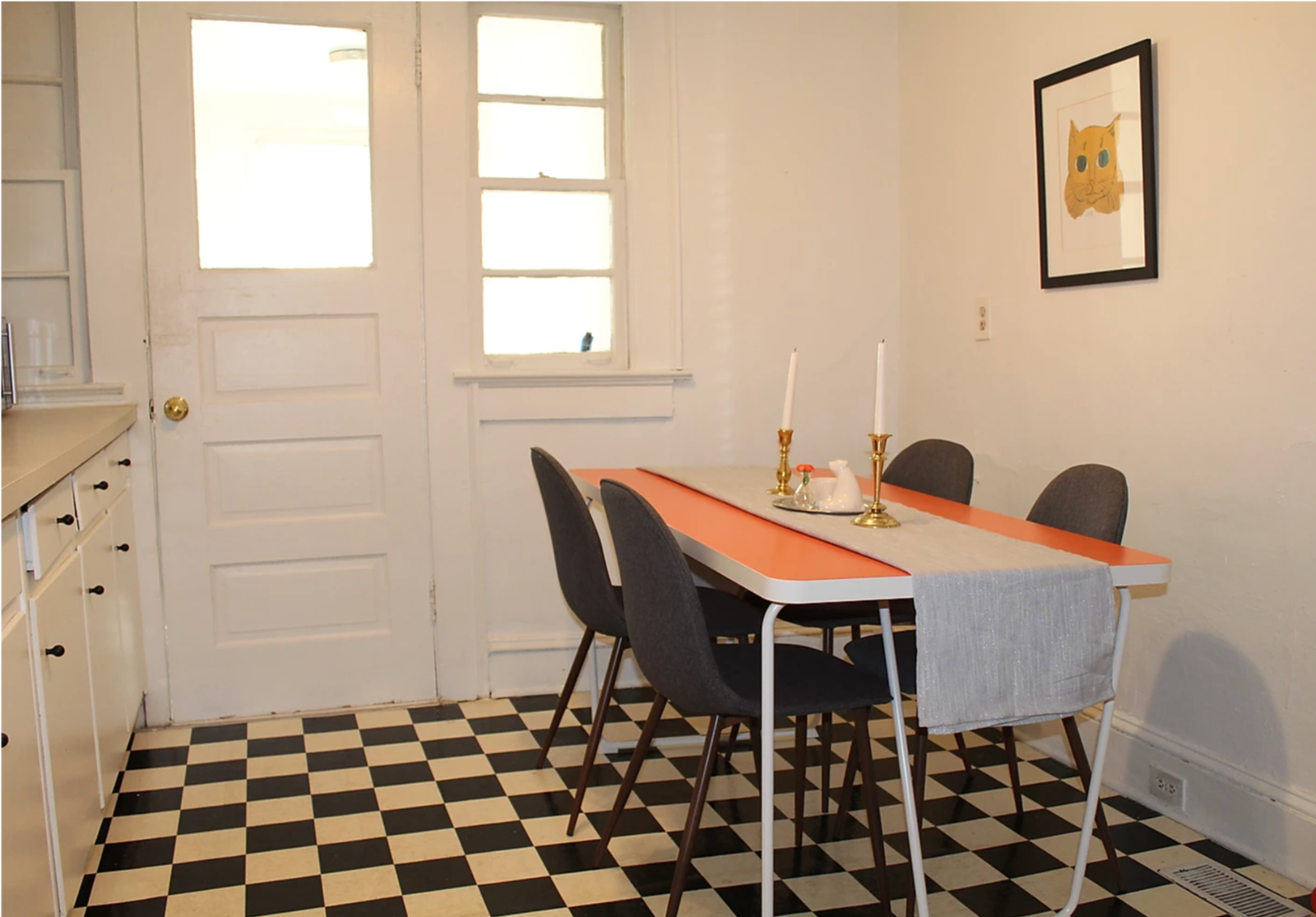 Kitchen Tips for Apartments
Here are some ways to make your kitchen not boring and not suck, no matter what size it is.
In real life houses, the kitchen is usually one of the most important rooms in the house where everyone gathers. But in apartments, where space is a lot more cramped and the lifestyle is just a little different, I feel like this is a room that gets ignored a lot.
(We don't need to talk about my 100% lack of effort in my college kitchens. Seriously. Don't bring it up)
But us homeyhomies know better than that. Here, we know that you can take any space and make it special. There are tons of simple, cheap ways to make this a room you're happy to be in! Here are some things I've done in my own place:
Throw some placemats, a tablecloth, or chargers on your dining table. This automatically adds interest, even if you don't have a statement table like my bright ass orange one. I love the look of a perpetually semi-set table, because it makes your kitchen seem like a room made for entertaining — whether you entertain there or not.
Transfer your hand soap and dish soap into different stylish dispensers. Nothing makes a kitchen seem more lifeless and thoughtless than those ugly Softsoap containers. Plus I don't need anyone knowing I'm using dish soap from the dollar tree 😬
Add some artwork! Art pieces aren't just for living rooms and bedrooms. And it doesn't have to be those cheesy food/wine related signs. (Matter of fact, PLEASE do not get any of those "but first, wine" signs) Anything that makes you happy will make your kitchen happy.
Put a trendy spin on your functional pieces. Examples from my kitchen: a cute container for all my tea (thanks target dollar section!), a dog-shaped jar that I keep meds in, a display for my mugs, and my favorite scented candles for if I want to set the mood when I'm eating dinner.
Have fun spicin' up your kitchen, and
keep it homey, homies
About me
Hey my name's Hannah Michelle Lambert, the voice behind homey homies. I'm an Atlanta-based blogger and interior designer. I'm passionate about fun, adaptive, and affordable design that is filled with personality. And I'm a huge believer in a good DIY. Thanks for stopping by and I hope you find the inspiration you're looking for – and maybe a little extra 😉
---
You may also like…