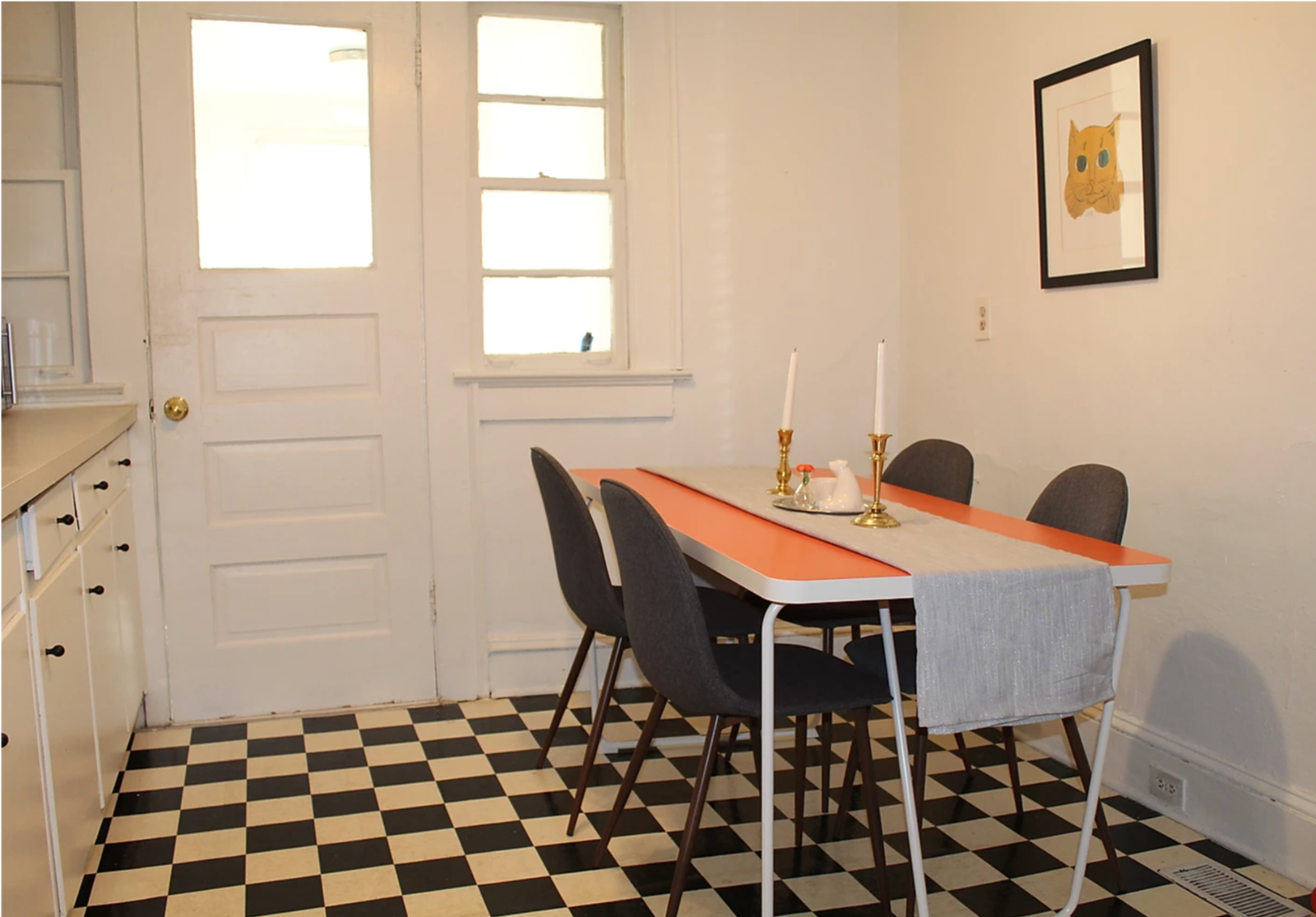 Kitchen Tips for Apartments
Here are some ways to make your kitchen not boring and not suck, no matter what size it is.
In real life houses, the kitchen is usually one of the most important rooms in the house where everyone gathers. But in apartments, where space is a lot more cramped and the lifestyle is just a little different, I feel like this is a room that gets ignored a lot. Interior design kitchen tips is not at the top of the list of things people Google.
But us homeyhomies know better than that. Here, we know that you can take any space and make it special. There are tons of simple, cheap ways to make this a room you're happy to be in! Here are some things I've done in my own place and some kitchen tips that you can apply to your own home!
Spice up your tabletop
Throw some placemats, a tablecloth, or chargers on your dining table. This automatically adds interest, even if you don't have a statement table like my bright ass orange one.
A nice centerpiece is always a good choice, too. This could be candlesticks, a vase of flowers, or even seasonal decor like the little polar bear figure that you can spot on my table above.
I love the look of a perpetually semi-set table, because it makes your kitchen seem like a room made for entertaining — whether you entertain there or not.
(And if you have a vase on there, it's just an excuse to buy yourself some cute flowers from Trader Joe's every couple of weeks).
Cute containers
Whether you caught the organization bug or not, this is a kitchen tip that you can put to work.
If you have any visible items that you use on a day-to-day basis but just aren't that cute, swap their containers out for something new.
Transfer your hand soap and dish soap into different stylish dispensers. Nothing makes a kitchen seem more lifeless and thoughtless than those ugly Softsoap containers. Plus I don't need anyone knowing I'm using dish soap from the dollar tree 😬
You could also swap out containers for things like tea, olive oil, salt and pepper, etc.
Add some artwork
Art pieces aren't just for living rooms and bedrooms.
And it doesn't have to be those cheesy food/wine related signs. (Matter of fact, PLEASE do not get any of those "but first, wine" signs) Anything that makes you happy will make your kitchen happy.
Pick the vibe you want for your kitchen and use your artwork to make it happen. Since I already had the funky checker floors to work with in my kitchen, I wanted to lean into the retro aspect, but with a colorful and whimsical twist. These DIY color "dipped" frames added the perfect touch. And my thrifted cat print added an extra sprinkle of whimsy.
Functional yet funky
Put a trendy spin on your functional pieces.
Examples from my kitchen: Cute container for all my tea (thanks target dollar section!). Dog-shaped jar that I keep meds in. A display for my mugs. And my favorite scented candles for if I want to set the mood when I'm eating dinner.
Have fun spicin' up your space with these kitchen tips, and
keep it homey, homies
About me
Hey my name's Hannah Michelle Lambert, the voice behind homey homies. I'm an LA-based blogger and interior designer. I'm passionate about fun, adaptive, and affordable design that is filled with personality. And I'm a huge believer in a good DIY. Thanks for stopping by and I hope you find the inspiration you're looking for – and maybe a little extra 😉
---
You may also like…