How many times am I gonna redo my home office? Honestly, who knows. It's the room I spend the most time in, so every time I'm in there, ideas are stirring around in my head. But this office update is a little different. Since I've recently been getting into working out a lil more, I wanted to turn it into a home gym. Well, kinda. More like a mini workout hub. So now, I have a multipurpose office that is my workspace, craft room, and mini home gym. All wrapped up in one. I told you multipurpose spaces were gonna be a huge trend.
the "home gym"
That might be a generous term, but it's really all I need on the days that I don't feel like driving on over to the gym.
The first and biggest change I made was moving my desk out of the middle of the room and right up to the window. And boom. So much more room to workout and a bright, sunny view whenever I'm working.
I've been accumulating a few free weights bands, a kettlebell, etc., and I needed somewhere to put them. And at the same time, the shelves on my little entertainment center-turned turtle stand have been bare forever. Ever since I moved in (over a year ago) they've just accumulated a little clutter and haven't had a real purpose. So this was the perfect opportunity to display something.
I laid out all of my exercise equipment, stuck some hair ties and bobby pins in a clear drawer I've had for forever, and rolled up some towels that were hiding in a drawer in my bathroom. So many things all of a sudden got a purpose!
my workspace
Still rockin with the same orange desk. I absolutely love the statement that this desk makes, so this is one thing I will NOT change no matter how many times I change my office again.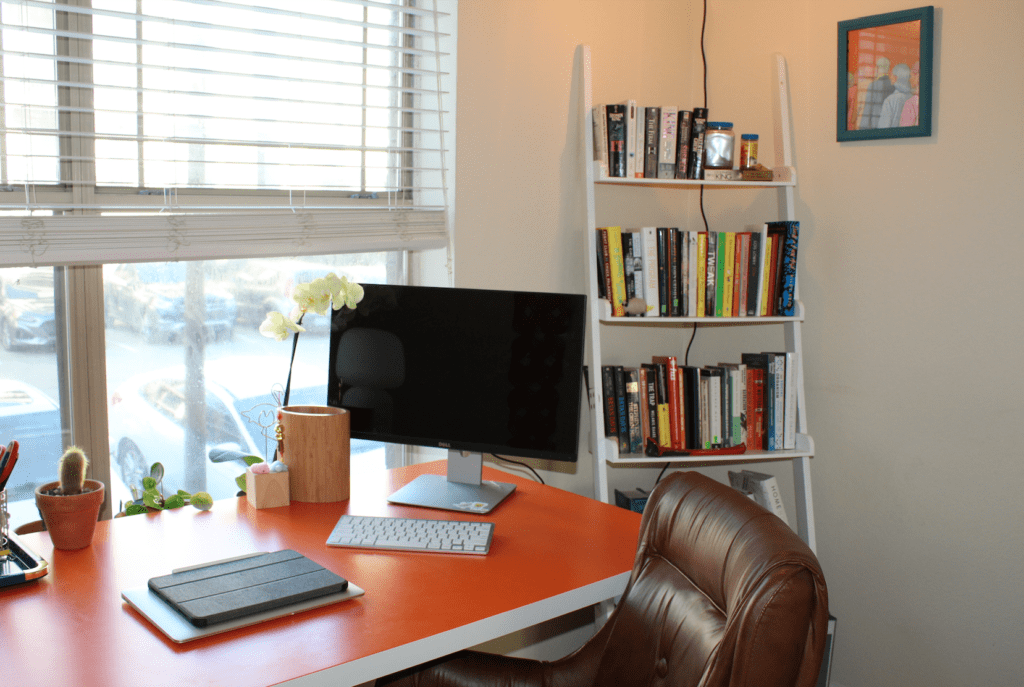 Like I said, I moved it up to the window, and the energy this brings me when I'm working is amazing. I also have all of my little plant friends there right in front of me.
One thing here that is actually related to my workout space is my Ikea X Sonos speaker lamp. I've had this for a while, but I've been using it more than ever while working out. The sound quality is amazing to keep me going during an intense workout. Plus I will never stop appreciating the design.
my chill zone
Well helloo there, who do we have here?
My beloved rust-colored velvet rocker + ottoman moved onto their next home. I figured it was time after 3 years. But in its place is this extremely comfortable little lounger.
Can you tell it's actually part of a sectional couch? I got a new (to me) sectional from OfferUp, and it was too big to fit in my living room fully, so I moved this piece on into my office. And I'm obsessed. You can see in the tiktok below how my couch can move back to create a really long seating area. So I just keep it pulled out and it's the perfect place to lounge and read or work. I'm actually sitting on it right now.
I also have to point out the stoplight that I got from Goodwill. So many iCarly vibes in the best way possible.
my craft organization (it could use a little work)
I have been crafting and painting and shit more than ever. So I'm grateful to have an area to store all of my supplies. Now granted, it could look a lot better, I think I'm simply outgrowing my shelves. I could use a little help from The Home Edit pleease.
But despite it's slightly cluttered look, everything does have a specific place to be and it's there. So for now, that's good enough for me. (As long as people don't open the closet door)
other highlights from my multipurpose office
Aside from introducing more multipurpose office vibes into the room, I also made some other small updates like this DIY artwork and changing the position of my overstuffed bookshelf.
warning: another upcoming update
I didn't wanna wait too long to post this blog post, so I'll finish this out by saying there is something big coming soon to my office. What is it, you ask? You may have to subscribe below to be one of the first to find out when I drop the post in the next couple of weeks 😉
keep it homey, homies
About me
Hey my name's Hannah Michelle Lambert, the voice behind homey homies. I'm an LA-based blogger and interior designer. I'm passionate about fun, adaptive, and affordable design that is filled with personality. And I'm a huge believer in a good DIY. Thanks for stopping by and I hope you find the inspiration you're looking for – and maybe a little extra 😉
---
You may also like…