If I can give you one piece of advice to continue to love wherever you live, it's to never stop being a tourist. I've said it a million times and I'll keep saying it. When you don't stop seeking out exciting new experiences, you will be surprised by how many you'll find. One of my favorite experiences to seek out? Killer photo op locations. So I'm back with part 2 of the most instagrammable spots in Atlanta.
And part 2 is bigger and better than the first. I have more places and some really next level design that your Instagram feeds are begging for.
And on top of that, this can also work as a list of where to take people when they come into town. There's no better way to show off the best of your city than by bringing people to some really trendy and well-designed spots.
If you're looking for the most instagrammable spots in Atlanta, keep reading…
I've made it my personal mission to find all the best design in Atlanta, and I take this research very seriously. And since these spots have all been personally vetted by me, so you can trust that they're top notch.
But if I missed any, feel free to drop them in the comments below!
This is THE spot to be for a fun night – both weekends and weeknights. They have all kinds of events like movie nights, yoga, comedy nights, drag shows and more. But even when you come on a regular night, there's no shortage of things to occupy your time.
They have a massive food hall with all kinds of food that you could think of. Even Middle Eastern-inspired pizza! Outside of the main food hall, there's also a 70's-style speakeasy called JoJo's Beloved.
Of course, they have a massive bar to hit up. Would highly recommend getting a bottle of sparkling wine, sitting outside on the grass and people watching.
Even the bathrooms are a great instagrammable moment.
If you're a Marvel fan, this next spot may look familiar. It was the TVA headquarters in the Loki series. Although it's a little modified with the magic of CGI in the show, it's just as awe-inspiring in real life.
Whether you're staying as a guest, hitting up one of their bars or restaurants, or just popping in to look around (no shame, that's what I did), you're in for a treat. It has a distinctly lush, mid-century modern vibe.
But the real showstopper is the architecture. The second you walk in, you see the grand open balcony walkways on the upper levels – all 52 of them!
If you really want a thrill, take the glass elevator up to the very top floor. It's definitely an adrenaline rush, whether you're scared of heights or not.
I can't rave enough about Little Trouble. Great food, incredible drinks, live music, and most importantly, extremely Instagram-worthy decor.
If you're on the Atlanta side of tiktok or Instagram, you may have seen shots of this legendary backdrop.
This is what you see when you first walk down the hallway to enter Little Trouble. And the first impression is not deceiving. It's just as tasteful on the inside, too.
It's very dark and moody with a neon red tint to everything. There is a bit of bar seating, some low and high top table seating, and my favorite is the more casual lounge-style seating.
This looks like the place in a movie that all the cool kids go to. And I think it's accurate. You automatically look cool if you get a couple pics here, in my opinion.
I stayed here for my birthday staycation last year, and I was obsessed.
Right in the heart of midtown, Colee is a charming boutique hotel that was made for people who love color and maximalism.
You'll know what I mean as soon as you walk in the lobby. It's complete with tons of eclectic details, cozy seating areas, lots of artwork, and a really charming cocktail bar.
But the charm doesn't stop there. From the hallways to the guest rooms, you'll find tons of eclectic but still classy details like wallpaper, artwork, and beautiful bathroom finishings. And the bed gave me an amazing night's sleep.
Best of all? There's a rooftop pool that overlooks Peachtree. And of course, they spared no detail on the design.
If you're looking for a really fun and quirky staycation-ready instagrammable spot in Atlanta, this is where you'll wanna be.
West Midtown is honestly becoming the spot to be in town lately. And this new (within the last year) destination should definitely be on your list of places to check out.
Puttshack is perfect whether you're looking to do something during the day or at night. The bright colors and different themes at each hole solidify its spot on the list of the most Instagrammable spots in Atlanta.
My boyfriend and I came here for a date night several months ago, and not only did we grab tons of fun pictures, but we also had a blast putting it up and getting some good drinks from their bar.
If you're looking for a sexy and cool nighttime dinner and drinks spot, this is it. Although the design still looks good during the day, at night is when it really shines.
The food is bomb. The lighting is perfect. And it has all the subtle upscale details that are the perfect backdrop for any picture you take.
This was actually a random stop-in for us as we were looking for a place to eat downtown. And as soon as we stepped in, I got my phone out to snap some pictures for my interior design Instagram (@homeyhomies if you wanna follow me)
A few details that stood out to me: The honeycomb details with the lighting on the ceiling, which is repeated on the bar. The stringy room divider between the hallway and the rest of the dining area, as well as the windows. And the oversized mural on the back wall.
If you, like me, are constantly on the search for a cute coffee shop to get some work done in, this is it. I found this on a random Google search one day, and I'm so glad I did.
Over in West Midtown, The Daily has a little bit of everything aesthetic-wise, but it all goes so beautifully together. A little bit of bright and colorful abstract motifs, a little bit of industrial with their raw plywood furniture, and even a little bit of vintage schoolhouse vibes with some of their seating and light pastel colors.
And their coffee and food is amazing. So definitely check this out whether you're just stopping for a quick breakfast or lunch with friends, or looking to grind out a little productivity.
This one's another random gem of a coffee shop that I came across in my search one day. We popped in here on a rainy day and I immediately knew that I had to add it to this list.
We stopped in for a coffee and a place to work and ended up finding the perfect vibe and some great food. It's got a very hip, retro look to it that is the perfect balance between minimalism and maximalism. And it's a great place to go whether you want to snap some cute pics or soak in some inspiration.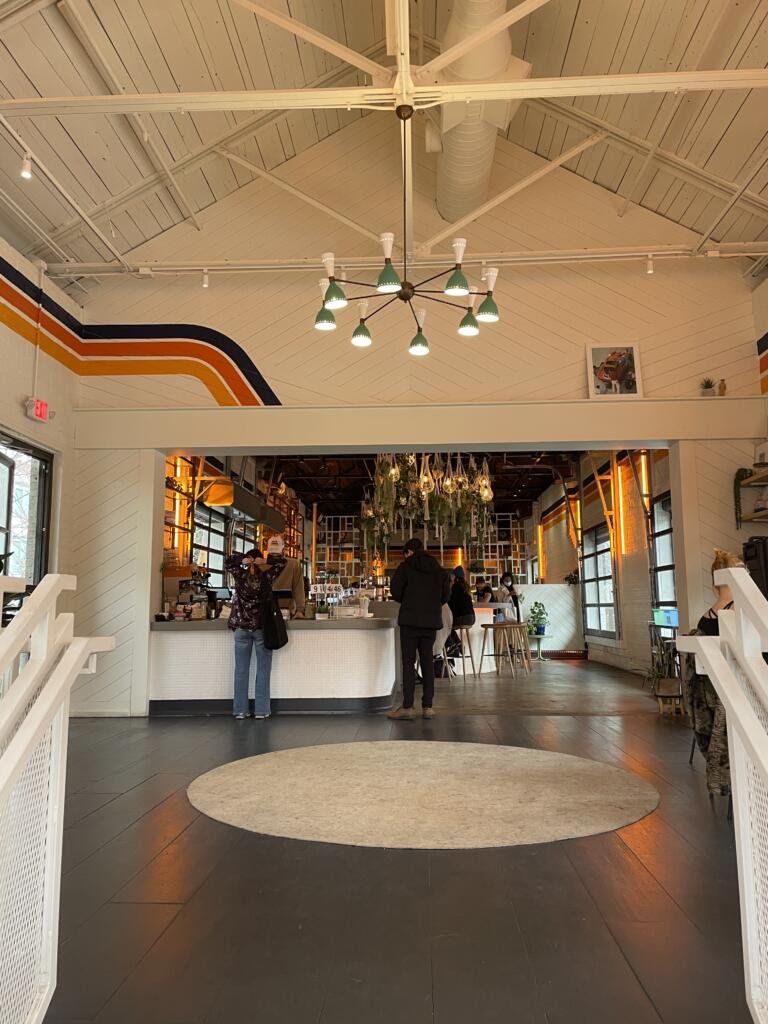 Saint Julep on the Kimpton Sylvan Hotel Rooftop
I'm gonna say it, this is one of the best hidden gems in Atlanta. The second you step off the elevator (enter through the Kimpton Hotel), this place exudes sophisticated yet comfortable vibes.
The design is very eclectic, with a touch of retro. And they spared no detail making each view of this place pop.
You can sit inside to enjoy your cocktail or small snacks, or you can head outside to their surprisingly HUGE wraparound balcony. There are ample places to sit, both at tables and lounge chairs. And the best part: the view.
And to top it all off, the cocktails are incredible. We grabbed a few drinks, headed to the balcony, and spent some time giving their fun (but hard af) crossword a go that's on the back of the menu.
I was hesitant to include this one, because it definitely gives me fever dream feels. However, if you're looking for a place to go strictly to take some photos, you may want to add this to your list.
There is some graffiti, interesting little pockets to pose in, and some cool neon signs. It's a decidedly grungy look for sure, but if that's what you're looking for, check it out.
Have fun checking out all the most instagrammable spots in Atlanta!
I will actually be relocating from Atlanta to Los Angeles in the coming months. So although that brings this series to a close, keep an eye out for the LA edition soon!
About me
Hey my name's Hannah Michelle Lambert, the voice behind homey homies. I'm an LA-based blogger and interior designer. I'm passionate about fun, adaptive, and affordable design that is filled with personality. And I'm a huge believer in a good DIY. Thanks for stopping by and I hope you find the inspiration you're looking for – and maybe a little extra 😉
---