A few weekends ago, I was able to go to Phoenix, Arizona for a quick weekend trip for my sister's birthday. And what I immediately noticed the second I left the airport was how fucking cool all of the architecture was there.
My sister lives near the art district of Phoenix, so when we walked around the neighborhood to explore a little bit, I immediately go to snapping pictures. Even the most mundane of buildings — like a financial center — has such a unique and dope design.
Since it's in the southwest, there's obviously a lot of Aztec-y/typical southwest influence in the design and architecture. But what made the city so cool to me was the way that it was mixed with a lot of art deco influence as well. Down to the little details like art deco-esque streetlights.
Even the Starbucks had a design that fit in with the rest of the buildings around it.
I also love the color palette. There are a lot of the typical southwestern staples, like tan and burnt orange, but it seems like there's often a pop of bright colors, too. Usually it's just a single bright color, so it really pops against the dusty neutrals.
Another thing I love specifically about the apartment complexes in Phoenix is how a lot of them look like 60's era motels. They have the cool, retro/art deco vibe and the central courtyard that most of the apartments overlook. I swear every apartment just looks like a gathering place straight out of a cool ass period piece from the 60's.
And of course, since we were in the art district, there's lots of art, too. I loved seeing all of the murals on the sides of buildings and underpasses.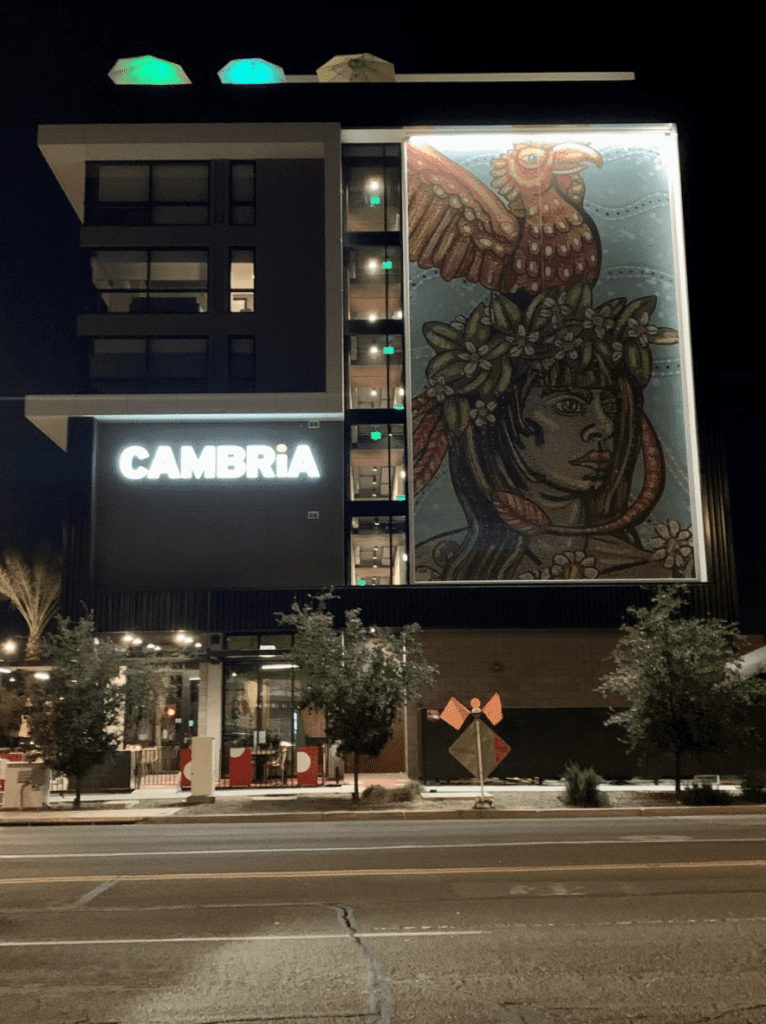 As well as lots of intricately detailed tile typical to the traditional Southwestern style. This tile below was in a car shop.
Here are some other pictures of random beautiful things in Phoenix for your viewing pleasure
And of course, the typical palm tree-lined street picture
keep it homey, homies
p.s. wanna see another travel diary? Check out my post from Sao Paulo, Brazil.
About me
Hey my name's Hannah Michelle Lambert, the voice behind homey homies. I'm an LA-based blogger and interior designer. I'm passionate about fun, adaptive, and affordable design that is filled with personality. And I'm a huge believer in a good DIY. Thanks for stopping by and I hope you find the inspiration you're looking for – and maybe a little extra 😉
---
You may also like…