iCarly just came out on Netflix a few weeks ago, so I know there's a good chance some of you are in the middle of a binge. And it may have brought up some old feelings. One of the strongest of those being intense jealousy over the iconic iCarly bedroom. Honestly, in my attempts to make my house more fun, I'm really just always trying to channel a more mature version of her room.
From the huge factory windows to the cool platform her bed is on to the ice cream sandwich chair. All of this always inspired me to dream up my own version of this room. It's questionable how this was realistic with a single brother raising his little sister in Seattle, but ya know what, I'll let it slide.
So, I think it's about time we give this room a little makeover and bring it into the 2020's. Agree?
how i reimagined the iCarly bedroom
The best thing about the iCarly bedroom, aside from the sheer size, is how fun it is. That's kind of a common theme in a lot of Nickelodeon shows, and I love them for it. So we're going to keep the playfulness there. But we're going to neutralize the color palette just a bit and sprinkle in a bit of maturity.
The new theme I'm going for with this digital renovation is fun, retro industrial. I took some inspiration from the factory windows and decided to play up that industrial aspect. But adding a little bit of retro into the mix keeps it fun and adds more comfort that contrasts nicely with the rigidness of the industrial vibe.
so let's dive into the before
First impression: the bedroom of every little girl in the early-mid 2000's dreams. But as an adult, would I actually live there now? Nahh, a little too much going on. And way too much hot pink for my taste.
But thanks to the help of my good friend Procreate, we can reimagine it in a way that any of us would be psyched to live in.
so first, let's strip away all the furniture and replace the flooring/walls
The perfect way to introduce a little industrial flare into any room is concrete flooring. So I swapped that in for the orange-y wood that was originally there.
I'm also a huge fan of an ashy walnut wood, so I swapped out the platform that the bed is on from whatever that material they had before for some wood. This warms up the room so it's not looking too industrial with the concrete floor.
I also "repainted" the walls and traded in a more minimal (yet still funky) wallpaper for the bottom of the walls.
Note: This was all drawn by hand, so please forgive the wonky-ness of some of the stuff. Procreate is still very much so a learning process for me.
now let's add all the furniture and accessories
Like I mentioned before, I love how weird and fun the room is. But it's totally possible to still maintain that feeling in a more mature and toned-down way.
I definitely took things in a more retro direction. Although the size and shape of the furniture is maintained for the most part, the color and style is updated. I love the way that the plush and almost goofy furniture offsets the harshness of the industrial flooring and beams.
I'm not going to go through every single item, because I don't wanna type it all out probably as much as you don't feel like reading it all. But take a look around and you'll see how I took inspiration from the original to come up with the new design.
Here's a side-by-side for comparison: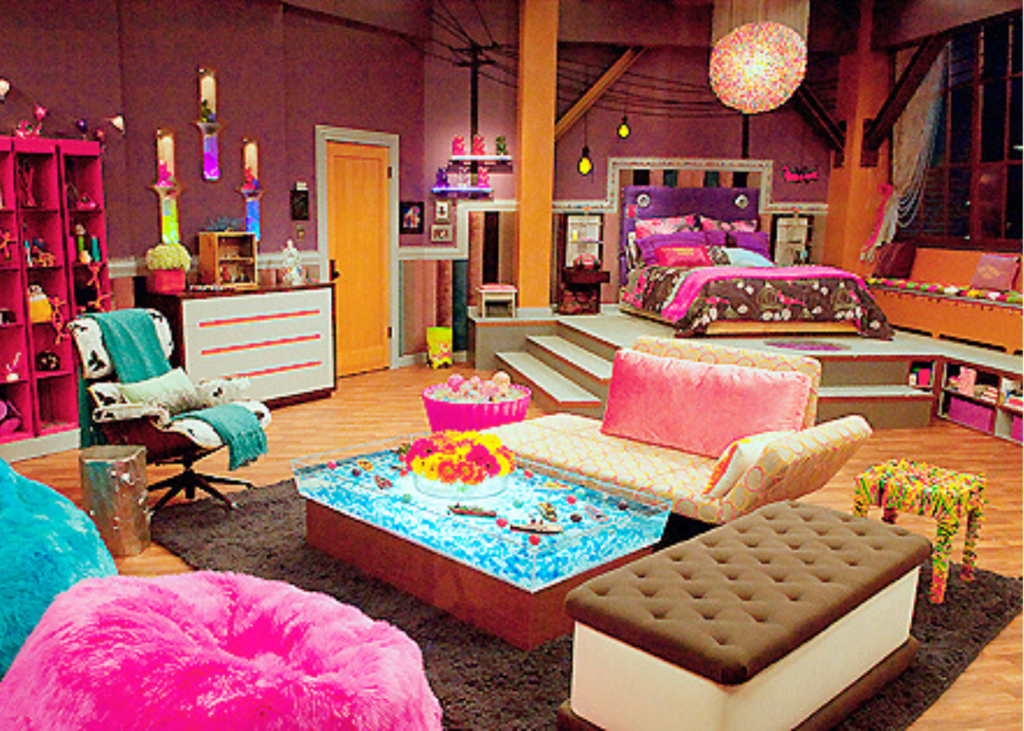 Is there anything else you would've done differently? I'd love to know any of your ideas in the comments below! And feel free to suggest another iconic room that needs a makeover, I'm definitely planning to do more.
keep it homey, homies
About me
Hey my name's Hannah Michelle Lambert, the voice behind homey homies. I'm an LA-based blogger and interior designer. I'm passionate about fun, adaptive, and affordable design that is filled with personality. And I'm a huge believer in a good DIY. Thanks for stopping by and I hope you find the inspiration you're looking for – and maybe a little extra 😉
---