Airbnb is one of the coolest side hustles (that can easily turn into your full-time hustle) out there. For those with a property to use, it's an amazing opportunity to make some extra cash on your own time.
As a guest, I love airbnbs. It's not only because they're cheap (even though I do love a good deal). It's also because of the cozier, more personal touch than hotels can offer. Being able to stay in a home away from home is a much better experience.
But that said, there are so many airbnbs that I stay in that have so much potential that is just totally blown on shitty or basic ass design. It's a worthy investment to put some time (and money) into deciding how to design your airbnb.
My favorite airbnbs have been the ones that make it clear they were created with intention and love. Those are the ones I'll remember. Not the ones that have the strictly the most bottom-of-the-line Ikea and Rooms-to-Go furniture everywhere. I'm a lot less likely to leave a glowing review and go out of my way to book there again.
Not to mention never being willing to book at a higher rate. This can be a major killer in a market as saturated as airbnbs – there are at least hundreds to choose from in any given area.
Once you set all of the logistics up to be a successful Airbnb host, it's time to focus on the design.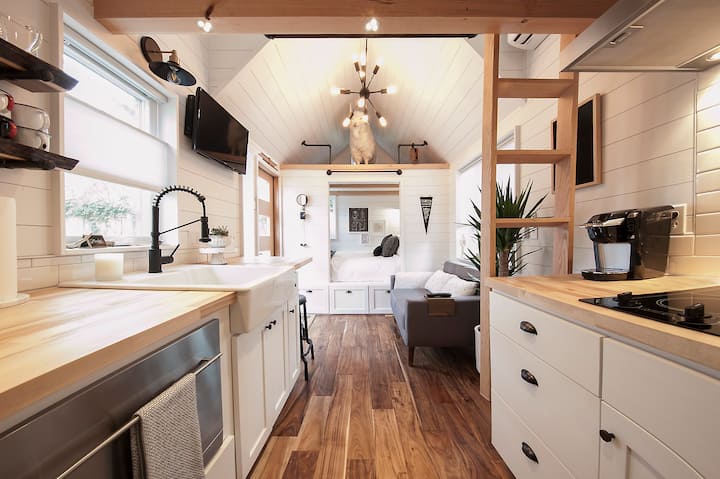 But I understand, most people who run these are not interior designers. So it can be hard to know what you're supposed to do. That's why I'm here to offer you some of my best tips to lead you towards a great, profitable, and memorable airbnb. So whether you're just starting out, or you're trying to level up, keep reading.
1 . know your ideal guests
This is so huge, and it's an exercise that can make a world of difference for you and your business.
Thoroughly think this through: who do you want to be staying at your airbnb? Walk yourself through every relevant detail about them.
Why are they staying at your airbnb? – is it a girl's weekend, bachelor party, business trip, family getaway, etc?
What do they care about and what are they interested in? – do they love movies and/or music? do they value relaxation? would they want to feel immersed in the culture around them?
How does all of this affect the design that they'll appreciate in your airbnb? will they care if there's minimal decor or will they want all the bells and whistles? do they want a colorful or more muted color palette? do they want super plush, comfy stuff, or would they rather have interesting statement pieces?
2 . highlight whatcha got
If you have any special feature in your space, make sure you highlight it to make it easy for your guests to appreciate it. Special features could be anything from a fireplace to high ceilings to a hot tub, or even a great view.
How you can highlight these features can vary, but here are a couple of ideas:
if you have a funkier design scheme, you could paint your fireplace or high ceiling bright color
stage a beautiful mantel
set up an outside bar or string lights near the hot tub
arrange a seating area facing the view
Basically, whatever you do, make these spaces or objects a focal point in your space.
3 . be thrifty
The more money you save when you're decorating your airbnb, ultimately the more money you make from your business. But, you don't want to skimp on poorly produced furniture that will break, fade, or just look low quality. So buying secondhand is huge helper here. You can get super high-quality furniture for a fraction of the price – and often they are in great condition or can be with a little TLC.
Not only can you get quality items for cheap, but you can also get super unique items that can stand out. Anyone can buy furniture and accessories from Target or HomeGoods, but if you find that vintage item from the thrift store, it adds that extra touch.
Don't be scared or getting larger upholstered items like couches or chairs secondhand, too, if they're in good condition. You'll just definitely want to rent an upholstery cleaner to make sure that they're clean for your guests, but this can save you a TON of money on staple pieces.
4 . make it instagrammable
When you make it irresistible for your guests to share photos of your place on Instagram, that's free promotion. Their friends and followers may see the photo and ask where this dope place is that they stayed at, and boom, another booking.
Being "instagrammable" can look different depending on the vibe you're going for. If your ideal client iys a family on vacation, then maybe spots to take family photos and candids is how you achieve this.
However, if you're catering to a younger crowd, you can really have some fun with this. You can paint or wallpaper a really cool accent wall. Huge mirrors for selfies are always a hit, preferably with something cool reflecting behind it. Maybe neon signs that help communicate the vibe of your airbnb. I stayed at an airbnb in Savannah, GA one time that had pieces from the set of tons of movies that were filmed in Georgia. The bathtub was a big barrel from some movie – that was definitely memorable and instagrammable.
The key here is to have a beautiful and unique space that compels your guests to capture on camera.
5 . make it comfortable
Your airbnb is where your guests are going to relax, or at the very least sleep. So make sure that you're providing cozy places for them to unwind.
Like I said in the first tip, you need to know your client base. So maybe they would rather have tons of cool artwork and sculptural furniture around rather than plushy floor pillows and a huge sectional. Sure, they may not plan to lounge around on the couches for hours, but this doesn't mean that they don't care about comfort at all. Still make sure that you provide a relatively comfortable couch and perhaps some comfortable seating, even if you are prioritizing design
And always always make sure you're still providing a very cozy bed with fluffy pillows and multiple layers of blankets so that they can adjust to their preference. Everyone can feel the difference of a good place to rest at the end of the day.
this should hopefully help you get started to design your airbnb (or redesign)
So this is a great first step, but if you want to really dive in and fully invest in really solid and profitable airbnb design, download my workbook for free!
This workbook walks you through the whole process, giving you prompts and suggestions along the way. I dive a little deeper into how to figure out the amount you should invest in order to see some tangible return on your investment.
Or if you'd prefer to have someone else design your airbnb for you, or just want someone to create a mood board for you to kick off the project, I've got your back. Fill out this form to receive a free, 30-minute consultation. These services are remote, so I'm free no matter where you are in the world!
keep it homey, homies
About me
Hey my name's Hannah Michelle Lambert, the voice behind homey homies. I'm an LA-based blogger and interior designer. I'm passionate about fun, adaptive, and affordable design that is filled with personality. And I'm a huge believer in a good DIY. Thanks for stopping by and I hope you find the inspiration you're looking for – and maybe a little extra 😉
---
You may also like…