For all of us who love to decorate our own houses, the thought of being able to make a living designing is really exciting. But many of us may not have the luxury of jumping right in full-time. Or may not want to do it full-time. But luckily, interior design as a side hustle is a very real possibility.
Many people develop a desire to be an interior designer after they already went through traditional college. So you don't feel like going back and shuffling through the class/internship machine. But you may have a goal of being a big interior designer. Or you just want a fun hobby to make some money on the side.
It can be daunting at first, not knowing how to start, what to do, and where to find clients. So many people just don't ever try. But thanks to the internet and social media, it's easier than ever.
Note: This post is going to be all about getting design work. If you want to know more about getting a non-traditional design education, check out my full review series of The Interior Design Institute.
here are my best tips for starting interior design as a side hustle
As someone who started pursuing an interior design career after I already graduated from college, I learned a lot. I went through a lot of the frustration of not seeing any momentum. And of questioning whether this was the right choice.
My biggest overall tip, though, is to be patient and don't give up if you don't see the results you want right away. Take the pressure away and just hold onto the passion. If you keep at anything enough, you will succeed. So just enjoy the process.
But here are the really tangible pieces of advice that you came here for.
building a portfolio
One of the most important things when you're starting out as an interior designer is your portfolio. It's super necessary to prove to people what you can do. And also to show what your own unique design style is. Being able to communicate what makes you different and highlight your unique eye is what will set you apart from the tons of other designers potential clients have to choose from.
But it can be hard to know how to show your work when you haven't gotten any work yet. It's like needing to have money to make money.
But don't stress, there are lots of things to do to get your portfolio started before your first "real" client.
use your own home
If you want to be an interior designer, you probably have a pretty great looking home. Use that to your advantage. Take some nice, well-lit pictures of your space and include it in your portfolio.
Or better yet, if your house is looking a little mehh, snap some before pictures, spruce it up, and place them right next to the before pictures to show your potential clients the magic you can work on a space.
reach out to your network – start doing some work for free or discounted
Most people who take the non-traditional (i.e. non-college) route to interior design start out with friends and family as clients. And it's a great place to start.
Ask anyone you know who's planning on doing a total redesign – or even just a refresh – if you can handle the project. Not only is this great, low-pressure practice for taking on real clients, but you can also use tons of pictures from these projects. See if you can take some progress videos to post on social, too (we'll get more into that later).
You may end up doing a lot of work for cheap, for free, or for a round of drinks. And this is totally fine at first, because the value of building your portfolio is worth a lot.
Just make sure you set clear boundaries that's mutually beneficial you and the friend/family member. Don't get taken advantage of.
fake it til you make it – 2D/3D renders/mood boards
If you've done all of the above and still feel like you haven't fully shown off your skills – maybe you want to specialize in commercial design or renovations – there are plenty of ways to fake it til you make it.
The easiest way to start off is to create some mood boards. I have a whole post that walks you through, step by step, how to make a mood board. This takes no client or budget at all. But it's a great way to communicate the vibe of your style and your skill at combining colors/pieces.
Canva Pro is one of the best tools for this because you can remove backgrounds, save your color palettes, and get access to tons of icons and stock photos.
You could also create some 2D mockups with a program like Canva. It's like a "hacked" way to do a rendering. Check out one of mine below for an idea of how to do it.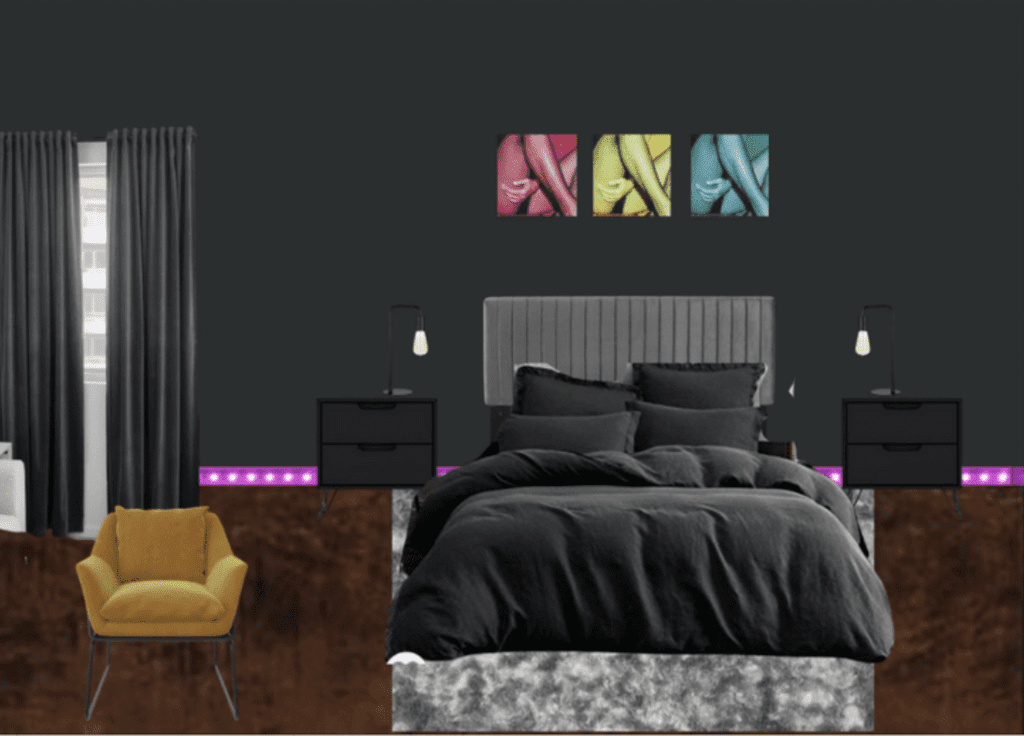 If you really wanna go all out and get some hands-on experience with some design software, you could even do some 3D renderings on programs like SketchUp.
This not only gives you a really professional look, but it's a lot easier to show your full design chops. And it's really fun.
Create a mock brief with the desired outcome – think of your dream project – and go for it. There are tons of SketchUp tutorials online to help you learn (because it is a little confusing at first), but if you're an Interior Design Institute student, you could do the advanced module for SketchUp. That's what I did and it really helped me to master the program.
Check out one of the renderings that I did of my dream office.
selling your services
Knowing where to actually sell your services – and what services to sell – is another big consideration when starting interior design as a side hustle.
So let's get into it
start with a few packages that you're really good at
Don't jump in the deep end by offering a million services at once. This doesn't allow you to perfect a handful of things first, and it can also overwhelm your focus. So I would recommend picking a few services that you're really good at. And that you can manage.
So to start out, I offered mood boards, single room full-design packages, and a room refresh package. I didn't offer kitchen design, bathroom design, or whole-home packages. I also didn't start off offering paint consultations because I wasn't passionate about that and didn't want to put time into it.
Remember, if this is a side hustle, you've gotta pace yourself and be really intentional with what you take on.
The packages that I chose were things that were in line with what I'm good at and what I care about. This keeps me motivated, helps me hone in on my skillset, and gives me lots of portfolio stuff in focused areas, not just a ton of different things to show other people.
where to sell your services
The goal is likely to have people reach out to you via email or DM to set up in-person or virtual consultations. And that may take some time to build up, so in the meantime, there are other places to sell virtually.
Fiverr is one of my favorite places to find interior design work. It's a freelance marketplace, so people are going there to actively seek out your services.
Take a look at how other people are promoting similar services to get an idea for what info to include, but also for how to stand out.
I would recommend that that starting out, making your prices lower than most of the alternatives. This will help you initially get some clients and reviews. Once you have those, you can slowly raise your prices.
Here's what my fiverr page looks like.
You could also look into posting on Etsy. I don't currently have any services here, but posting your services there is similar to on Fiverr!
You could also experiment and post ready-made projects or packages on Etsy.
give blogging a try
Blogging is a great way to show off your work and find potential clients. But it's also a really good business idea for those looking to start interior design as a side hustle.
I'm the perfect example of this. I started out picking up freelance interior design work but realized that what I really loved was sharing my advice and inspiration for interior design. I love using all of the same skills – trend tracking, creating renders/mood boards, sourcing furniture – but reaching people on more than just an individual project level.
So I'll take on some clients from time to time, mostly to have content to share for the blog. But my main money-maker is more from blogging – affiliate links, sponsored posts, etc.
This may not look like what you picture when you think of interior design as a side hustle, but I wanted to throw it in here just in case. That's where I found my passion and you might too!
finding your audience/clients
You could have the most brilliant mind and the best services, but ya gotta get found. Reaching potential new clients is one of the hardest things. But thanks to the internet, it's easier than ever.
I would always always always recommend getting involved in your local communities to make connections that way. Whether it's a book club, a sports league, or just networking at coffee shops/bars/restaurants. Make some business cards and hand them out and be open to talking with everyone.
That's the more traditional route. So I'm gonna share some digital options.
social media
This one is obvious, but it must be mentioned. Social media is SUPER important for any small business. But especially for interior design since it's so visual.
You should have an account on all social media platforms just so people can reach you wherever, but I would recommend you're ACTIVE active on Instagram, TikTok and Pinterest.
This is a great way for people to find you and see what you can do.
Tiktok is great for lifestyle and educational videos. Look into what sounds are poppin and get on them. Do a home tour. Do a process video of you doing a project. Create a series all about interior design tips. Find a niche and dominate it.
Instagram is a great place to repost any tiktok of yours that's under 30 seconds. It's getting more and more focused on video, but the photo element is definitely still strong.
Post a million photos of your work. Include some posts about who you are, what drives you, and what you love. You don't even have to post your own photos. I love using my instagram as partially a "mood board" of sorts where I post photos I find on IG/pinterest that speak to me (just make sure you always credit the owners when you can). This is a great way to show your style especially when you're just starting out.
Pinterest is the most visual platform, so it's an interior designer's best friend. You can share all of your projects – take photos from every single angle and blast it all over. Link to your virtual services and boom. If you do it right, you'll be getting hits in no time. Here's a great video about creating a solid Pinterest strategy for your business.
For all of these platforms, though, you need to 1. have a clear CTA and link to your website/email/services list and 2. be interactive and responsive. This gives your online presence so much more life and draw than a stiff profile. Automate and optimize what you can with a tool like Hootsuite or Later, and spend a lot of time interacting in the comments and in stories.
facebook groups
Facebook is a little antiquated, but groups are still the spot.
I'm part of a local group called Atlanta Social Club that's just a bunch of women in the ATL area asking for advice, recommendations, friendships, anything really. So there are a lot of times people will ask for design advice or are looking for recommendations for a designer and I swoop right in there.
Look for something similar in your area where you can connect.
You could also join groups for fellow creatives or small businesses. Some members there may become potential clients, but more importantly can offer you tons of advice on your own business. You could also potentially collab in the future. The possibilities are super bast.
So that was a lot of information. I just dumped everything in my brain that I wish I would've known about starting interior design as a side hustle. Hopefully it helped you wrap your head around a plan (and didn't just overwhelm you lol)
pin me!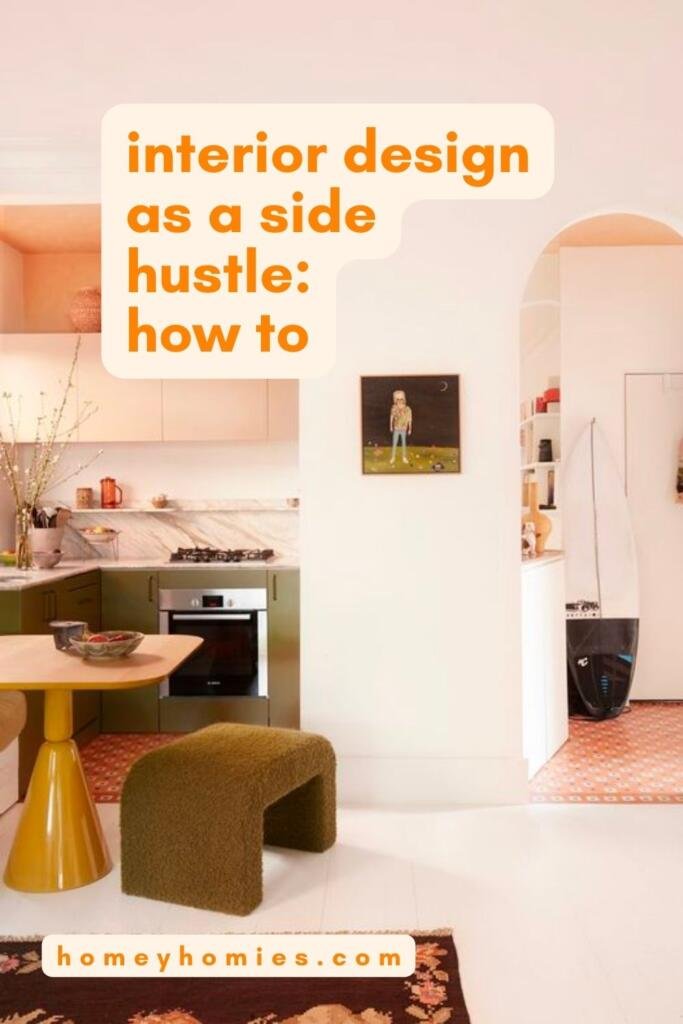 if you want to keep building your skillset as an interior designer, you may be interested in these other posts:
how to create an interior design mood board
the best digital tools for design
the ultimate guide to setting an interior design budget
how i use canva as an interior designer (VIDEO)
About me
Hey my name's Hannah Michelle Lambert, the voice behind homey homies. I'm an LA-based blogger and interior designer. I'm passionate about fun, adaptive, and affordable design that is filled with personality. And I'm a huge believer in a good DIY. Thanks for stopping by and I hope you find the inspiration you're looking for – and maybe a little extra 😉
---
You may also like…
Note: This post may contain affiliate links. This means that I may get a small commission if you make a purchase. This has no impact on price for you – it comes out of the seller's pockets.