One thing that I've struggled with in almost every apartment that I lived in is not having enough natural light. It's always small windows, other buildings blocking the sun, or weird layouts. It's hard because natural light is one of the biggest assets you can have in a home. With shitty natural light, it brings down the vibe of your whole place.
Don't worry, though. Even with the shitty natural light, there are still lots of things that you can do to up your lighting game. It's all about faking it til you make it, taking advantage of the light you do have, and some clever decor choices. Here are some easy tips for you.
work with what you got
Take a look around and see if it's possible that you're not taking full advantage of the lighting that you already have. There may be some super minor adjustments that you can make to make your place just a little bit brighter.
You can start by minimizing any outside light blockers. In my case, it's a whole building that my window faces giving me shitty natural light and fucking up my vibe. Not much I can do there. But check to see if this is something you can address. It could be patio furniture and plants. Maybe it's a tree outside that you are able to relocate.
If you have blinds in your place, I guarantee you're either sacrificing privacy or natural light. Switch out those blinds for some sheer curtains. Not only will this give you privacy and light at the same time, it honestly just looks a little more welcoming. I don't know many people who actually like those ugly white vinyl blinds.
I would only recommend doing this in areas you don't sleep in, though. That natural light shining in may not make you so happy if you're trying to sleep in on your days off.
Another simple fix is just angling your furniture to make sure you're reflecting, not blocking, the light. Obviously, don't put anything like a shelf directly blocking the window. But you also don't want the light to be hitting someone in the back of the head. It's best to arrange your furniture so that the light streams through everything fluidly rather than getting broken up by any barriers, even if they're indirect.
A little confused how this looks? Here's an example of a good vs. bad setup for natural light.
choose the right colors
I'm going to assume that you know better than to paint a tiny room with hardly any windows black, right? You're probably smarter than that. But did you know that there are actually certain paint color choices you can make that helps the light bounce around better in the room?
Okay, you probably assumed that, too. But I'm gonna tell you what those colors actually are. If your room is feeling especially dark, try throwing one of these colors on the wall to brighten it up a little:
bright orange (this is one of my personal favorites)
powder blue
ocher
lime green
soft gray
pink
pale yellow
lavender
Color, or tone at least, can make a difference on your floor, too. If you have the option, try to avoid dark, deep flooring and instead opt for lighter colors. This could be a light tile or wood. But since I'm guessing a lot of you reading right now are living in an apartment and therefore can't do anything about the flooring, hack it with a rug. Try to cover up the dark flooring that is going to absorb a lot of your limited quantity of light with a big, light colored rug. This could be cream, or if you want something a little more fun, pick a rug with one (or some) of the colors above.
choose the right materials
Just like color, there are certain materials that are a little more light-friendly.
To start, light's number one friend: mirrors.
Mirrors are great because who doesn't want a good ass mirror pic place in every single room in your house? But they also bounce light off like crazy. You want to make sure you're angling your mirrors so they're facing your light sources — preferably natural, but artificial light sources as well. This will help to give your room a nice, natural glow.
Certain materials — like crystal, metallics, and other shiny/glossy things — help bounce light across the room. You can incorporate these materials in any way you want. It can be in big things like chandeliers, tables, and sculptures. Or small details like candles, mantel decorations, and coasters.
go heavy on the light sources
This is where the "fake it til you make it" comes into play when dealing with shitty natural light. If you don't have a lot of light, create it yourself.
The trick here, though, is to distribute the lighting at different levels in the room. Too much lighting at the same exact height will make the light feel very artificial.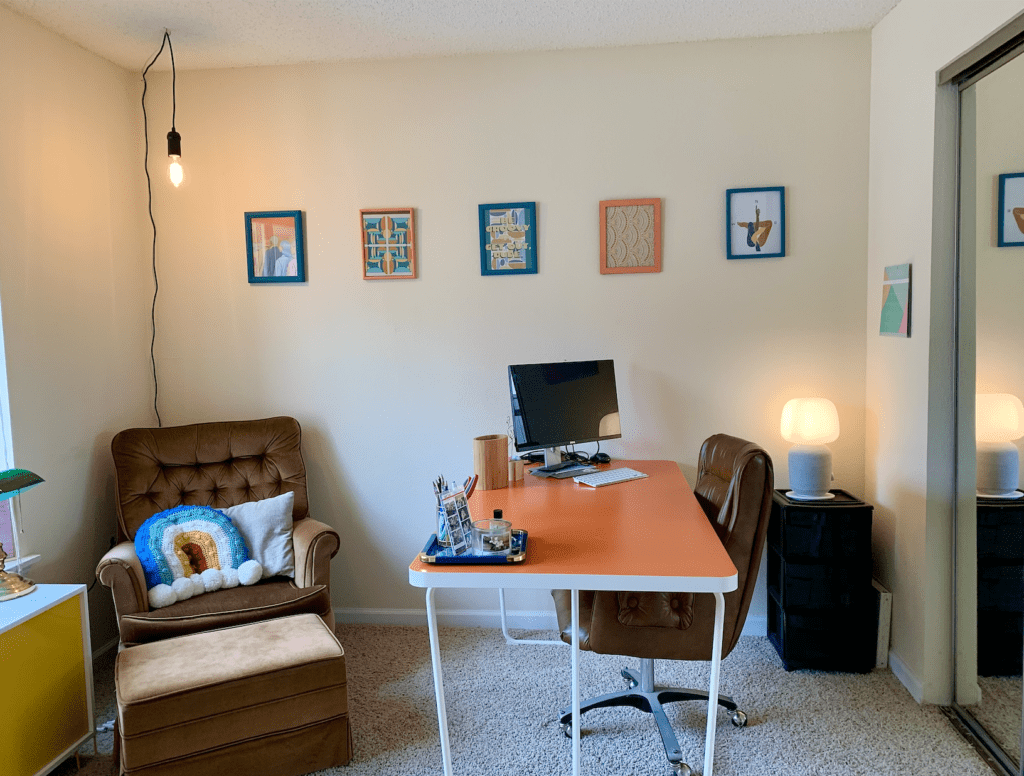 So how do you distribute it the right way? Let's say you have one pendant or flush mount light built into your living room ceiling. From there, you could add a standing lamp to the corner of the room or to the couch/a lounge chair for reading. Then you could mix string lights into the items on your mantel. Or you could do a plug-in light in a plug on your wall. Or a table lamp on a side table. There are plenty of light besides what comes built into the room that can spice it up a little.
Another way to fake that you have better lighting than you do is to just make the lighting the focal point in the room. You might have a great pendant light hanging in the middle of the room. Highlight that by facing all of your seating inward so that no matter which seat you or your guest is in, they're not thinking about how the light is kinda mehh in the room. They're looking at this dope light right in front of them.
and GOODBYE shitty natural light
Sure, it may still be shitty, but at least now you feel like you have the illusion of something a little more high class. One day, I hope we can all have floor to ceiling windows and gorgeous views with the perfect amount of natural light. But until then, hopefully this will hold you over.
keep it homey, homies
About me
Hey my name's Hannah Michelle Lambert, the voice behind homey homies. I'm an LA-based blogger and interior designer. I'm passionate about fun, adaptive, and affordable design that is filled with personality. And I'm a huge believer in a good DIY. Thanks for stopping by and I hope you find the inspiration you're looking for – and maybe a little extra 😉
---
You may also like…