Ever just look around your home and feel so blah about what you see? You can't pin it on one specific thing. It's not that hate your furniture or decor, but something just feels off.
Especially since we're all living like hermits right now, I'm sure you've all gotten sick of being in the same stuffy place. Unfortunately though, it's not as easy right now to go out and grab some new little decor pieces at Home Goods or Goodwill. And honestly, so many people have lost their jobs, so a lot of people have less disposable income right now. But just because you don't have money, that doesn't mean you should have to live in a less-than-inspiring home. Nah fuck that, that means all the more need for an enriching place to exist in.
Luckily, there are so many quick, free ways to give your home some new life. Some are bigger, more visual changes, and some just enhance the feel, but all make a definite impact on how you feel in the space.
touch-up/paint old things
If you're like me, you probably have tons of little containers of paint just lying all around. I have some little samples I bought at Home Depot before and several little tubes of acrylic paint. Grab some colors and look around your home for things that can be touched up.
Recently, I painted the edge of my door, one of my personal favorite ways to use paint. It uses not that much paint but makes a huge impact. But you can also paint thrifted or old items that just need a little refresh, like the Goodwill mirror below.
My next project when I can get my hands on some dark teal paint: painting my front door. Stay tuned.
go through your closet
We all have the items of clothing that we've been hanging onto for years and just refuse to get rid of. Now's the perfect time to come to terms with the fact that maybe it's just not meant to be.
Get rid of all of those old clothes, organize your closet in a way that gets you excited to pick out an outfit (even though "real" outfits are far and few between right now).
I have a clothing rack that I like to display my most ~aesthetic~ clothes on, and if you have something similar, give it a little makeover. Change up the theme you were going for, accessorize it differently, anything that will make it visually a little fresher for you.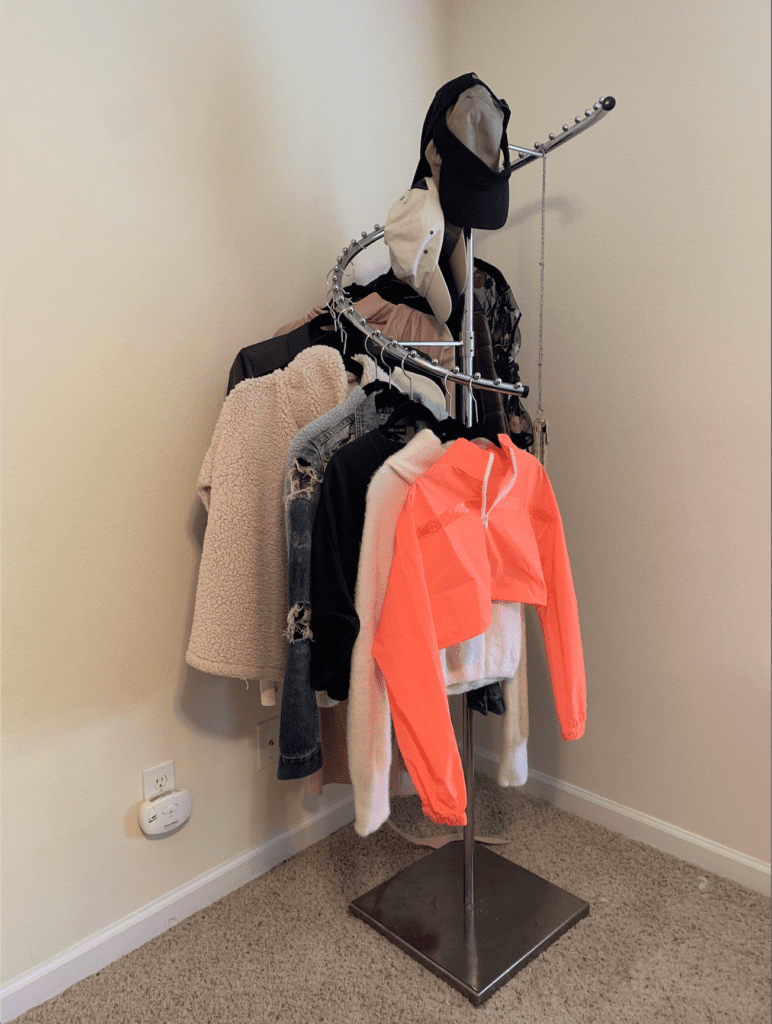 You've got 3 options for the clothes you decide to get rid of: bundle them together and store them away for when donations are being accepted again. Post them on apps like Poshmark or Depop to try to make a little money. Or, my suggestion if possible, try to repurpose the fabric to make something new. Turn the pants that don't fit you into a skirt. Get your frankenstein going and patch together a shirt from a few different shirts. Make a new pillowcase from a dress you never wear anymore. If you're feeling stuck on some creative ideas, Pinterest is always helpful for me.
rearrange your furniture
When I was younger, I would always rearrange my room a couple of times a year. And I always felt like I was in a whole new room every time. A simple rotation of your bed from one direction to the other makes a huge difference.
You could do a widescale reorientation of your whole living room, or simply rotate your desk on a different angle, switch the side of the room your armchair is on, or move a mirror to a different wall. Even if you are kind of locked into a certain configuration with your major furniture due to the size/shape of a room, these small changes can make you feel like the space is brand new to you.
I recently make the decision to move my clothing rack to the opposite corner of the room and place my mirror and rug in the rack's original corner. And it's crazy the difference it made. It feels like a fresh, dedicated area that I want to take pictures in now.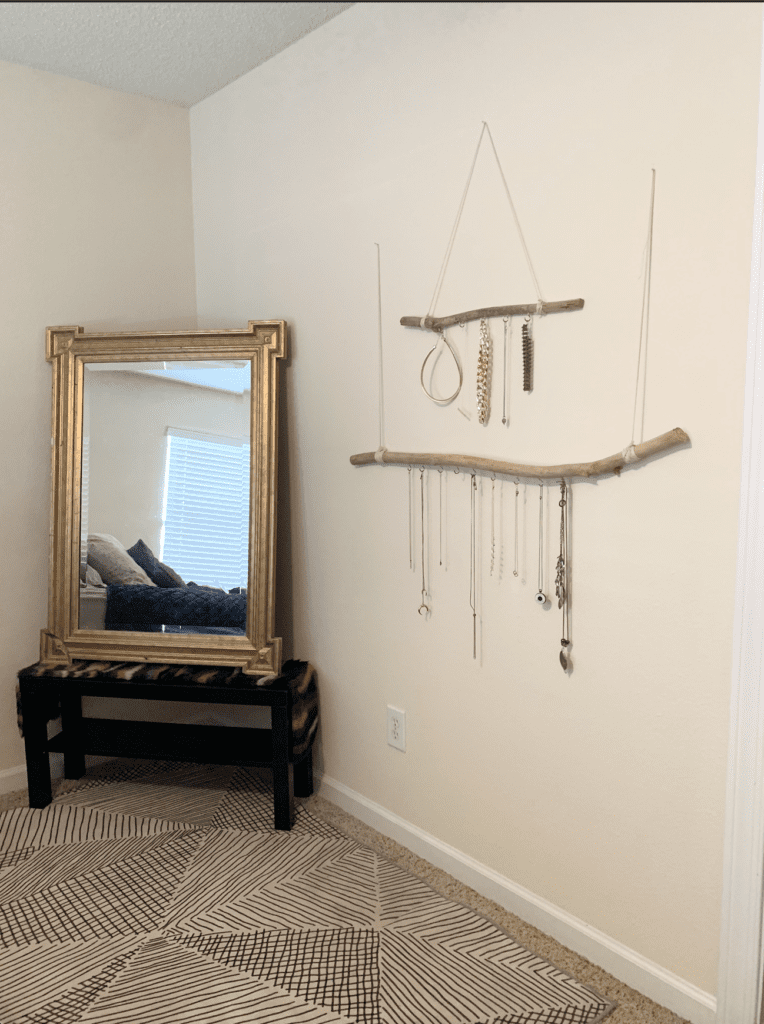 give it a good, deep clean
If we're being honest, your house is probably a lil bit grimy right now, right? Don't worry, mine too, along with the rest of the world that's stuck in their house, too. If you're in your house 24/7, lots of dirty, hair, and clutter is naturally bound to build up.
It helps to do a little bit of cleaning every day — wiping the stove as you cook, sweeping one room a day, doing your dishes as you use them — but nothing hits like a massive deep clean.
I'm talking pulling things away from the wall to sweep and vacuum, cleaning baseboards, junking out cluttered closets, placing some fresh air fresheners around the house.
Although this doesn't visually change your house that much (unless the clutter was insane before), it's going to feel so much more refreshing to wake up and exist in that space every day.
Plus, it can be very fun and is a great, productive way to pass the time when you're bored. Pour yourself a strong drink, bump some music, and get to scrubbing.
switch out things in your frames
I can't stress how EASY and how POWERFUL this is.
Although I don't currently have a gallery wall in my new apartment (yet? can't decide if I'm going to do one), in my last apartment, something just didn't feel right when I looked at my wall. And I realized it's because I had the same pictures in the frames for the past year and a half. I never even replaced them when I moved. So I took literally 20 minutes, flipped through some Vogue magazines, and just ripped out pages that I liked and stuck them in the frames. Instant makeover.
You could also print out some photos online, make a collage, draw something. You can really do anything, and as long as it makes you feel good when you look at it, it's an easy upgrade for your wall.
finesse some DIYs out of the things you have
I may have a bigger stash of random craft supplies than some, but we all have some random shit laying around our house that can be made into something new.
For example, everyone probably has a lot of soup in your house because it's non-perishable and you're trying to go to the grocery store as little as possible, right? Soup cans alone are an amazing base for a million different DIY ideas. Some of these may be a little corny, but use these ideas and any other ones you see on Pinterest as a springboard for your own imagination.
If you haven't seen my puzzle DIY artwork, check that out for an idea if you have an old puzzle laying around.
I'd love to hear your thoughts on other ways you're keeping your home fresh, comfy and exciting! Comment below or feel free to tag me on Instagram 🙂
If you're looking to spend just a little money, check out my top 7 Amazon home products under $50 and my suggestions for not free, but cheap, ways to refresh your house! I made these suggestions for when you move, but they'll work perfectly if you just need a little change, too.
stay home and stay safe, and
keep it homey, homies
About me
Hey my name's Hannah Michelle Lambert, the voice behind homey homies. I'm an Atlanta-based blogger and interior designer. I'm passionate about fun, colorful, adaptive, and affordable design. And I'm a huge believer in a good DIY. Thanks for stopping by and I hope you find the inspiration you're looking for – and maybe a little extra 😉
You may also like…