I'm bored as fuck. You're bored as fuck. We're all bored as fuck.
I've just been trying to channel that boredom into something more productive. Not just sitting in front of my tv all day every day. I do have my lazy days, because I think everyone should use this time to relax and refresh if you can. But I try to use at least some of my time intentionally.
A couple of times a week, I try to search around my house to see what can be done to make my place just a little bit cozier. Or a little bit more me. I mean, if I'm gonna be stuck here for another month or so, I might as well make it dope.
I might make a few more updates as I get some other little projects done around the house. But so far, these little projects have made a huge difference. And they took me all of anywhere from 30 minutes to an hour to do all of them.
So read on for some inspiration for projects in your own home. Hint: it's all about recycling stuff that you already have.
Can't keep my hands off paint
As you probably know if you keep up with me on Instagram, I paint everything. When I'm bored, I paint. When I want inspiration, I paint.
At my last apartment, I found an appreciation for painting the negative space. I painted the inside of the squares of my front door. I painted the inside of my doorway to the kitchen. It's an interesting and subtle (but arguably less subtle when you use orange or yellow) way to make a pop.
Most of the bones of my office are together, as you saw last week, but something was missing. There wasn't much personality yet.
So I did what I do best and took some spare paint laying around to paint the inside edges of the door. The doors are almost never closed, so I will always get a little burst of happiness when I'm in my office.
let's get rid of those ugly ass countertops
I had some spare faux terrazzo contact paper leftover from my previous bathroom countertop transformation. It wasn't quite enough to cover all of the counters in my kitchen. But it was the perfect amount to cover just the bartop that's visible from the living room.
This stuff was literally $4 at Walmart, and I'm so happy I randomly came across it. (It's unfortunately not online, otherwise I would link it 🙁 I think it's just in store)
Here's the before. Ugly. The ugliest brown countertop.
And here's after! A lot brighter, more inviting, and more fun.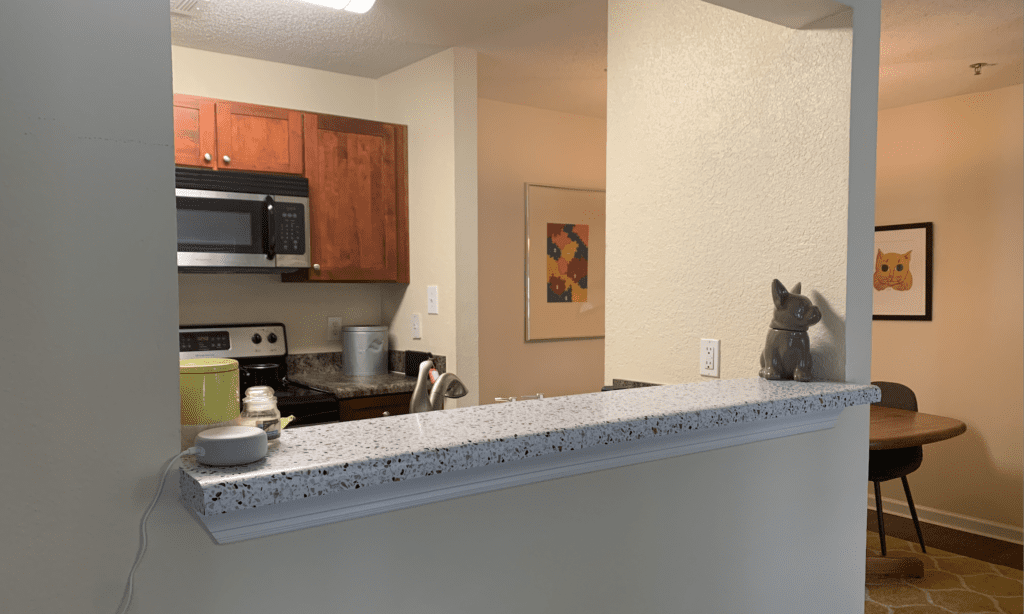 Took some junk and made it new
What do you get when you take a thrifted puzzle with missing pieces and a 3-year-old thrifted art piece? Turns out, a perfect art piece for my dining room!
Check out my IGTV video below for a full rundown. But basically, I painted over an old print, stuck my puzzle on top of it, and painted some of my favorite color in patches right onto the puzzle. The trick (and the hard part) is to stay in-line with the natural edges of the puzzle pieces to create what looks like big puzzle pieces with your color blocks.
This could even look good with one single color painted the whole thing. Especially with the missing pieces.
I felt like I needed a way to compensate for the dissatisfaction of not being able to complete the puzzle. This did it for me.
I'll keep you updated on the millions of other projects that will inevitably pop up. I might have already ordered some contact paper to cover the rest of my kitchen counters
keep it productive, and
keep it homey, homies