If you've ever heard of Canva Pro, you probably found yourself wondering whether it's worth it to upgrade to the Pro version. The free version is truly a top-notch digital product, so it's easy to think that you'll be set with that. But depending on your needs, the upgrade may be worth your consideration.
I use Canva in my 9-5 as a digital marketer, as well as in my side hustle as a blogger and interior designer, so I have lots of insight from several different angles on the best and worst of it.
I am a dedicated Canva Pro user and have been for the past year. Prior to that, I was a free user for over 4 years. So I've really dug into both versions and can give you the full rundown on whether it's worth it to you or not.
The short of it: Canva Pro is 100% worth it if you need an organized, streamlined place that makes it easy to create stunning graphic elements. If you are willing to jump through a couple of hoops, and ease of use and speed to complete projects isn't an issue for you, then you may be fine with the free version.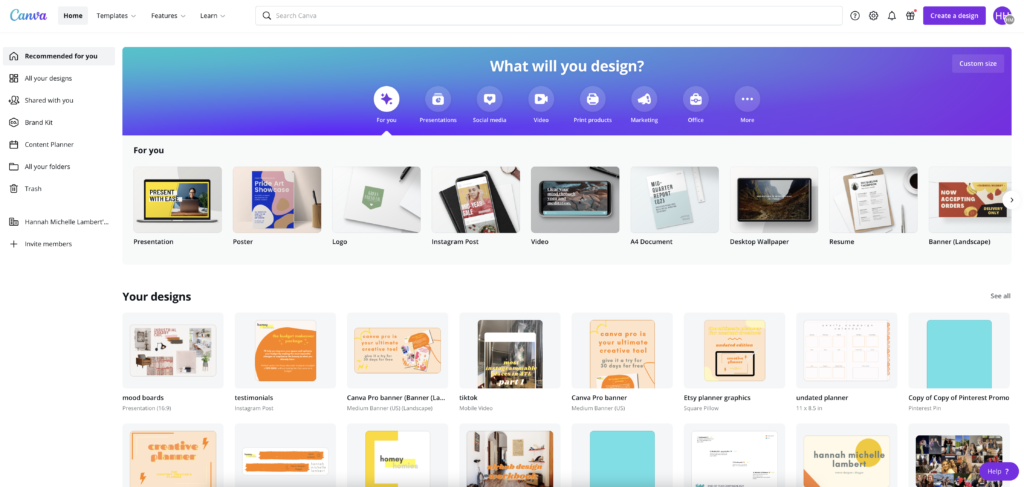 But let's jump into all the nitty gritty, starting with…
What is Canva?
Canva is, in a nutshell, a simplified graphic design platform. Everything is drag and drop, so you don't have to know how to use complicated platforms like Adobe Illustrator to create some really dope graphics.
You can really make any graphic element you want or need. Pinterest pins, Instagram stories, presentations, eBooks, TikToks, YouTube thumbnails. Anyone from teachers to entrepreneurs to marketers to students can find tons of value in Canva.
There is even a huge library of fonts, stock images and templates that make creating really easy, even if you've never designed something a day in your life.
What is Canva Pro?
If you think that Canva is great, Canva Pro is like that on steroids. You get basically the same functionality of the free version, but with tons of meaningful upgrades.
To me, it's an essential part of my marketing/content creation stack.
The benefits of Canva Pro
So now let's get into what exactly these upgrades include. I organized these features in order of importance/significance to me, but it could be a completely different order for you.
Background remover
This was initially the selling point for me. As someone who is constantly making interior design mood boards and blog graphics, removing backgrounds quickly and easily is important to me.
This feature isn't available at all on the free version. But with Canva Pro, it's as simple as clicking a button and it removes the background with pretty shocking accuracy.
If you have a more complex picture, you can always go in and erase or restore the areas that you do/don't want in the picture.
This is a great feature if you are making anything that's graphically dynamic. Like I said, I use it for blog graphics and mood boards all the time, but it's also useful for marketing assets, cover photos, art prints, and so much more.
More templates
The templates are where Canva really shines. If you're new to graphic design but are still tasked with creating graphics, templates are your best friend.
There are still lots of great templates on the free version, but when you upgrade to Pro, you have access to a library of an additional 500,000+. This makes a huge difference if you're constantly pushing out new material.
The majority of the time, I start out with a template to get my creative juices flowing. I often change tons of elements from the template to make it my own, but it's really helpful to have it as a helpful jumping-off point.
And with so many more templates available with Canva Pro, it makes it SO MUCH EASIER to find fresh, new inspiration for every single graphic you create.
You can also create your own designs and share them out as a template. This is great if you create digital products like planners or worksheets for marketplaces like Etsy.
Magic resize
This one is huge and definitely a feature that I didn't realize was so helpful until I had it.
With magic resize on Canva Pro, you can take any graphic you've already created and automatically resize it to the pre-set dimensions for basically any other platform or use you'd need it for.
Instead of going in and manually pasting back in all of the elements, this makes it automatic. You still need to adjust some of the elements to scale them to the new dimensions, but this makes it so much easier.
Downloading transparent background images
A simple feature, but extremely important. And when paired with the background remover feature, this gives you tons of capabilities.
The most common ways I use this are for 1. logos and 2. adding text + photos to a video on imovie. The logo is pretty self-explanatory: you need a transparent png to put a header on your website, on an email, etc.
But the 2nd use is really great for helping you work around having to use iMovie's limited font library. And I can add a lot more dynamic designs to my videos. I use this for both YouTube and Tiktok videos.
On the free version, you only have the capability of downloading images with a background.
Another detail I'll throw in this section: with Pro, you can also customize the quality you want to download your graphic in.
Scheduling social media posts
Being able to schedule social media posts right from Canva cuts out a lot of time if you have a last-minute social post to create. You can connect up to 8 social accounts – including Pinterest, Facebook, Instagram, Twitter, LinkedIn, etc.
Instead of saving your design and then navigating to the social platform or another scheduling platform like Hootsuite, you can take care of it all right in the canva interface, captions and all.
In the free version, you can still create beautiful social graphics, but you have to save them to your computer or tablet and schedule them out separately. If you're a busy person, cutting out this step may be a huge asset.
Brand kit
Consistent branding is crucial for any brand, and the brand kit really helps you make sure that everything you create is on-brand.
You can upload all elements, such as variations of logos, brand colors, and font. This makes it really easy to access these at any time. Instead of searching for your font, looking through your uploaded documents, or manually typing in your HEX codes, it's all there front and center for you.
There is a very limited version of the brand kit on the free version, but it only includes one color palette with 3 colors. You can't select your own font or logo.
20X the storage
For anyone who creates lots of content, you know that storage is a hot commodity. On the free version, you have a measly 5GB of storage. This is perfectly fine for someone who casually uses Canva. But if you are on here on any amount of a consistent basis, your storage will fill up fast.
Canva Pro gives you a full 100 GB of storage versus the 5 GB on the free version.
You don't want to have to worry about deleting old uploads and you especially don't want to delete old creations that you may want to reference in the future. This storage isn't necessarily a sexy feature, but it's something that you will likely be struggling without.
More upgrades on Canva Pro
Those were all, to me, the most important features you get with Canva Pro. I wanted to give them their own dedicated sections to really dive into them. But I'm also gonna list below some other, still important, features that you can get when you upgrade.
Access to video editing – I mainly use this to download transparent elements and edit in iMovie, but I have made some tiktoks here, and it was really helpful.

Double your access to more fonts and you can upload your own font
Access to full premium stock library + premium graphic elements – Full disclaimer: I truly hardly ever use the stock photos, but the premium graphics are a game changer. You have access to literally millions more graphics.
Slightly more animations available for fonts, graphics and photos (14 vs. 6)
Team access to allow for collaborative work

Unlimited folder creation to organize your work (versus only 2 on the free version)

Access to 25k (versus 75) audio tracks to include on videos
Canva Pro pricing vs. free version
The Canva forever free program is – obviously – free.
Canva Pro can either be paid for monthly or yearly, with the total cost of the yearly plan being a little cheaper.
If you pay on a monthly basis it's $12.99/month for up to 5 people. But if you pay for the year up front, it's $119.99/year for up to 5 people. Meaning that it's just $9.99/month.
Who should use Canva Pro?
If you're still a little unsure on whether it's the right move for you to upgrade, see if you fit into any of the following categories.
To sum it up, though: if you use any kind of design to make money, you should upgrade.
I can't tell you how much my profit has increased because of what I can do with Canva. The ROI is extremely strong.
Not to mention, you can write this off on your taxes if you use it for business purposes.
Content creators + marketers
Canva Pro will be your best friend. You can easily create and schedule on-brand content. Whether you're making graphics for social media, videos, email campaigns, or even website assets, the upgrade is super worth the price.
Entrepreneurs
This is similar to content creators + marketers, because entrepreneurship warrants a lot of those skills. But as an entrepreneur, you have a great need for branding assets. Being able to upload your logos, fonts, and multiple color schemes is a necessity.
Not to mention the tons more templates for presentations that can bring your pitch and important meetings to the next level. Professionalism is everything, and Canva Pro helps with that.
Also, if you have multiple people on your team, the collaboration capabilities are invaluable.
If you sell digital products
I recently got into creating digital planners, and Canva has been a huge asset.
If you're constantly creating new digital products, your storage is going to fill up fast. So that extra storage is going to be crucial. On top of that, the increased access to fonts, graphics, and stock images will make your life a lot easier, and it will make your products look better.
Interior designers
I can't stress this enough. If you're an interior designer, Canva Pro needs to be one of the first things that you add to your stack of technology.
The biggest asset here is the background remover and increased storage. If you're like me, you're making hella mood boards. And to make those look clean and professional, you need to remove backgrounds on elements of every single one.
And if you make a living this way, the storage is going to add up.
Also, if you can't invest the time and money into a more complicated rendering program like SketchUp/Photoshop, Canva pro is an amazing alternative.
I love creating quick and easy 2D renderings to communicate ideas without making a full 3D render
I am a huge Canva Pro advocate, but don't take my word for it. You can get a free 30 day trial of Canva Pro to test it out yourself. Use those 30 days to play around with the full functionality and see if it does it for you.
And like I said, the ROI is there. If you don't see it in the first 30 days, go ahead and cancel.
Have fun playing around with Canva Pro, and leave any questions you have in the comments below!
---
About me
Hey my name's Hannah Michelle Lambert, the voice behind homey homies. I'm an LA-based blogger and interior designer. I'm passionate about fun, adaptive, and affordable design that is filled with personality. And I'm a huge believer in a good DIY. Thanks for stopping by and I hope you find the inspiration you're looking for – and maybe a little extra 😉
---
---
Note: This post may contain affiliate links. This means that I may get a small commission if you make a purchase. This has no impact on price for you – it comes out of the seller's pockets.