We're still in Q1 of 2023, so I'm really trying to stick to the new year's resolution I made to not spend so recklessly. But it's hard. Especially when it comes to stuff for my home. So I've been thinking a lot about where to splurge in my home, and where it's not worth it.
Sometimes, I'll spend a lot of money on something for my home and immediately regret it. Other times, I'll opt for a cheaper alternative and kick myself within the first couple of months when I find myself disappointed with the look or feel of it.
As an avid home goods and furniture buyer, I've learned a lot from my mistakes. And I'm here to share my insight with you so that you don't make the same!
Where to splurge
Sometimes, pinching pennies on heavily used or highly visible pieces will end up costing you in the long run.
Whether you end up having to re-purchase because of rips/tears/stains or because it's just not the quality you want to see every day, these are the things I would recommend shelling out a little more cash for.
Disclaimer: When I say splurge, I don't mean just spend a lot for the hell of it. And I don't mean that you can't find a really high quality piece secondhand to save some money. (I recommend always looking secondhand first for EVERYTHING).
I just mean don't buy some shitty Amazon furniture and call it a day. Do some extra research before your purchase and put any extra money you have in your budget towards these pieces first.
Couch
Your couch gets a lot of action. From movie nights to mid-day naps, maybe some pet snuggles, there's a lot of wear and tear on these things.
So you want to make sure that you're investing in a quality piece that won't get stained, pilled, stretched out, or ripped.
Not to mention, the couch is typically one of the most noticeable pieces in your living room. So it has a huge impact on the overall design of the room.
I splurged on my Floyd sectional and I don't regret a single penny of it.
Bonus: If you invest in an expandable sectional like the Floyd one, the investment is even more worth it since it can grow with you.
Desk + chair
This may not be as important if you don't work from home. But if you do, this is crucial.
(I say as I'm typing from my brand new desk and chair that I had to buy because I didn't think my original purchase through, smh)
These are incredible pieces to find on Facebook marketplace, but don't be afraid to splurge a little for a new one if you can't find the perfect match secondhand.
Your desk and impact your productivity, your posture, your comfort. This work setup is way too important to take this decision lightly.
Consider your working style and get a desk that fits it exactly. That could be a desk with a huge tabletop for spreading your papers out, a sit/stand desk paired with a walking pad to keep you active, or one with lots of drawers to keep your shit organized.
For the chair, go for comfort. Don't be fooled by an "aesthetically pleasing" chair if it's going to be a nightmare to sit in for hours. So maybe be prepared to spend a little more for one that's both comfy and has a design you're not gonna be bored with.
Mattress + bedding
Much like the couch and your desk setup, you spend a ton of time in your bed, so you don't want to skimp on quality.
For your mattress, pick one with a firmness that fits your sleeping style. And don't be afraid to spend a little extra to get the next size up. I recently upgraded from a Queen to a King and it's made a world of differences.
For the bedding, seek out something in a comfortable breathable fabric. Anything from Casaluna is a go-to for me now.
And maybe even consider investing in both a winter and a summer comforter to make sure you're the perfect temperature all year wrong.
Artwork
Artwork is one of my favorite places to splurge in the home.
While I'm always a proponent of a good DIY art piece, a great piece of original art is always a solid investment. Whether it's from a small local artist or from a more upscale art dealer.
Art is one of the best places to show your personality, so it's worth paying a bit extra for pieces you really love.
And the great thing is that your art collection allows for more eclecticism in your home. Not everything has to be in the same style, medium, etc. So it's less likely that you're going to feel the need to get rid of pieces or replace them; instead, you just add onto your collection.
Speaker system
Whether you're an avid entertainer, a movie night lover or you just love some good ambient noise when you're chillin in the house, a great speaker system is a must.
And when you pinch pennies and get a cheap speaker, you're going to hear the difference. Shallower audio and tinny sounds are going to throw off the vibe.
I've talked several times about my Sonos speaker lamp, and I still love it years later. I love throwing on the Jazz in the Background playlist on it when I'm reading or lounging around the house.
But if you want to bring it to the next level, consider investing in a full surround sound system.
Lighting
Lighting is make or break for you home. Great lighting can make a mediocre room look more luxe, and it can make a beautiful room appear cheap. So it's worth putting a little extra money here.
Bare minimum, I like to swap out bright, cool lightbulbs with warmer bulbs. You could take it a step further and get some smart lightbulbs to allow you to change the lighting to suit your needs at any moment.
If you really want to make a statement, though, pick up some new light fixtures. Anything from new wired light fixtures, plugin sconces to wall or table lamps can give your place a bit more intention and luxury.
Bookshelves + storage
Storage like file cabinets, bookshelves and chests of drawers are a crucial part of any home in my opinion. No matter how minimalist you are, you're going to have a lot of stuff. And these storage solutions help to keep it organized and prevent it from distracting from your design scheme.
And you don't want something wobbly that can potentially put your items at risk of being damaged in a collapse or have sticky drawers that make it hard to get to.
Investing in a sturdy and good looking storage solution upfront will save you a lot of annoyance, and a lot of money since you can keep it for years to come.
Trash Can
This may seem like a strange suggestion for where to splurge, but just hear me out.
Having spent years dealing with cheap trash cans thats lids detach or pedals stop working, I had enough. So I decided to spend $150 on a Simplehuman trash can and I have no regrets.
Now you don't have to splurge as much as I did, but if you opt for something more than the shitty $20 plastic can, it will help you contain odor, avoid an eyesore if you can't tuck your trash can away in a closet or cupboard, and skip the frustration of a falling apart trash can.
Where to save
If you're a design lover, you're likely always wanting to make some small changes to your house. And those changes cost money.
These recommendations for areas to save can hopefully alleviate some of that financial burden.
The main criteria I used to determine what goes here is either that these pieces:
1. Are great places to play with trends. But since trends are pretty fickle, you don't want to drop a ton of money experimenting with them.
OR
2. These pieces just really aren't important enough to warrant a large price tag.
Accent chairs
Accent chairs are one of my favorite places to have a bit of fun in my house. And because of that, I'm typically never buying one as a forever piece.
Since you don't need it to hold up for years, it's okay to go for a lower quality piece that may not be able to withstand a lot of wear and tear.
This is a great opportunity to scope out cheaper furniture stores, or even to try re-upholstering a thrifted chair yourself!
Rugs
You literally walk all over rugs every single day, and they're often in the danger zone for spills and pet accidents. So I would almost always avoid paying several hundreds of dollars for a rug.
The exception here, of course, is a washable solution like Ruggable. But because of the high price tag, this isn't a feasible option for most people to buy for every room in the house.
If I can't find a great secondhand rug on FB marketplace or the thrift store, I shamelessly use cheaper marketplaces like Amazon or Overstock to get a big, trendy rug with for a cheaper price that won't devastate me if I have to replace when I either get sick of the design or it gets noticeably worn out.
This is also something that I typically like to replace every time I move (every 1-2 years), so the cheaper the better.
Side tables
I have these on a no splurge list for a similar reason to the accent chairs. You can have a little more fun with these, so don't stick yourself with something for a long time by splurging on it.
These also don't need to bear a ton of weight typically, so as long as you get one that isn't wobbly from the beginning, it likely won't be subjected to too much wear and tear.
Curtains
High quality curtains can be expensive as hell. And I'm gonna say it: it's not worth it.
There are 2 exceptions:
If you're using curtains as a doorway/separator, so the physical feel of it is important
If you need heavy duty blackout curtains
But if you're looking for run of the mill curtains to block a little light or add a pop of color or pattern, I am a fan of getting a cheaper Amazon/Walmart pair.
Decor + accessories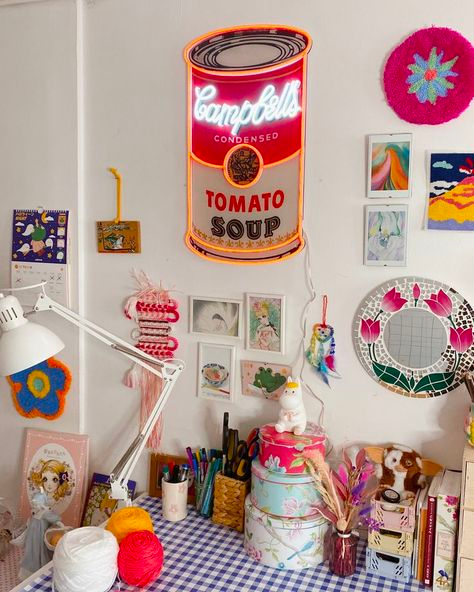 I could never fathom who buys those $50 decorative trinkets from somewhere like West Elm or Anthropologie. Especially if you have a more maximalist style, you likely have anywhere from 20-200 knick knacks in your home. And splurging on all of those will leave your bank account crying.
Aside from the pure financials of it, I think that these things are best gathered over time. Picking up something from the thrift store here, something from your travels there, and maybe some small gifts makes for a lot more personal and meaningful collection that gives your home more personality.
About me
Hey my name's Hannah Michelle Lambert, the voice behind homey homies. I'm an LA-based blogger and interior designer. I'm passionate about fun, adaptive, and affordable design that is filled with personality. And I'm a huge believer in a good DIY. Thanks for stopping by and I hope you find the inspiration you're looking for – and maybe a little extra 😉
---
Note: This post may contain affiliate links, so I may make a small commission if you make a purchase. But this does not increase the cost to you at all – it comes out of the seller's pockets.