You don't have to have tons of money for your home to look like you have a ton of money. Even if you have a rental. There are several ways that you can make your home look more expensive without breaking the bank. As with any other budget-friendly pursuit, it's all about making the most low-budget, high-impact decisions. Here are 9 easy ways to stretch your budget the furthest to make your home look more custom and more expensive.
1. replace your light fixtures
Nothing outs your home as being low budget as much as a boob light.
Or any other basic, outdated light fixture. But luckily, with a little patience and a little courage so get into some electrical wires, these lights can easily be replaced. And at places like Amazon, Ikea, or Home Depot, you can actually find replacement light fixtures for a really good price.
Lighting is one of the most immediately visible details when someone walks in your home. So even switching out one fixture with something a little more modern or a little more unique will give you a little extra edge to make your home look more expensive.
The best renter friendly light fixtures are pendant, sconces, retro-style lamps, and wall lights. These plug-in and budget-friendly light fixtures are easy-to-use and give an updated and modern look to your house.
2. the right furniture layout
A quick tip that you may not know: pushing your furniture up against the wall automatically gives off a certain vibe. And it's not the vibe you're hoping to create if you're reading this post. So just pull it off the wall if your space allows for it. This is a totally free upgrade.
Let's look at an example below. When you leave some space between your furniture and the wall, it gives a less cramped feeling and a more open flow.
How you place your bed also plays a big role in making your home look more expensive. Instead of shoving it in one corner, center it in the room to give access on both sides. Again, this creates better visual flow. And to put the cherry on top, place a nightstand on both sides, not just one.
3. replace your blinds
Blinds are just not cute 90% of the time. Especially the plastic ones that typically come with apartments. But luckily, it's extremely easy and very affordable to replace these.
Look at the difference simply moving a curtain over the blinds made in my own bedroom.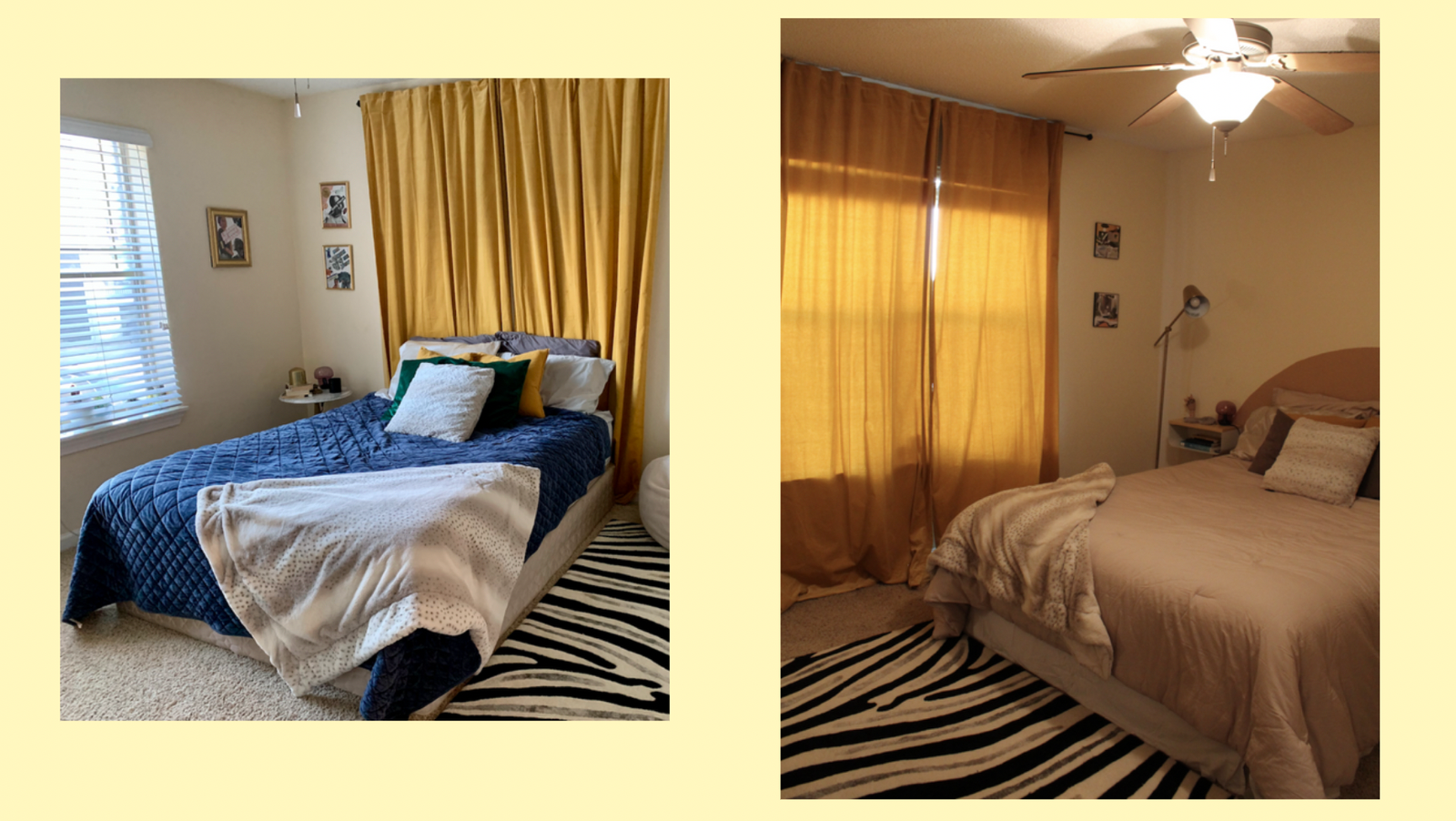 Whether you keep it simple with a neutral color or spice it up with a brightly colored or patterned curtain, it's going to look much better than the blinds.
For a bonus upgrade that's completely free: hang your curtains from the ceiling. Even if you have a couple-foot gap between your window and the ceiling, bringing the curtain all the way up gives off the illusion that your ceilings are higher. This immediately makes your home look more expensive.
4. layer your rugs + add runners
Layering rugs is one of the best kept secrets in interior design. For some reason, people think that you can only lay one rug down at a time. But that's not the case.
You can either center a smaller rug on a bigger one to distinguish an area in a bigger room.
Or you could later some rugs on top of each other just for aesthetic's sake.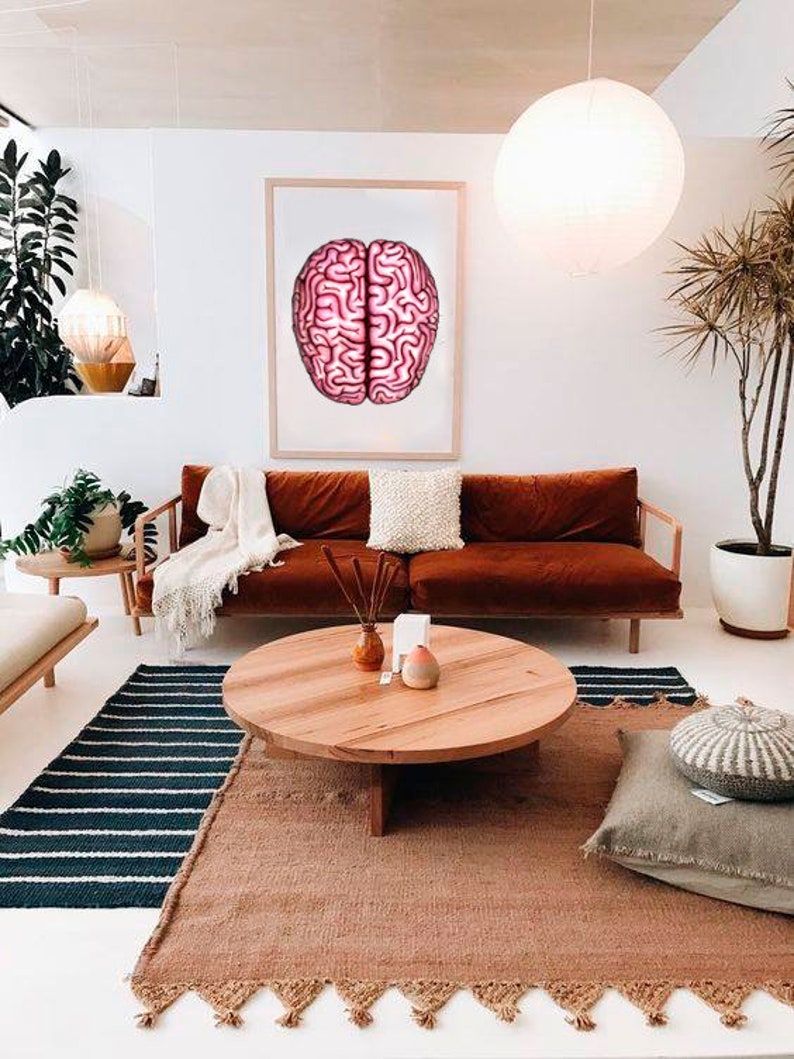 5. new handles + knobs
Tacky silver or aged brass handles and knobs are a dead giveaway for a rundown apartment. But they're so easy to switch out. A quick Amazon search will give you tons of options to fit literally any budget. If you really wanna splurge, you could ball out on some Anthropologie ones.
And once they come in, it's as easy as screwing off the old ones and popping the new ones on.
Pair this with a new coat of paint and it looks like a whole new cabinet/door/etc., but even by itself, it's very high impact and will for sure make your home look more expensive.
6. varied light sources
Something else you've probably felt before but may not have known about interior design. If you're getting light from a single light source in a room, you could be preventing it from its full potential.
But if you have multiple light sources, at multiple different heights in a room – like a ceiling light, a floor lamp, and maybe a scented wall plugin – then you're giving a much more intentional vibe with more evenly distributed lighting.
You could add several light sources if it makes sense and doesn't overwhelm the space. But even adding a single table lamp or nightside sconce can up your game a little.
7. hide your fuse box
If your fuse box is an eyesores (and they probably are), just cover it up with some art!
It works best if you hang up a canvas, since it has the indentation in the middle. But I just hung a regular frame over my fuse box, and you can hardly notice that it's pushed out a little bit. I personally love hanging up some art in hallways to take advantage of usually ignored design space, and it's a bonus if it can do double duty and hide some ugly shit too.
8. repeat colors + textures throughout
Having a cohesive scheme throughout your house shows that you put some love into it, and that will always make your home look more expensive.
Now, you don't want every room to look like the same exact vibe, but you do want cohesion. And the easiest way to do this is by repeating colors and textures from room to room.
In my home, there is some amount of peach, yellow, and baby blue in almost every room. As well as cow print. So although each room is very distinct, this repetition brings it together and makes the design look really intentional.
In your home, you can choose a few colors to repeat. Or you could choose a pattern. Or let's say you want certain fabrics/textures like silk or flannel throughout. All of this will definitely give your home that extra edge.
9. add mirrors
There's a reason people are so obsessed with mirrors. And it's not because we're vain and need more areas for selfies (although that is a bonus). It actually makes your house look nicer and bigger.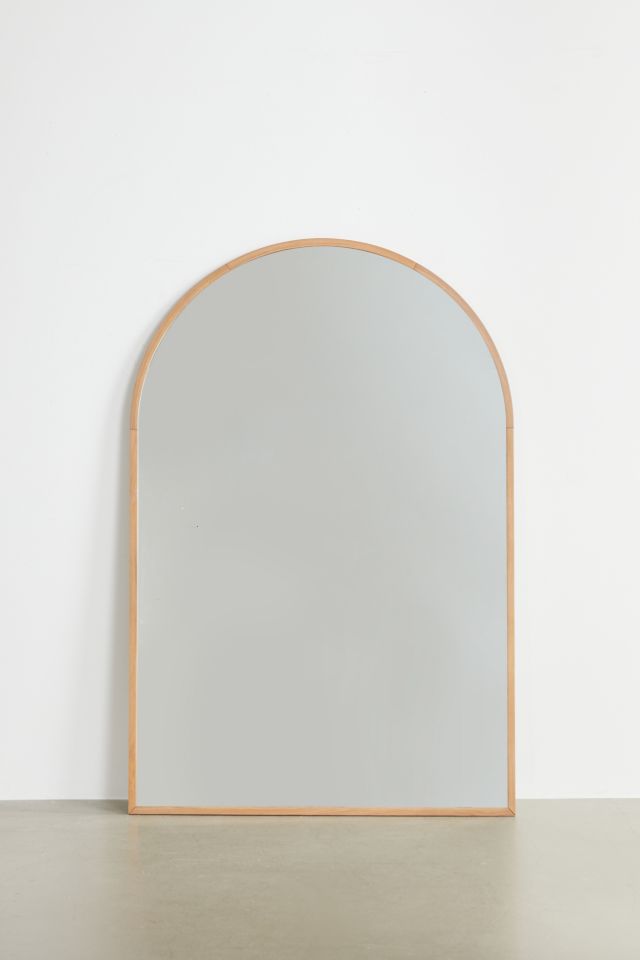 Good natural lighting is typically a feature of a nicer, more expensive home. And mirrors are a great way to fake great natural light. They reflect whatever light is coming in a carry it throughout the whole room.
Mirrors also give the illusion of bigger rooms. So even if you have a tiny space, some well-positioned mirror can have almost a funhouse effect of expanding the space.
So add some floor-length mirrors, some arched mirrors on your mantel, or even some funky-shaped novelty mirrors on your walls.
how to make your home look more expensive? – fake it til you make it
Just kidding, it's not faking it. All of these tips truly do make your house look nicer, more well-designed, and will likely make you happier living there. It's all about playing up what you do have, and playing down what you don't.
You got this!
keep it homey, homies
---
About me
Hey my name's Hannah Michelle Lambert, the voice behind homey homies. I'm an LA-based blogger and interior designer. I'm passionate about fun, adaptive, and affordable design that is filled with personality. And I'm a huge believer in a good DIY. Thanks for stopping by and I hope you find the inspiration you're looking for – and maybe a little extra 😉
---