Every holiday is an excuse to decorate your house, I think. Even if it's just small touches here and there, it's nice to jazz things up a little bit seasonally. And for me, these small changes hold me off a little longer from doing a full redecoration. It's a great way to itch that redecorating scratch. But Valentine's Day decorations often get neglected – people tend to focus more on Halloween or Christmas.
Valentine's Day decorations: to do or not to do?
It's just one day, so is there a point to decorating? And is it worth decorating even if you're single? Easy answer: yes.
Valentine's decorations are arguably the cutest holiday decorations out there. It's a holiday all about feeling the love, so it's such a great vibe to bring into your home.
Lots of hearts, delicate lace, candy accents. It's such a fun way to accessorize, even if it's just for couple of days.
If you're having a special date night in, having some tasteful Valentine's Day decorations around can really set the cozy, lovey mood. But it's also perfect if you're having a little galentine's celebration with your friends. And honestly, even if you're chillin solo on Valentine's Day, what better way to show love than through self love?
And who says these decorations need to come down February 15th? Keep 'em up all month and keep the love going.
so what are the best Valentine's Day decorations?
As with any other holiday, you can really go as all out or as subtle as you want. For a more subtle look, maybe just choose one or two of the following things per room. If you wanna go all out, pick as many that make you happy.
I also included recommendations to hopefully accommodate a wide variety of taste. If you want a more classic, understated look, I got you. If you want a more eccentric option, I also got you.
So let's go into some details for every room:
kitchen + dining room valentine's decorations
If you're looking to host a special dinner – for yourself, for two, or for a whole friend group – there are so many cute love-y touches you can add into your kitchen and dining room.
hand towels
This is the easiest swap to make. At a very minimum, I recommend changing these out seasonally.
Not only is this a really cheap (as little as $3!!) swap, but it's usually one of the main decorative accents in a kitchen. That means high impact, low price.
These red and pink dish towels below are cute and festive, without looking cheesy or over-the-top.
cloth napkins
Grabbing some really cute festive napkins can really bring your special meal to the next level. Whether you need some Valentine's Day party supplies or you're just hosting an intimate meal at home.
You could go classic pink silk/linen or lace. Or you can add in a fun graphic pop with napkins like the lip pattern below.
cocktail glassware
Who doesn't love a good excuse to pick up some new barware? Get a beautiful vessel for whatever special Valentine's Day cocktails you're whipping up.
These glasses below look so delicious and remind me of candy hearts and luxurious rosé champagne.
heart shaped plates
Buying all new plates for a single special occasion may not be the vibe for everyone. But hey, if you are really tryna go all out, you can't go wrong with some cute ass heart-shaped plates.
Prefer to buy a single accent piece of serving ware? This bamboo serving platter is perfect for desserts, a charcuterie board, or anything else you want to display.
living room + bedroom valentine's day decorations
I love to jazz up the cozy areas in my home like the bedroom and living room for holidays. Especially in the living room where it's super visible to guests.
throw blanket
You can truly never have too many throw blankets. I personally think having any less than 10 blankets in your home is too little.
They're both functional and decorative. You could fold a Valentine's Day blanket and put it on the top of your blanket basket pile for a subtle accent. Or you could drape it over the arm of a couch or side chair for a bigger impact.
If you're trying to pick any one of the potential Valentine's Day decorations, throw blankets are a great choice.
pillows
This one's self explanatory. Whether you throw them on your bed or a couch in the living room, they make an immediate festive statement.
Simply getting V-day pillow cases to cover pillow you already have is definitely the most budget-friendly option. But if you're looking to get some great statement pieces, these options below are great.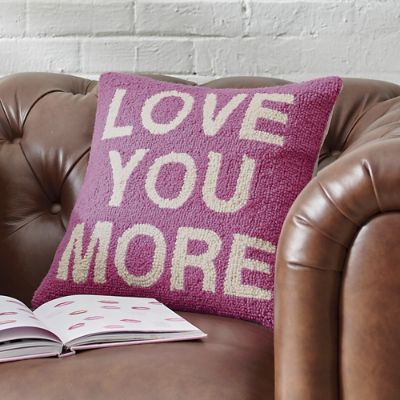 candles
Seasonal scents are such an underrated way to totally change the vibe of your home from season to season. You notice the smell of the spaces you walk into before you even register the visual elements. And luckily, these are also really budget-friendly updates to make.
You can definitely go the visual route and grab some cute, trendy candles like the bubble and knot ones below. But I would also recommend getting some really lovely, romantic Valentine's Day-scented candles as well to set the tone.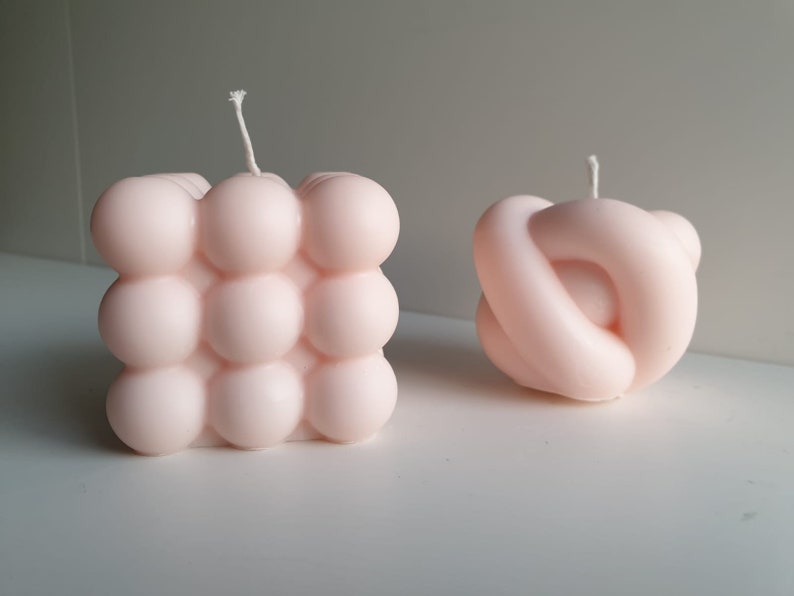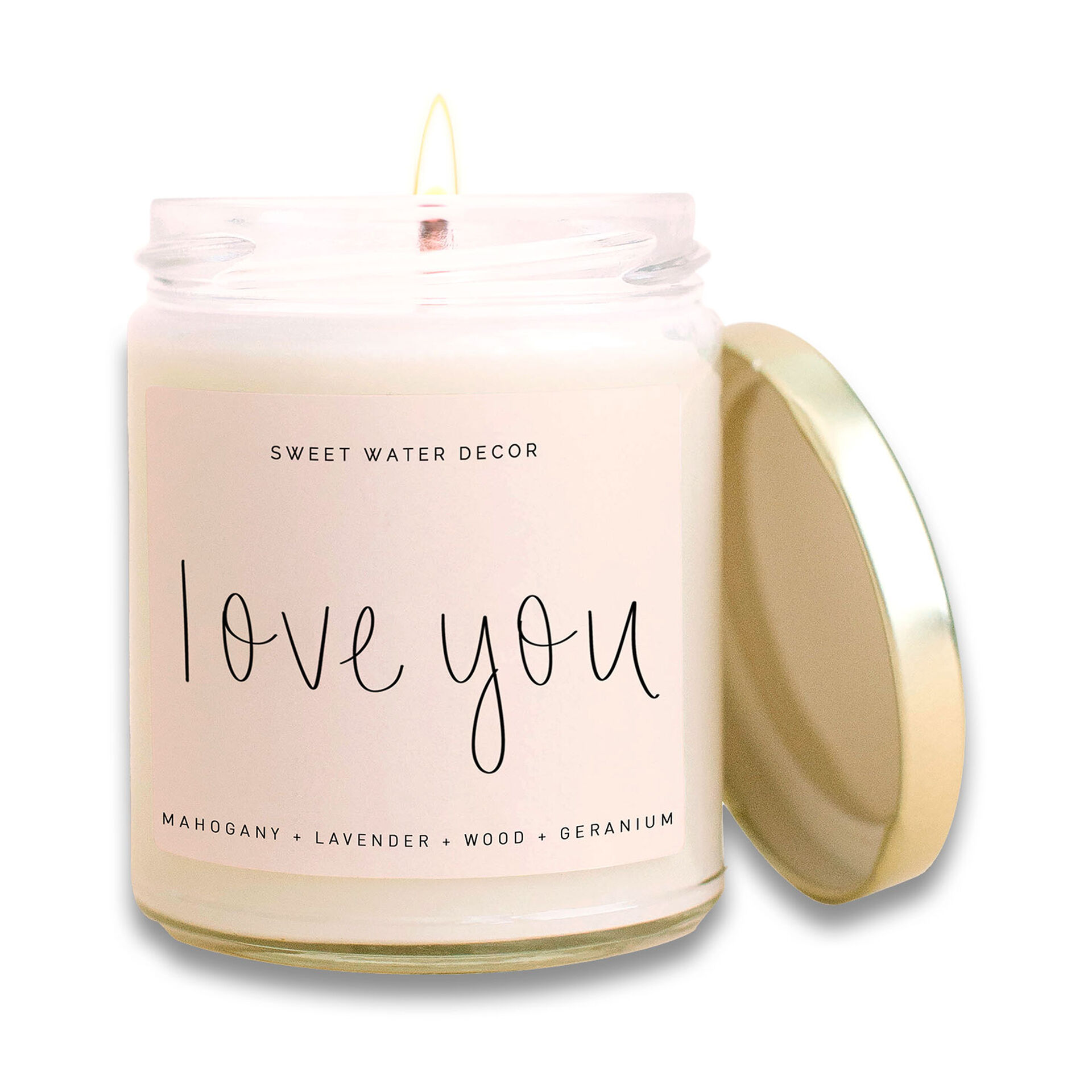 mini neon heart light
Heart decorations will always have a place on Valentine's day, of course. So I had to include this super cute, $14 neon light on this list. So affordable and such a cute accent to add to any room in your house to give it that sexy, romantic vibe.
vase or candy holder
What would Valentine's Day be without flowers and chocolate? So getting vases and candy dishes are a great way to get your home in the lovey dovey spirit.
bathroom valentine's day decorations
The bathroom gets neglected design-wise a lot. But because of that, when people do put some seasonal love into their bathrooms, people will notice. Making even small changes will definitely put a smile on your face or your visitors' faces whenever they step in the bathroom.
bath mat
Swapping out a whole shower curtain for each holiday isn't really worth it to me. But changing the bathmats is my favorite way to make a big statement.
Go for an understated but sassy "Sweet cheeks" bath mat (or should I say "cheeky" instead of sassy?) Or go for a fun, hot pink Comme de Garcons-inspired mat.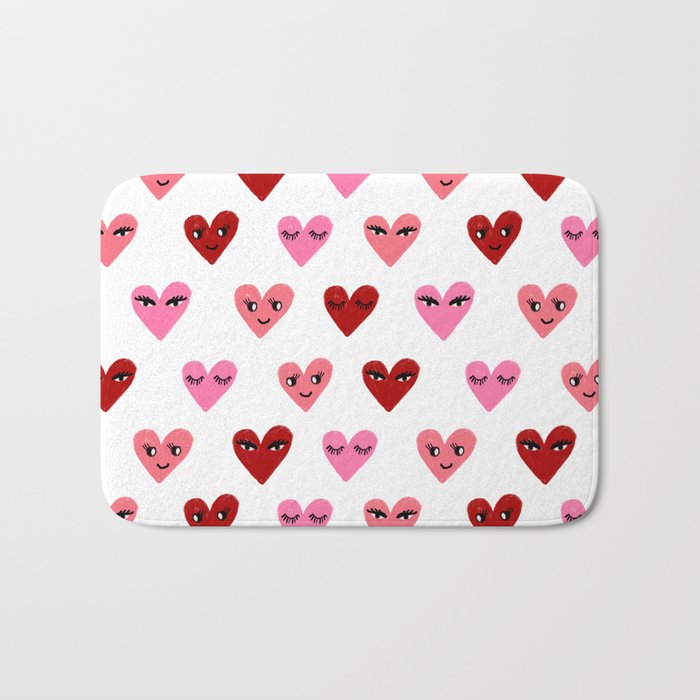 soaps
You may already be running low on soap, so this decoration is both decorative and functional.
You could get some really unique decorative soaps like the conversation heart soaps below if you're entertaining and want to really impress. But you could also go the subtle route and just get a seasonal scent.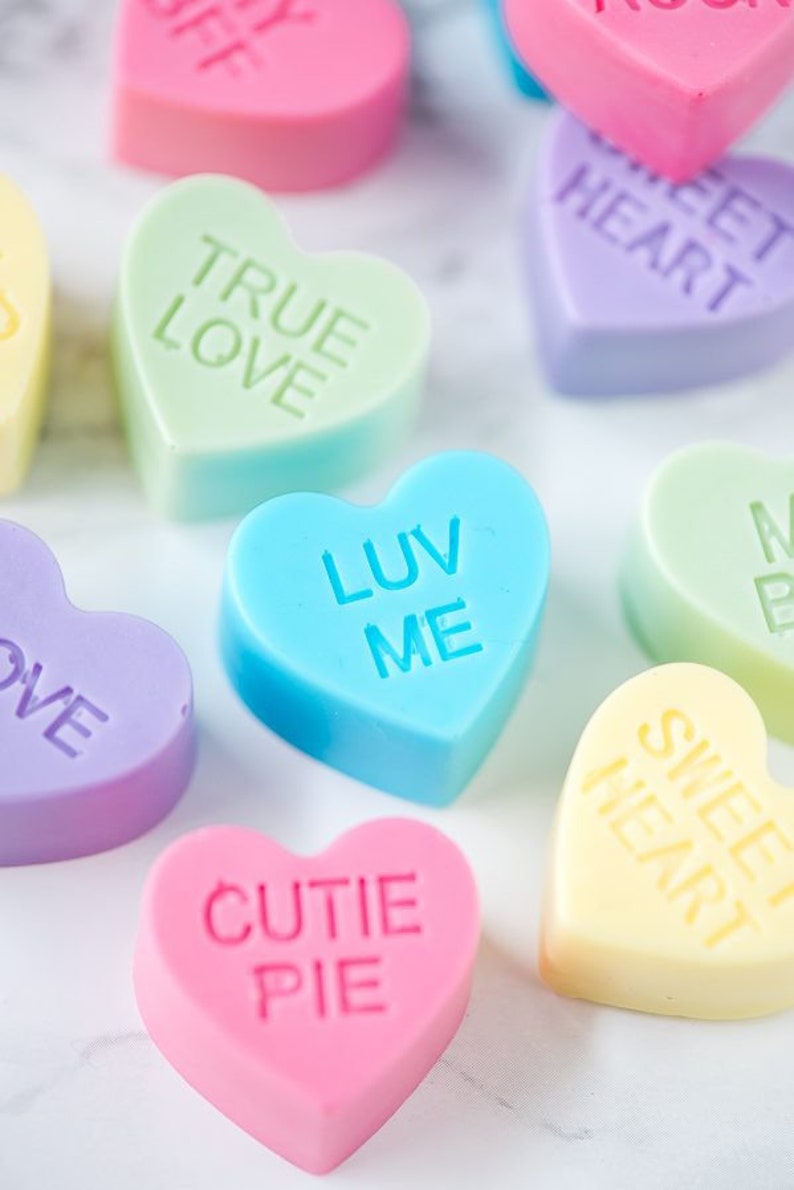 hand towels
Like a bath mat, your hand towels are one of the main decorative accents in your bathroom, so swapping these out can instantly bring your bathroom from blah to memorable.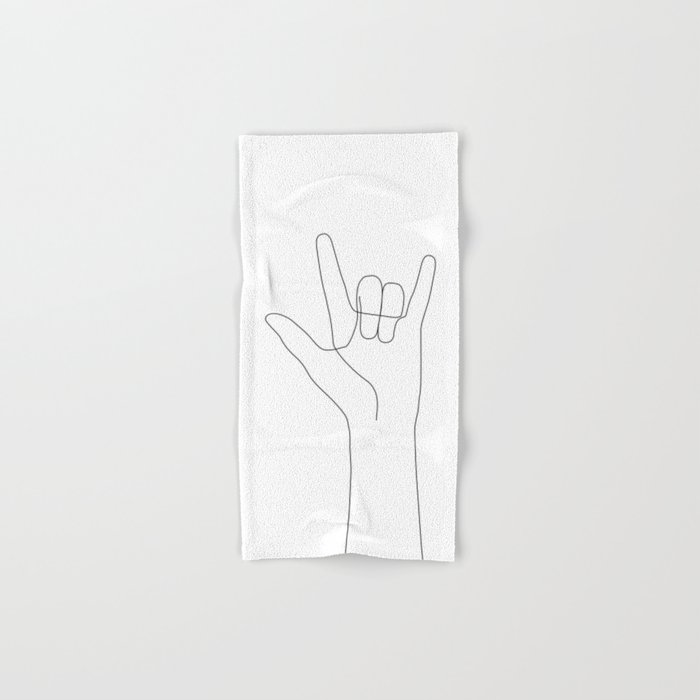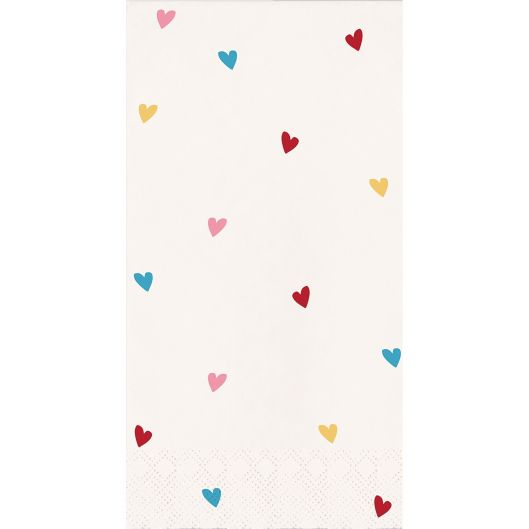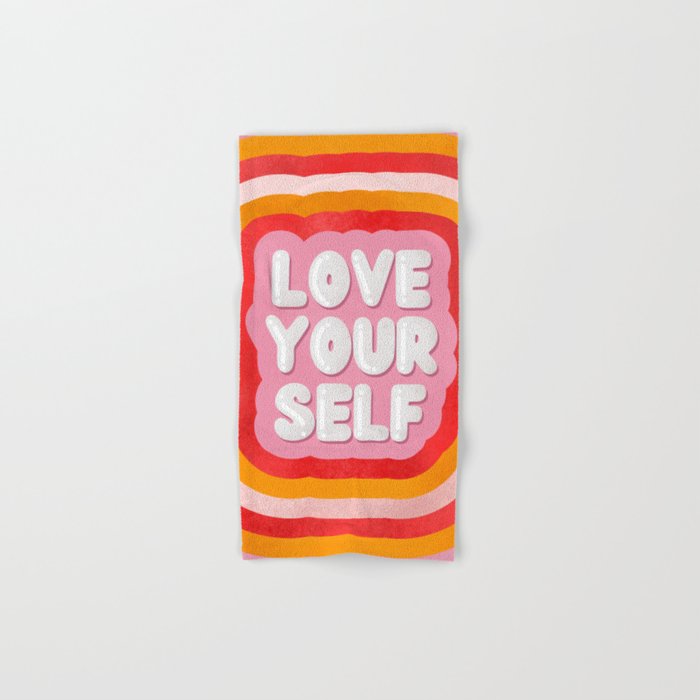 i hope these suggestions help you start feeling the love
The best thing about Valentine's Day is the focus on happiness and love, so I think it's a great time to check in on your home and make sure it's giving you all the vibes you need.
Feel like you need a little help creating a home full of personality and great design? You can sign up for my 7 days of design tips. Every day for a week, you'll get a quick but helpful interior design tip in your inbox.
As an interior designer who has spent years crafting spaces that are reflective of who inhabits the space, I've picked up a few secret sauces. And I'm sharing them all with you!
You can sign up below:
Note: This post may contain affiliate links, so I may make a small commission if you make a purchase. But this does not increase the cost to you at all – it comes out of the seller's pockets.
---
About me
Hey my name's Hannah Michelle Lambert, the voice behind homey homies. I'm an LA-based blogger and interior designer. I'm passionate about fun, adaptive, and affordable design that is filled with personality. And I'm a huge believer in a good DIY. Thanks for stopping by and I hope you find the inspiration you're looking for – and maybe a little extra 😉
---