Thanksgiving is just a couple of weeks away, so you're likely dreaming up your tablescape design. Who doesn't love an opportunity to pull out all their best serving dishes and wine glasses? But maybe you're sick of the same old same old, and you want some inspiration to shake things up this year. So I rounded up 13 of the best, most stylish, most unique Thanksgiving tablescapes to give you some ideas.
No matter what your style is, I guarantee there's something that will spark some inspiration on this list.
here are the best, most unique thanksgiving tablescapes i could find on the internet
1. rich fall wine red and mustard yellow- With Love From Kat
Nothing screams the coziest part of fall that's creeping into winter than a deep, wine red. And paired with the rich mustard yellow and lush greenery, it's the perfect tablescape if you're going for dramatic and vibrant.
Or if you want your wine to match your decor.
get the look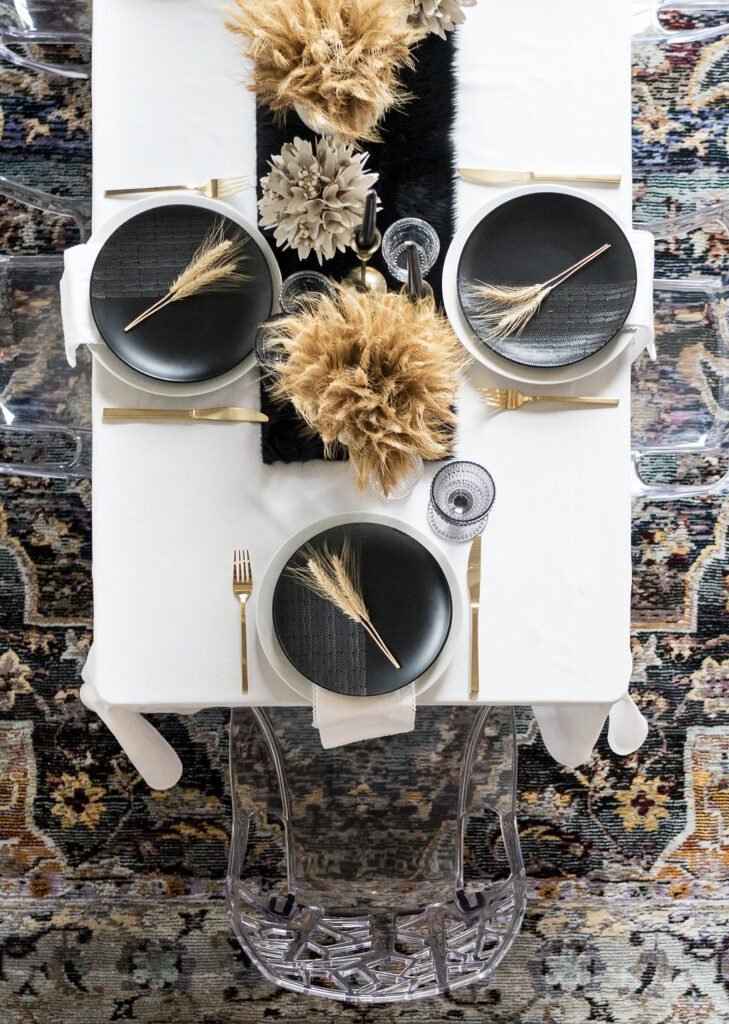 Black and gold will never go out of style. The black brings the gothic vibes, and gold balances it out with a luxurious twist.
What really makes this such a good, unique thanksgiving tablescape is that it also blends in some natural, fall elements.
get the look
3. french-inspired romance – coco kelley
If you're into more of a Parisian, vintage look, you may want to take a look at this one.
The aged cream linens, the neutral color palette, and the wild yet romantic floral arrangement is the perfect combination if you want to create that intimate and romantic vibe.
get the look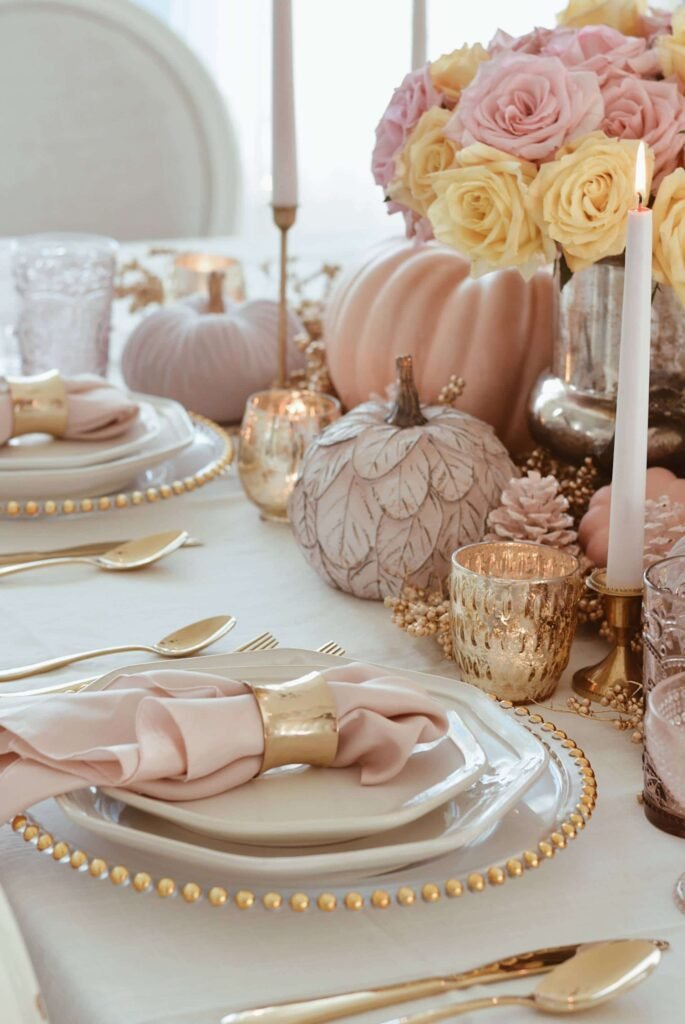 How could you sit at this table and not immediately feel like a princess?
If you want to go all out on the girl and glam vibe, there's not a better color combo than peach, pink, and gold. Throw in some pink and peach pumpkins and gold mercury glass candles, and you're all set.
get the look
If you loved the ideas of using pastel pumpkins as a centerpiece from the last suggestion, but aren't quite sure about the pink girliness, here's another great option.
This has a bit more of a natural vibe to it, but still has a really fun and unique look.
get the look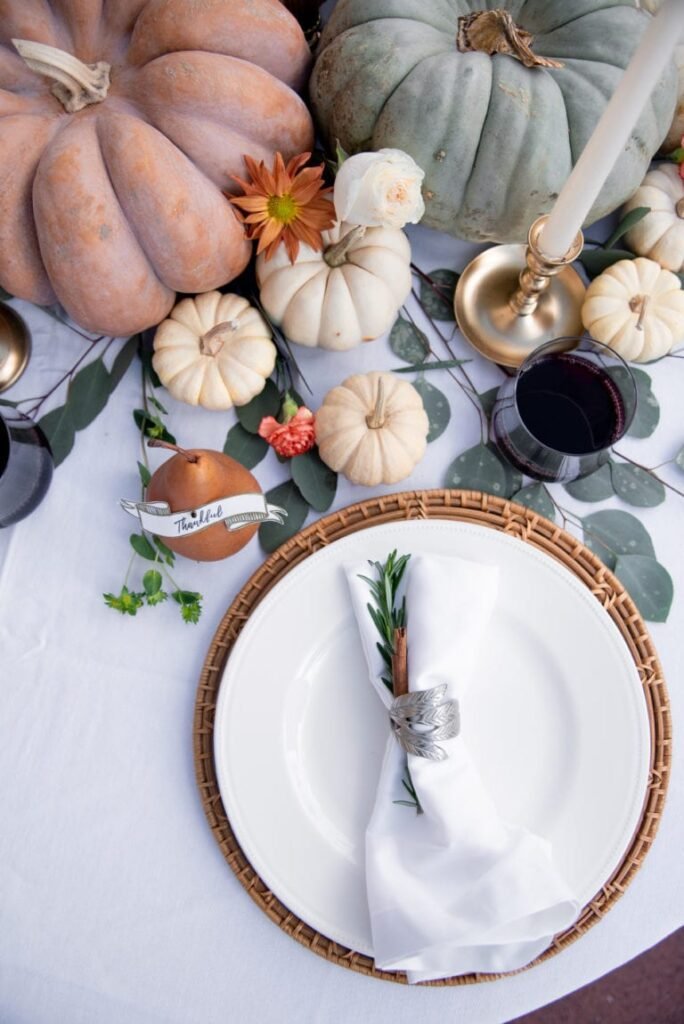 These tree stump centerpieces immediately got my attention. This is perfect if you want that rustic look without sacrificing any formality.
Bring in some natural elements from the outside, like mini pumpkins, pine cones, and eucalyptus leaves for a really great rustic, unique Thanksgiving tablescape.
get the look
7. pastel with pops of harvest hues – Domino
I don't want to be biased, but this may be my favorite tablescape. The pops of fuchsia are really eye catching and such a refreshing change for a unique Thanksgiving tablescape.
I love the graphic pattern on the plates, the gold silverware, and the colorful centerpiece made of edible items.
get the look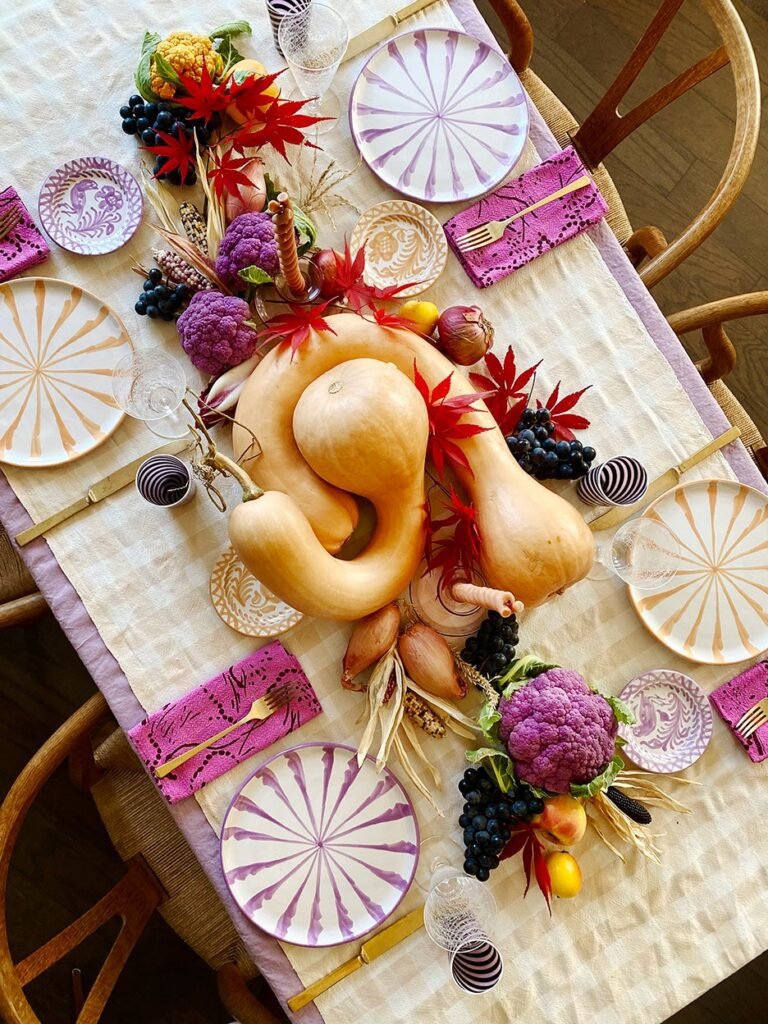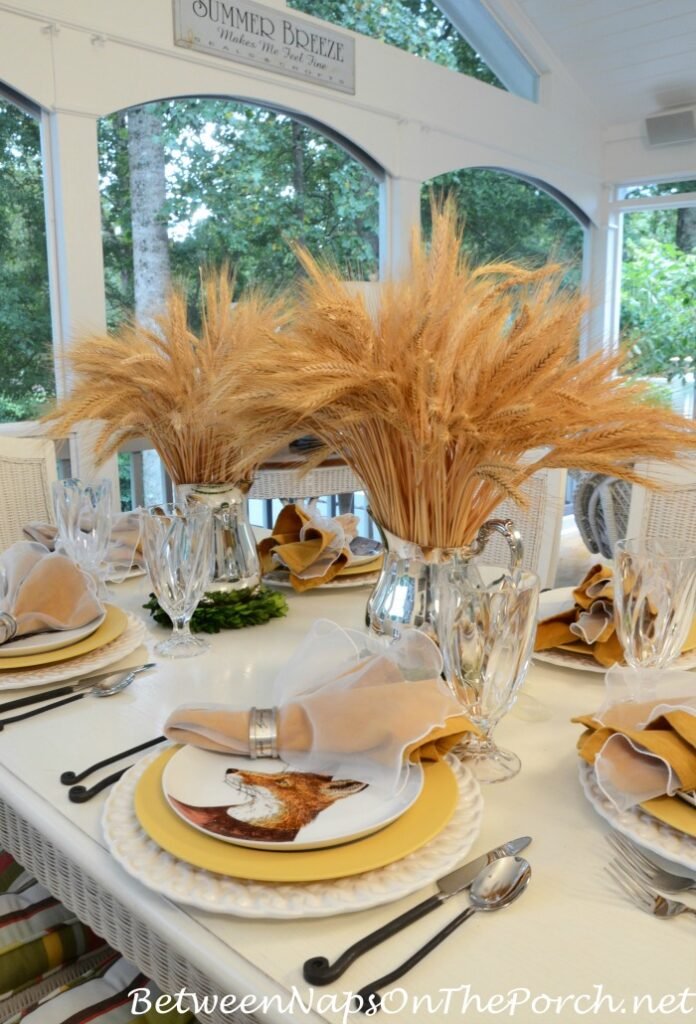 This is just fucking adorable. You could either do this as a cute theme for the kid's table – or if you're willing to have some fun, do it for the "adult" table, too.
The plates are truly the star of the show here. But the burnt tan pampas grass is another great contender.
get the look
9. wicked, thrifted tablescape – Jungalow
Okay so this is technically a Halloween tablescape. But take out a few of the creepy details – like the spiders – and you're left with a stunningly unique thanksgiving tablescape.
It's dark, it's moody, and I guarantee that none of your guests will have seen a thanksgiving spread quite like this.
get the look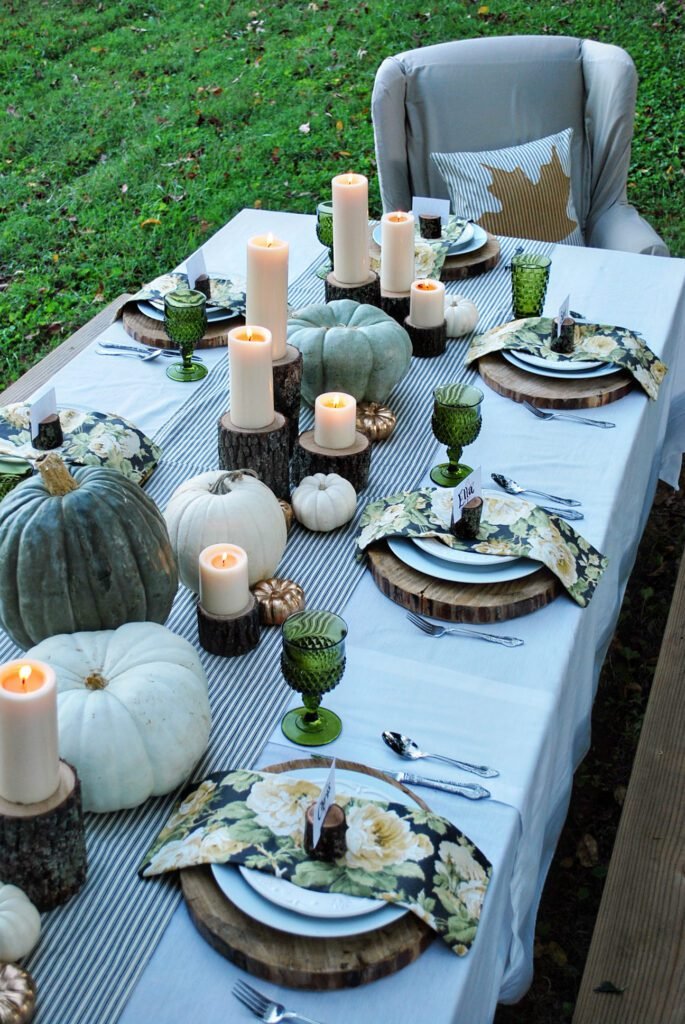 Here come those tree stump accessories again. I'm obsessed with the fact that they're used as chargers here for a really simple, easy way to elevate the place setting.
The green drink goblets, pastel pumpkins, and the tree stump candle holders really seal the deal on the enchanted forest vibe of this table setting.
get the look
I'll be the first to admit that I'm not huge on the more country side of design. But this understated design may make me make an exception.
This seems like a perfect option if you're having a chill family dinner at home but still want to make sure it looks nice. The plaid tablecloth keeps it casual and cozy, while the formal place setting and eucalyptus spread give it a little extra oomph.
get the look
The very first thing that I noticed from this tablescape was the casually flowing white linen runner. I love the texture and casualness that this adds to the table.
Everything from the amber water goblets and bottles used as vases, to the bright greenery, to the thin wooden chargers and copper silverware is incredible.
get the look
This is #13 on the list, but it has nothing to do with where this ranks on my favorite unique thanksgiving tablescapes.
Vibrant and beautiful are the first words to come to mind when I look at this picture. But I may be a little biased because orange is my favorite color.
The orange tablecloth is definitely the biggest statement here, but the centerpiece of orange and red fruits is just so damn creative and unique. I'm a huge fan of using compostable items in a centerpiece.
I also love how maximalist this tablescape is. It gives me such Alice in Wonderland teaparty in the woods vibes.
get the look
feeling inspired to create your own unique thanksgiving tablescape?
I know I sure am, and I'm not even hosting this year. If you recreate any of these looks, make sure to tag me on Instagram @homeyhomies!
Need a little more help? Check out my other Thanksgiving tips below!
Thanksgiving entertaining staple pieces: everything you need to host
Budget-friendly thanksgiving accent pieces
The formula for the perfect tablescape
---
About me
Hey my name's Hannah Michelle Lambert, the voice behind homey homies. I'm an LA-based blogger and interior designer. I'm passionate about fun, adaptive, and affordable design that is filled with personality. And I'm a huge believer in a good DIY. Thanks for stopping by and I hope you find the inspiration you're looking for – and maybe a little extra 😉
---
---
Note: This post contains some affiliate links. This means that I may make a small commission if you make a purchase from one of these links. This is at no cost to you, though; it comes out of the pocket of the seller.