Color can be really intimidating to introduce into your home. If you're used to a more neutral palette, it's hard to know where to start. Or what colors to start with. But as a colorphobe turned color lover, I can assure you it's a good leap to make. Whether you just want to add a few accents or start your major color-loving journey, here's how to incorporate color into your home.
Take these steps to whatever degree you want to. I'll provide some baby steps if you want to ease into it. But I'll also give you some tips for making color a more staple part of your home.
how to prep to incorporate color into your home
If you're new to color, you may feel more comfortable going in with a plan. You'll often end up with a more consistent scheme if you consider these prior to jumping in since you'll already have a general direction.
So here are some tips on how to prep your ideas to incorporate color into your home in the most beautiful, intentional way possible.
mood board your dream color scheme
Think of your space now, and if there is any existing color. How do you feel about it? You like it and want to add more colors to complement it? Great. Want to scrap it and start over? Also totally cool.
Now that you know what base colors you want to start with, start dreaming up the colors that would be the perfect additions. You can use a color wheel to find complementary, analogous, etc. colors. This tool from Canva is super helpful in generating some ideas.
You may also want to consider color psychology. Certain colors make you feel certain things. For example, blue is often associated with serenity, yellow with happiness, and green with security. If you feel like you want to really invest in creating a really strong feeling within your home, this is a great place to start your research.
You can also just go with your gut and completely ignore what you "should" do. Look on Pinterest, look at your closet, look at all the spaces that make you feel best. This is your home, so try to think of a handful of colors that go well together and will help you create a space you love to be in.
Here's my thought process for my home, for example: I really love orange and yellow because they are fun and lively colors. But I need a little pastel to cut the harshness a little, so I went with a baby blue and a creamy peach. These bring some much needed relaxation. (Plus baby blue is my lifelong favorite color). I also want pops of darker rust orange to add a little depth.
Here's what it looks like:
pick one main accent color for each room
Once you have your overall color scheme picked out, then you can start breaking it up between rooms.
This is the best piece of advice I could give when it comes to incorporating color. If you pick one main color you want to be the focal point in each room, it gives you a really solid base to build upon.
This doesn't mean this needs to be the only color in the room, by the way. This will just be the the most prominent. But it could also be the only color if that's your vibe.
You may end up leaning back on the color psychology here to fit the color with the function of the room. Or you could just put your ultimate favorite colors in the spaces you'll inhabit the most.
Back to the example from my home: Yellow is the prominent color in my bedroom, peach is the prominent color in my living room, and orange in the prominent color in my office.
Though these are the main colors in these rooms, since I already created a cohesive color scheme, it's really easy to add accents of all the other colors in almost every room.
In my bedroom, I keep it mostly neutral besides the yellow. But in my office I add in pops of a little yellow and baby blue. And the living room I have a little of everything because that's the room I want to be the most visually interesting.
where to incorporate the color
Okay so now that you have your game plan, it's time to actually get to popping in some color. The fun part!
You can totally pick and choose any of these spaces to add in some color. If you're hoping for a more minimalist color look, maybe just choose one of these options and keep your accents monochromatic. But if you want to go all out, feel feel free to add color in all of these places and mix in multiple colors. (Just remember the color schemes you already chose for the rooms)
artwork, pillows, and accessories
This one is probably pretty obvious, but I had to include it.
These small moments are the best place to do any experimentation. They're so small that it's really easy to swap out whenever you want to try something new.
I love the look of a good pop of color in artwork in an otherwise neutral room. I like to call this colorful minimalism, and I'm obsessed.
If you don't want to go the art route, there are so many other accessories that you can make a statement with. Pillows, curtains, candle holders, rugs, lamps, even painted book covers.
Any of these options can be perfect for you no matter what amount of color you want in your space.
lighting
Lighting is such a great, subtle way to incorporate color into your home. Especially for those of you who want to be able to "turn off" the color every once in a while.
You can use colorful smart bulbs or LED strips to be able to add a pop of color without making it a more permanent fixture. This is so perfect to set the mood at night, whether you're lounging or entertaining guests. And it's great because you can change up the color you want with the touch of a button.
You could also simply add in a light fixture in a fun color to add an immediate pop of color that your guests will see upon entering your home.
accent walls and doors
Paint is your best friend when it comes to color. It's cheap and easy to apply. And if you're good with a brush, you can make some pretty cool statements.
Of course, you could always paint your walls or a single accent wall. I love to do an accent wall to frame in some piece of furniture. So you could do it on the wall behind your tv, your desk, or your bed to frame the area.
But you could also get a little more creative.
One of my favorite hacks is to paint the inside of a door frame or the sides of a door. This adds such a subtle yet fun pop of color.
Or do something funkier and paint a DIY headboard behind your bed. Or a splash of color in the corner of a room.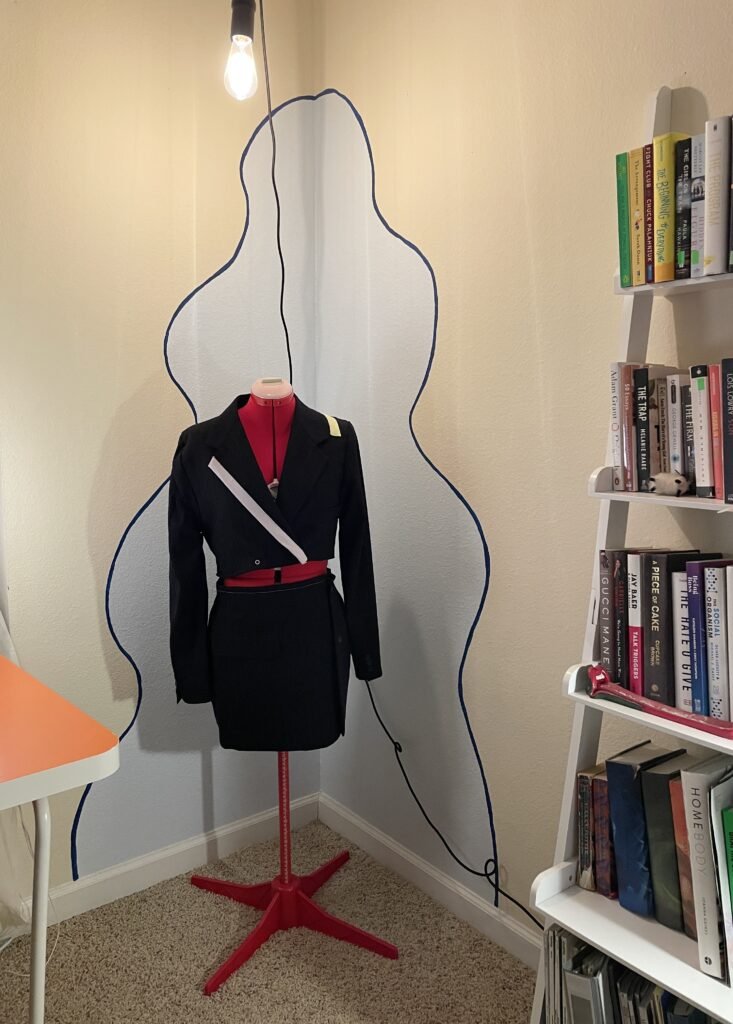 The possibilities are truly endless.
now that you know how to incorporate color into your home – go do it!
Start as small or as bold as you like. And don't be afraid to have a little fun. Your home should be a representation of who you are and what you care about. So let your heart do the talking and paint it the color that makes it feel most YOU.
keep it color, and
keep it homey, homies
---
About me
Hey my name's Hannah Michelle Lambert, the voice behind homey homies. I'm an LA-based blogger and interior designer. I'm passionate about fun, adaptive, and affordable design that is filled with personality. And I'm a huge believer in a good DIY. Thanks for stopping by and I hope you find the inspiration you're looking for – and maybe a little extra 😉
---