Welcome to 2022, homey homies! We're moving into another year, so that means it's time to take another look at the biggest trends. These past couple years have been crazy and unpredictable. And that is reflected in the interior design and trend landscape for sure. So let's take a look at what we can expect to be the biggest 2022 interior design trends.
let's jump into the trends!
I'm a certified interior designer and one of my favorite pastimes happens to be checking out all the latest trends online, on social media, and in magazines. So these are a lot of the trends I've seen floating around recently and picking up some buzz. And they seem poised to blow up even more in the next year.
Quick note about trends: I never want to contribute to the toxic trend culture that puts pressure on people to always be trendy. The people with the best taste in interior design actually stray from what's in at the time every once in a while. It's all about creating something that makes you happy and represents your personality. So this post is just to keep you up to date on what's out there, and maybe to inspire you to incorporate something new that speaks to you in your home.
Anyway, disclaimer over. Let's talk trends now!
2022 interior design trends #1: soft, organic shapes
The shift towards organic shapes has been happening for the last couple of years, but I think it's really going to make some waves in 2022.
We can expect to continue to see a move away from harsh, rigid shapes in both furniture and architecture. Instead, smooth edges, natural asymmetry, and curves will come to the forefront.
In interior architecture, this may manifest as lots of arches, crown molding that gives corners a rounded appearance, whimsical winding staircases, and more.
In furniture, we'll continue to see softly rounded couches and coffee tables have their moment. And in addition to this, I think this year we'll see many more accent pieces like bookshelves, rugs, and light fixtures take a softer, more organic shape as well.
Ultimately, this all comes down to comfort and a rejection of rigidity and tradition.
2022 interior design trends #2: busy, natural minimalism
If you've read my starter pack post for wabi sabi, then this trend is already on your radar.
I think trends are generally moving towards having more personality, but minimalism will never go away. So I think this idea of busy, natural minimalism will really take hold in the year ahead.
This trend is all about a reduction of the amount of things in a space, but a busyness within the design of the elements that are there. This busyness could be a result of texture – in the fabrics, in the woodgrain, in flooring/walls. It could also be a natural business in the form of plants scattered around.
The result of this trend will be calming yet invigorating spaces. And it's a great bridge between minimalism and maximalism.
2022 interior design trends #3: architectural interest
Piggybacking off of the last trend, even those who like more minimalist styles want a little interest. And one of the ways to create this interest – with minimalist or maximalist decor – is through architectural accents.
In 2020 and 2021, we saw a rise of the DIY "architecture" projects. Think DIY mantels/fireplaces, arches on doorways or bookcases, even faux architectural illusions done with the magic of paint. This trend will continue to grow.
People don't want to decorate a plain box. They want even a plain room to wow them. Expect a lot more asymmetry and unique aspects in interior architecture, whether DIY or professionally built.
2022 interior design trends #4: lasting staple pieces
In general, sustainability is in. So the idea of an ever-changing roster of furniture pieces is not the wave for this year. Instead, I think that people will be investing in more staple pieces that will last for years to come and are able to adapt even as their style changes.
Affordable, mass-produced furniture from places like Ikea have been really hot for the last few years. It allowed people to experiment and scrap furniture whenever they wanted to change it up, or when they move. But now, we'll see that consumption start to slow down. This is due to sustainability efforts, shipping delays, and a general embrace of staple pieces again.
This is not to say that fun accent pieces are going anywhere. But we may see people hanging onto large pieces like couches, dining tables, etc. instead of buying disposable furniture.
This may also continue to ignite peoples' love of thrifting solid vintage pieces. Everyone is starting to appreciate again the quality craftsmanship of yesteryears.
top colors in interior design in 2022
The vibe for the colors this year is comfortable, inspiring, and subtly sophisticated. The colors that will likely be popular in 2022 interior design are rich and dusty pastel tones.
Of course, Pantone's color of the year, Very Peri is a great indicator. This purple/blue with slight red undertones brings just the right mix of energy and tranquility. With a timely ambience that feels very Gen Z.
Sage is a color that I believe will also be huge this year, especially in kitchens. This color is basically a neutral to me at this point. It's juuust poppy enough to make an impact, but still subtle enough to seem to blend with everything. And it's very in line with the overall natural, organic theme in a lot of the 2022 interior design trends.
Last but not least: cream.
We are collectively over bright white. Everyone is craving a little warmth and comfort and that's what cream brings. Whether it's a very light cream color on walls (Swiss Coffee is always the best choice, amiright?) or a buttery white boucle, we're going to be seeing this everywhere.
I especially expect to see lots of mixing of different tons of cream, especially in bedrooms.
what trends can you not wait to try out?
If you wanna stay up to date on all the latest in interior design, sign up for the homey homies hub! Receive a full digest of everything all design lovers need to know – the newest trends, sale alerts, design tips, tiktok recs, and more – in your inbox every other Sunday!
Looking to jump into some more trends right this second? You may want to check out some of the posts below:
The Scandinavian Interior Design Starter Pack
Trend Alert: Textural Minimalism
The Mid-Century Modern Design Essentials
Trend Alert: Iridescent Interior Decor
Want to know more about where interior design trends come from, who decides them, why some stick while others don't, and how to apply them while maintaining your own personal style? Check out my complete guide blog post.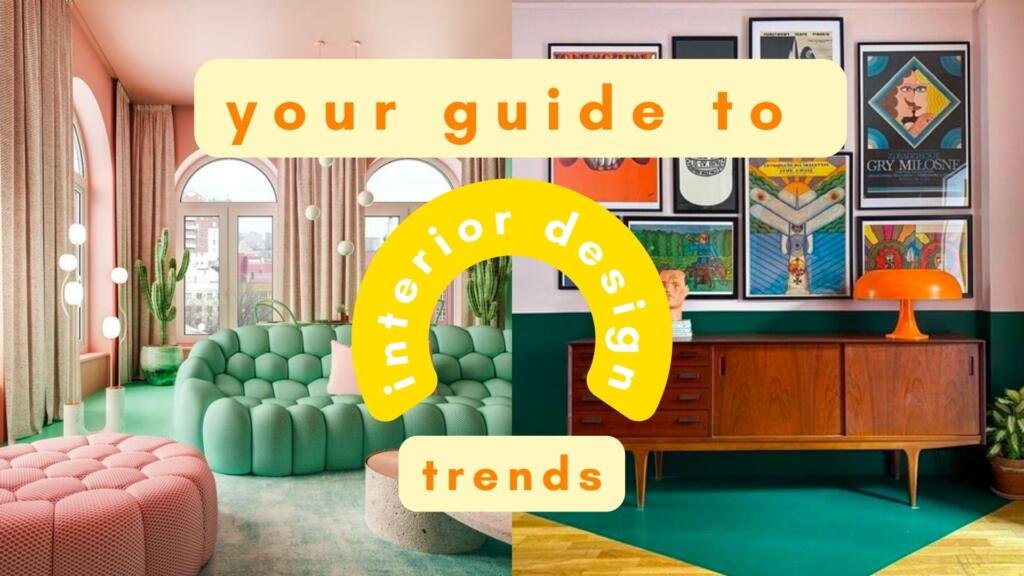 ---
About me
Hey my name's Hannah Michelle Lambert, the voice behind homey homies. I'm an LA-based blogger and interior designer. I'm passionate about fun, adaptive, and affordable design that is filled with personality. And I'm a huge believer in a good DIY. Thanks for stopping by and I hope you find the inspiration you're looking for – and maybe a little extra 😉
---