It seems like a lot of people caught the interior design bug in the last several years. And that's great! There's a range of people who picked it up as a hobby, started interior design as a side hustle, or started/pivoted their career field. If you're in the beginning stages of starting your interior design path, the question of an interior design certification or degree has probably crossed your mind.
Is it necessary? Is it helpful? Can you get by on good taste and inspiration alone? The answer is: it totally depends.
Depending on what your end goal with interior design is, that will determine your education path. There are obviously some exceptions to the rule, but this will give you a pretty good idea of which options to consider more seriously.
You basically have 3 options: totally self-taught, an online certification program, or a degree from a college or University.
Let's lay these out and help you figure out which path is the right one for you:
Option one: Fully self-taught. No degree or certification
This is the easiest and most accessible option on the list. You can put as much or as little into it as you like. It offers a lot of flexibility and customization to fit your needs.
Who this is best for:
This is a great option for people who just want to boost their interior design knowledge in general. Maybe you want to know how to make your own home look better. Or maybe you want to start a tiktok or Instagram talking about design.
If you do want to get client work, this is best if you want to be doing decoration-only projects. If doing room makeovers that don't involve any renovation – only painting, getting new furniture and accessorizing – excites you, this is totally an option. You would just be considered an interior decorator, not an interior designer.
What are your self-taught education options?
YouTube
I'm a big fan of using YouTube like a college for literally anything. If you have a question on any specific interior design-related topic, or are looking for a good general overview video, I guarantee YouTube will have it.
There's also no shortage of creative inspiration if you just need a little spark.
Here are some good YouTube channels to subscribe to to start off:
Skillshare
I highly recommend Skillshare if you want to invest a little money into your interior design education, but you don't want to splurge for a whole interior design certification program.
There are SO MANY courses on here for whatever you want to learn. Including foundational courses with everything you need to know about decorating a room, to very specific courses on topics like incorporating color into your home.
I wrote a post all about the very best Skillshare courses for interior design, so I recommend checking that out!
P.S. you can get one month free to test it out for yourself!
Masterclass is another similar online learning platform where you can learn from celebrities and experts in the field. In my experience, they don't offer as much variety of interior design courses, but the quality and depth of the courses they do have is great. I mean, who wouldn't want to learn from a masterclass taught by Kelly Wearstler?
When it comes to these relatively low-cost learning options, I would take as many as you can to fill any knowledge gaps you may have.
Books, magazines, and blogs
This is the good, old-fashioned way to learn, and it's tried and true.
As far as magazines go, I would highly recommend getting a subscription to some interior design-focused magazine like Architectural Digest, Domino, House Beautiful, Dwell, etc. I've been an AD subscriber for years, and I always look forward to reading the newest edition. It really helps me stay up on the latest trends, new product drops, and more inspiration than I even know what to do with.
For books, there are so many options out there. You can get coffee table books to flip through for inspiration and tips, like Kelly Wearstler's Evocative Style, Joanna Gaines' Homebody: A Guide to Creating Space You Never Want to Leave, or The Life Eclectic: Highly Unique Interior Designs from Around the World.
The Interior Design Handbook is one that you should definitely add to your cart if you're opting for a self-education versus interior design certification. This gives you some insight into a lot of the technical knowledge that you may get from a program. Of course, it's not as comprehensive as an educational program, but it gives you a super solid foundation for projects in your own home or interior decoration projects.
As far as blogs go, I previously wrote a post on all the best interior design blogs and even broke it up into categories depending on what you're trying to learn. So definitely give that a look and bookmark some of your favorites. (Bookmark and subscribe to the Homey Homies Blog, too, while you're at it!)
Option 2: Online interior design certification
Lucky for the side hustlers, hobbyists and lifelong learners, we live in 2022. That means that you have so many options to get an education without even having to leave your house. Or your bed if you don't want to.
Who this is best for:
If you want to become an independent interior designer capable of taking on renovation or building projects, this is a great option for you. Although getting an interior design certification rather than a full degree will limit you in terms of getting hired at a firm, this would fully prepare you to start your own interior design business.
To go this route, you'll need to have an entrepreneurial spirit. When you forgo the traditional educational path, you have to rely on a lot of networking and self-promotion. You won't get the connections and portfolio that you naturally would when going through schooling. So you'll have to be a little scrappier to make a name for yourself.
But if that excites you instead of scares you, this could be a really good path! If you want some tips on starting a design business from the ground up, check out my post on interior design as a side hustle.
The pros and cons of an online interior design certification
Pros –
A good balance between affordability and value.
Flexibility to complete on the course on your own time, at any location. This makes it a very attractive option for those who have a full time job.
You'll get a good base knowledge of styles, techniques, and technical drafting.
A lot of these courses often have an active community where you can exchange questions and ideas with other students.
Cons –
A loose structure and self-pacing can make it easy to slack off or not finish.
You won't receive the level of mentorship that you would at a college or University.
Limited hand-on experience.
What are you online interior design certification options?
This is actually the route I took, so I have an abundance of insight for you.
Before we get into the best programs to enroll in, I want to make a quick note. Even though a certification program will give you a wide variety of knowledge, there will naturally still be some gaps between this education and a 2 or 4-year degree. So I would recommend still opting for a lot of the knowledge sources I laid out in the first section. The best interior designers have a well-rounded knowledge of the industry, best practices, regulations, and trends. So going the extra mile to stay up on everything surrounding design will give you that extra edge to actually see some real success in the industry.
The Interior Design Institute
Like I said, I went through this exact process myself starting in the spring of 2020. So I sifted through all the online courses available to me that didn't involve enrolling in full-time college. And what I discovered was that the Interior Design Institute gave me the best balance between affordability and rigor.
At $1000, I would be paying just enough to value the education and stay motivated to finish. But it's not too much where I feel irresponsible for paying for a separate education after already receiving my Bachelor's in Communications. If you want to learn a little more about my journey in choosing this course (including my comparison to other options on the market) you can check out my first installment of the review series.
Overall, I felt like this course really prepared me to take on interior design clients. It gave me a solid working knowledge of both the aesthetic and technical considerations of interior design. And even as someone who naturally researched interior design skills as a hobby prior to the course, I'm confident that I wouldn't have been able to get this knowledge from my self-taught education.
Check out the two posts below to learn more about my experience and see if it's right for you. And if you're ready to make the leap, use my link to get $200 off your course fees!
Option 3: Interior Design degree from a college or University
Depending on your goals, getting a full 2 or 4-year degree in interior design may be necessary to get there. This, of course, is the most expensive, time-consuming, and rigorous process. Whether you're starting your career or looking to make a change, this is a big decision to make. And it can be hard to make the judgement about whether it's worth it to make the leap from an online certification course and a full-blown enrollment in school.
So let's talk a little bit about who this might be the best option for to help you more confidently make your decision one way or another.
Who this is best for?
If you dream of working in a big interior design firm, taking on massive projects that you see in magazines, this may be the route for you. At least an associates (but often at least a Bachelor's, if not a Master's) is required to be considered for employment at these firms. And if a job or state requires you to be licensed, a degree is a common pre-requisite.

There are just some things that you can only learn when you're enrolled in an intensive, years-long program. Just due to the length of the program when compared to other certification-only programs. And although if you're doing smaller residential projects, you may not need to rely on this information. But if you begin to take on massive projects with a lot of moving pieces and multiple teams involved, this knowledge may be crucial.
You will also want to take this option if you're hoping to work on commercial interior design projects. Some people may feel more drawn to design office spaces, retail stores and salons. And if you want to take this passion further than helping small business owners, a degree will often be required. This is partly because of the regulatory knowledge that you need to have for building in these scenarios. But it is also partly the fact that a degree does give you an extra layer of credibility that business executives searching for a designer often find very attractive, if not required.
And finally, this may be a path you want to pursue if you previously took the self-taught or online certification route but find yourself craving more. There are innate limitations to those options that may not be felt by some, but can be felt greatly by others.

This craving could be as simple as just wanting to dive more into the history or technical knowledge in a really structured way.

Or it could be a little more concrete and feel yourself hitting a wall in getting to where you want to go. If you find that the caliber of clients that you want to get shut down when they find out you don't have a degree, or that you don't feel confident in your ability to execute the projects you want to due to a lack of knowledge, then this may be a good option for you.
The pros and cons of an interior design degree:
Pros –
Lots of hands-on experience to help increase your confidence and design abilities.
Access to mentors and professors to receive feedback and advice.
Well-rounded understanding of styles, techniques, deliverables.
Potential connections to help with employment post-graduation.
Enhanced credibility with potential clients and employers.
Cons –
Very expensive compared to alternative options.
Can be harder to fit into a full-time working schedule.
What are you interior design degree options?
The great news is that many schools across the country have interior design programs. Whether it's a University or Community college. So a good place to start your search is just seeing what schools in your area have this program.
If you're really serious about making a name for yourself, you may want to consider the very best schools for interior design. Architectural Digest names the following schools as the best of the best:
Savannah College of Art and Design (Savannah, GA and Atlanta, GA)
The New School, Parsons School of Design (NYC)
Cornell University (Ithaca, NY)
New York School of Interior Design (NYC)
Syracuse University (Syracuse, NY)
Drexel University (Philadelphia, PA)
Fashion Institute of Technology (NYC)
University of Cincinnati (Cincinnati, OH)
Rhode Island School of Design (Providence, RI)
Kansas State University (Manhattan, KS)
Auburn University (Auburn, AL)
Virginia Tech (Blacksburg, VA)
Pratt Institute (Brooklyn, NY)
Florida State University (Tallahassee, FL)
Thomas Jefferson University (Philadelphia, PA)
School of Visual Arts (NYC)
Definitely check out the Architectural Digest post that I pulled this from to see the stats on cost, degrees, and job placement at each University.
Even if you're not sure about tying yourself to a certain location – or moving from where you live now – there are tons of universities that offer online programs. Check into a school you're interested to see if they do. There's a possibility they might, especially because of COVID.
But if you want a full list of accredited online programs that offer a Bachelor's degree, check out Online School Center's roundup.
Hopefully this helped you make your decision about your next steps! Of course, these answers aren't a blanket statement for everyone. But I'm hoping that they gave you a good starting point to begin to consider which interior design certification option may be perfect for you!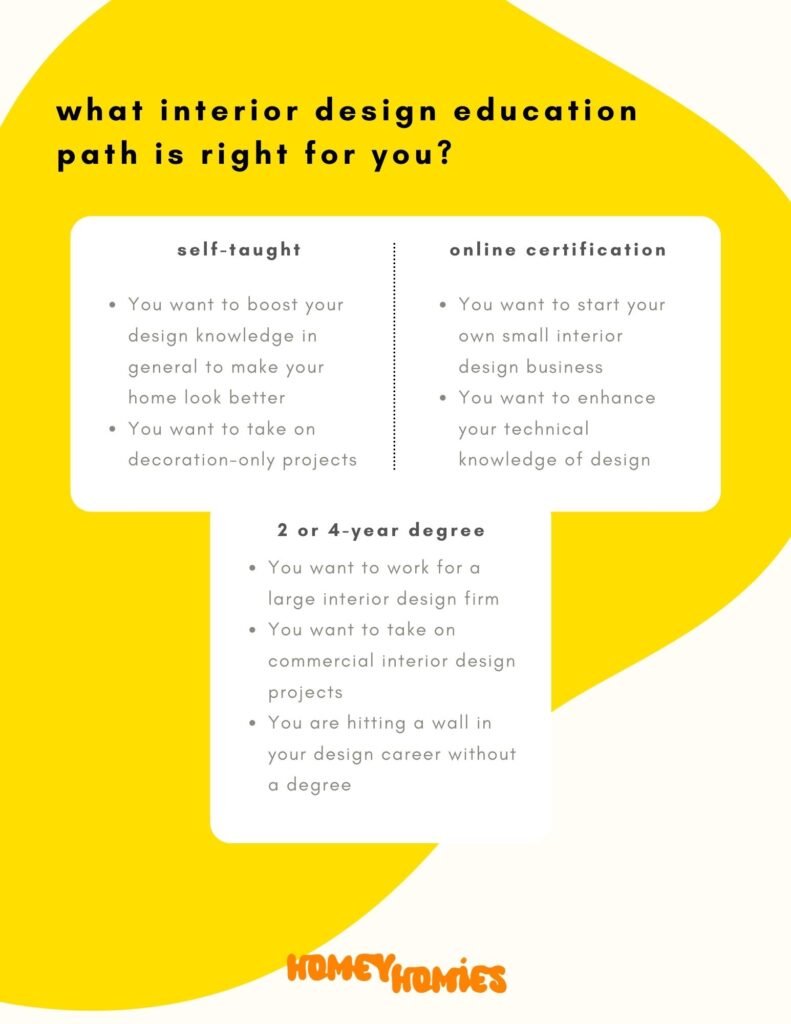 ---
About me
Hey my name's Hannah Michelle Lambert, the voice behind homey homies. I'm an LA-based blogger and interior designer. I'm passionate about fun, adaptive, and affordable design that is filled with personality. And I'm a huge believer in a good DIY. Thanks for stopping by and I hope you find the inspiration you're looking for – and maybe a little extra 😉
---
Note: This post may contain affiliate links, so I may make a small commission if you make a purchase. But this does not increase the cost to you at all – it comes out of the seller's pockets.