I don't know about you, but I have been craving some more fun and uniqueness in my home especially bad lately. I mentioned this in my blog post about how COVID will affect interior design, about how we're all gonna be more focused on stuff that just makes us happy. So I wanna share some things that I've done to my house lately that just make my home happier and more fun.
Maybe this will inspire you to add a little more happiness into your home, too.
a different take on the "farmhouse aesthetic"
And by farmhouse, I mean farm — literal farm animals. Just trust me on this, it's good.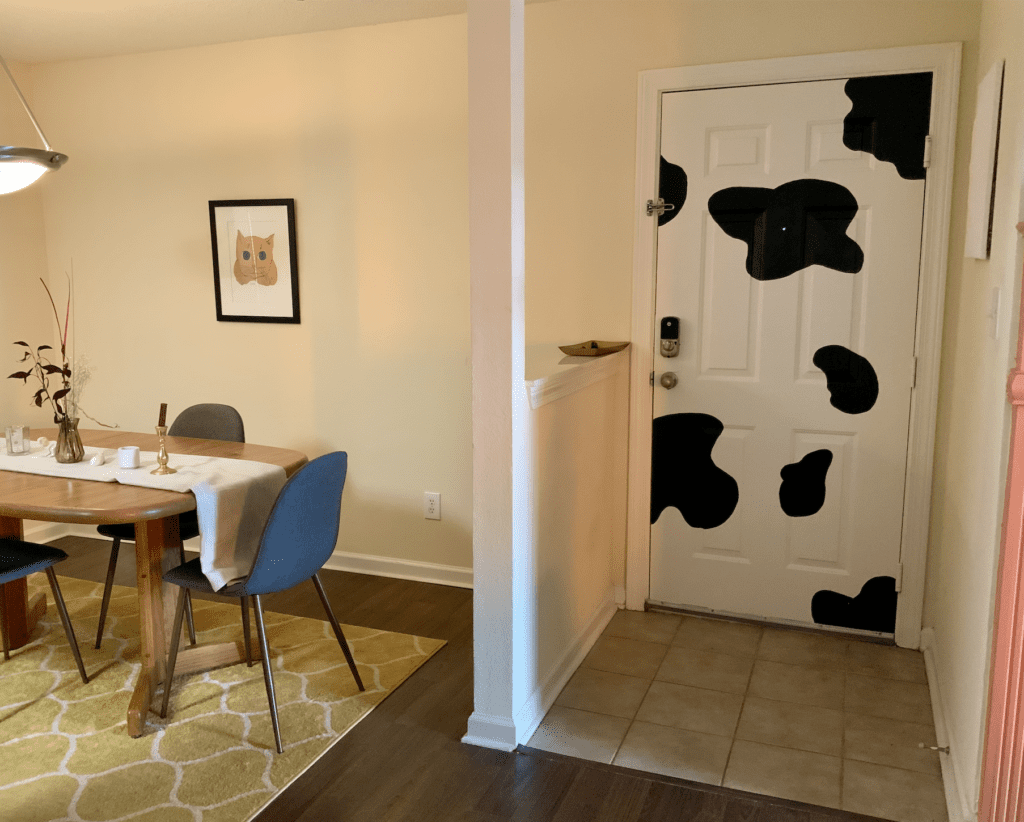 I don't know what's gotten into me, but I've been a huge fan of cow print lately. Don't ask me where it came from, because I couldn't tell you. I was considering getting some bar stools and painting them cow print. But I decided to go all in and just paint my front door.
I previously painted it, but it was a dark, greenish-teal color that I just wasn't vibing with. It honestly felt like a missed opportunity to do something cool.
So i just painted it all white, hand drew some outlines, and filled them in with black paint.
In my post about easy home improvements for the new year, I mentioned throwing some paint on something to refresh it. I'd highly recommend this as an option. It was so easy and immediately made my house feel so much more unique and inspiring.
the chair i didn't know i needed
The title of best Christmas present goes to this hand-shaped chair. My boyfriend got it for me, and I am completely obsessed. I might've given a hint (i.e. sent him a link and said get me this), but kudos to him for actually getting it.
It's so unique and is hard to not notice as soon as you walk in the room. I honestly think that it was the final missing piece in my living room. I know I say this all the time, but I think I'm finally done decorating my living room. At least for the next couple of months.
It's a dupe of a ridiculously expensive chair. But since it's made of plastic, it's a whole lot more affordable, at under $200 including cross-country shipping. But it definitely feels like it's worth much more than that. If you wanna get your own, check out the handshapedchairs etsy shop! Bonus: the shipping was surprisingly fast.
i didn't think it was possible, but I love my home even more now
I'm so grateful to have a home that's decorated in a way that really represents me and brings me so much joy. And I'm grateful to have this platform to bring y'all along on the journey with me
keep it homey, homies
---
Looking for some ways to bring more joy, uniqueness and YOU-ness into your home but don't quite know what to? Lucky for you, I just launched some digital design services on fiverr. Whether you just need a little help getting some inspiration for your first step or want someone to completely design your room for you, I got you. Feel free to check out my fiverr services.
About me
Hey my name's Hannah Michelle Lambert, the voice behind homey homies. I'm an LA-based blogger and interior designer. I'm passionate about fun, adaptive, and affordable design that is filled with personality. And I'm a huge believer in a good DIY. Thanks for stopping by and I hope you find the inspiration you're looking for – and maybe a little extra 😉
---
You may also like…