Even though any time is a good time to make home improvements, the freshness of the new year is a great time to take advantage of some drive and inspiration. As soon as January 1 hits, I'm always looking for ways to shake things up in my life. Whether that's learning a new hobby, focusing on a goal, or breaking an old habit. But of course, probably most of all, it's a great time to get my shit together with my house. But because I'm so busy getting the rest of my life together, too, easy home improvements are my best friends.
The fresh start to a new year is the perfect time to fix up the things that you've been neglecting for months. Or to finally spice up a room that doesn't excite you. You could go all out and do a full reno — if you do, more power to you. But if you're looking for some more practical ways to freshen up your home a little bit, keep reading.
scrub your baseboards
I can't tell you how much better I feel when I have freshly cleaned baseboards. But it's kind of a pain in the ass to clean every single one in your house because you're just kneeling and scrubbing for what feels like 3 hours. This is why it's the perfect opportunity to take advantage of your beginning-of-the-year get shit done attitude.
After a good scrub, it's both disturbing and satisfying to see the amount of dust and dirt and who knows what else comes off, especially in high traffic areas like the bathroom and front door. Ideally, these should probably be cleaned on a more consistent basis than just the beginning of the year, but hey, I'm not judging. I'm not gonna say I'm not guilty of neglecting baseboards for a long time, too.
paint touchups + accents
Whether it's a scuff on the wall, a place where you had to fill a nail hole or whatever, we probably all have a couple places on our walls where the paint could use a little attention. For scuffs, first try to scrub it off with a magic eraser (it seriously is magic), but if that doesn't work, go in with some paint.
You might be lucky and have some of that spare paint laying around. But if you don't, no worries. There are TONS of apps that help you match exact paint colors. Just find your color, get as much as you need, and get to painting. If you just need a tiny bit for the edge of the door, you can get paint samples for as little as $4. These paint samples are lifechanging and have fully fueled my obsession with painting basically everything in my home.
Wanna take it a step further than just touching up your paint? Go ahead and paint your fireplace, your door, or my favorite option, the edges of your doors one of your favorite colors. I've done every single one of these and they're so simple and cheap and make a big statement. One of my favorite easy home improvements.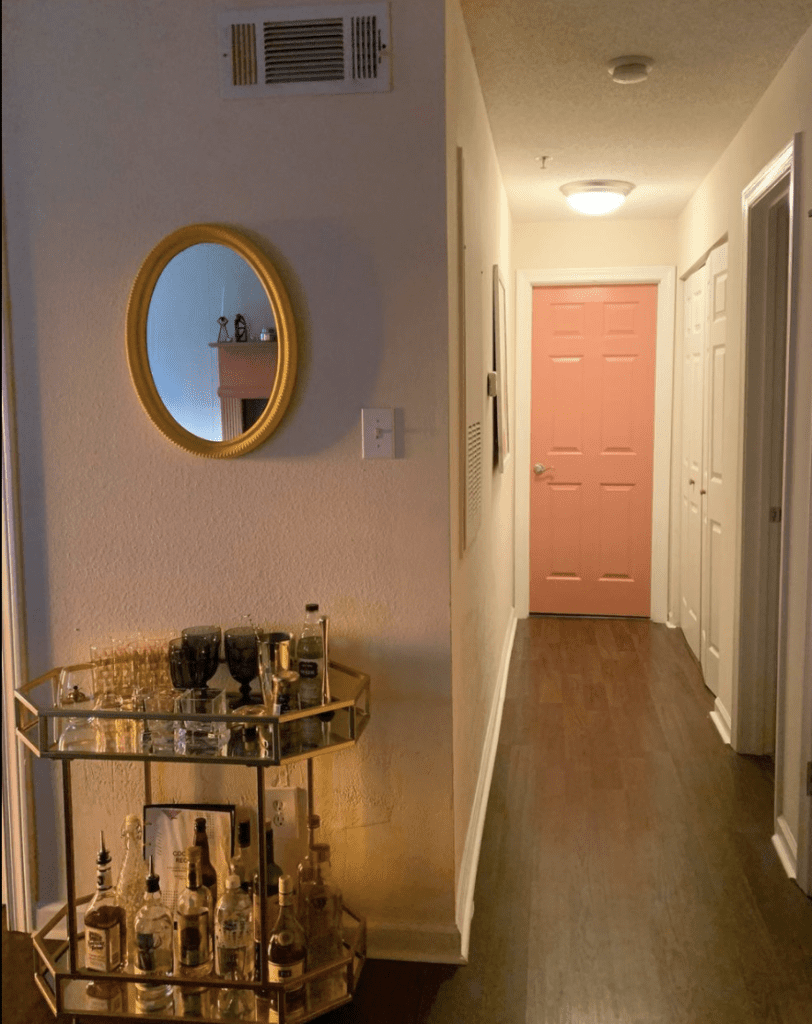 clean every carpeted/upholstered surface in your home
I recently rented a rug doctor carpet cleaner from The Home Depot for right around $25 for 4 hours and WOW. It made a world of difference.
I originally rented it because I got a new (to me) couch and wanted to clean it. But I ended up cleaning literally every rug, carpeted room, and even upholstered chairs that's in my house. I even cleaned a few pillows that can't just be thrown in the washing machine.
It didn't take me that long for my whole 2 bedroom apartment, but the impact was HUGE. I lifted about a year's worth of dirt and grossness from everything, and the air felt so much fresher. More than worth the $25.
swap out a rug — i'm talking to you pet owners
Sometimes rugs are just on their last leg, and no matter how much you clean them, it's just their time. Especially when you have pets.
Use this opportunity to toss your old rug; the benefits are twofold. 1. your house will guaranteed smell a lot fresher. And 2. what a fun opportunity to make a new design statement. Let's say you had a neutral rug before: try going for a patterned or colored one. Or if you previously had a statement rug already, you might be sick of seeing that same pattern for the 2nd year in a row; try something new.
replace your shower head
This is something that I feel like a lot of renters don't realize they can do. If you hate your ugly ass, dated shower head, you can swap it out!
Take your shower from ehh to luxurious by just swapping in a shower head that both looks better and has better water pressure. It's as easy as unscrewing the old one and screwing the new one back in. And it's not as expensive as you'd think. There are tons of options on Amazon for under $40 that look really nice.
junk out and organize
I'd like to thank Get Organized with The Home Edit on Netflix for motivating me to get my shit together. I binged the whole show and got right to organizing my whole life. Here's the proof from my pantry.
But before you can get to organizing, make sure you need everything you have first. I try to go through my whole house a couple of times a year to see what I can donate, sell, or throw away. The beginning of the year is a great time for this, especially if you have a lot of new items from Christmas or Hanukkah or whatever you celebrate, to fit in your house.
I literally go through every inch of my house: every drawer, closet, hidden nook. You'd be surprised at the amount of shit you've accumulated that you haven't even thought of for months. Toss all those random papers in the recycling and the empty cosmetic products in the trash and regain that access to your drawers again.
You can use this opportunity to make a little money by selling stuff on OfferUp, Craigslist, or Facebook Marketplace, too. Or you can opt to do some good and donate to those in need by finding local charities — especially shelters for domestic abuse victims — that need supplies.
It's one of the easy home improvements that can also improve the your community.
get some new handles for your cabinets and drawers
This is one of the best ways to make an impact in your rental, since you can screw the old ones right back on when you move out.
Dated, boring handles could be seriously snuffing out the impact of your kitchen. So instead, swap the handles for something that makes you happy. They could be simple matte black or gold pulls from Amazon, or if you want to make a bigger investment, splurge on some really unique Anthropologie ones.
Just make sure you keep the old ones to swap back in when you move.
switch out your artwork
I don't know about you, but I have been going on an artwork buying/making BINGE this past year. And I have so much that I can't possible hang it all at once. So a lot of my art ends up sitting in my office closet just gathering dust.
The beginning of the year is a great time to pull it out — or buy some new art — and swap out the pieces you currently have hanging. Art makes such a statement in any room it's in, so once you swap something out, it can give the room a whole new vibe.
new sink accessories
I don't think I have to tell you that you should change out your sponge. We all know how nasty those get. But what about your hand soap and dish soap containers? That's another perfect opportunity for easy home improvements.
Decorating your kitchen in a fun way can be a little trickier than the rest of your house, but these little sink accessories are a great way to have some fun. If you just have your soaps in the containers they came in, transfer them to cute, refillable vessels. If you already have them in something refillable, maybe switch it to something new. Or add in a matching sponge holder. You'd be surprised by the impact that little touches like these make.
home improvement made easy
These easy home improvements will hopefully help you spice up your home as you head into 2021. I know that when my home is poppin, I feel poppin. And we all deserve to feel that way in 2021.
keep it homey, homies
About me
Hey my name's Hannah Michelle Lambert, the voice behind homey homies. I'm an LA-based blogger and interior designer. I'm passionate about fun, adaptive, and affordable design that is filled with personality. And I'm a huge believer in a good DIY. Thanks for stopping by and I hope you find the inspiration you're looking for – and maybe a little extra 😉
---
You may also like…