In one of my high school bedrooms, there was this dark wood paneling that I wanted so badly to get rid of. I couldn't wait to paint it to disguise the wood. I did a really bad job at it, by the way. It needed about 4 coats of paint and I'm pretty sure I only did like 2. *eyeroll* The design ignorance of a high schooler.
Now the tables have turned and wood paneling is in. It's not a sign of an outdated, grandma house anymore. Now, there's an aura of warmness and vintage sophistication to it. If you're into mid-century modern style, you drool over a good wood-paneled wall.
I think that wood, in general, is having a moment now. In the last year or so, I've been slowly switching out some of the manufactured materials in my house for wood. Take my tv stand for example, which I'm obsessed with.
But wood walls hit different than wood furnishings. In a world of stark white, drywalled walls, wood makes any space feel just a little bit less builder's grade. And a little more custom.
I'm gonna run through some of my favorite ways that wood paneling can be introduced into your home.
the diy route
Of course, since this is an accessible interior design blog, I have to include some cheaper options. We don't all have the luxury of building a house from scratch or renovating. And a lot of us are renting, so even if we had the money, it's not an option to make permanent changes to a wall.
One thing that I've been seeing a lot lately is wood panelling as a partition for a balcony. Last week, I posted some balcony inspiration since we're all trying to liven up our personal outdoor space while in quarantine. DIYing a "wall" like the one below to your space makes it cozier, more custom, and also gives you some privacy.
Another renter-friendly option is to create a large art piece that mimics a feature wall, but can be removed with minimal damage when you move.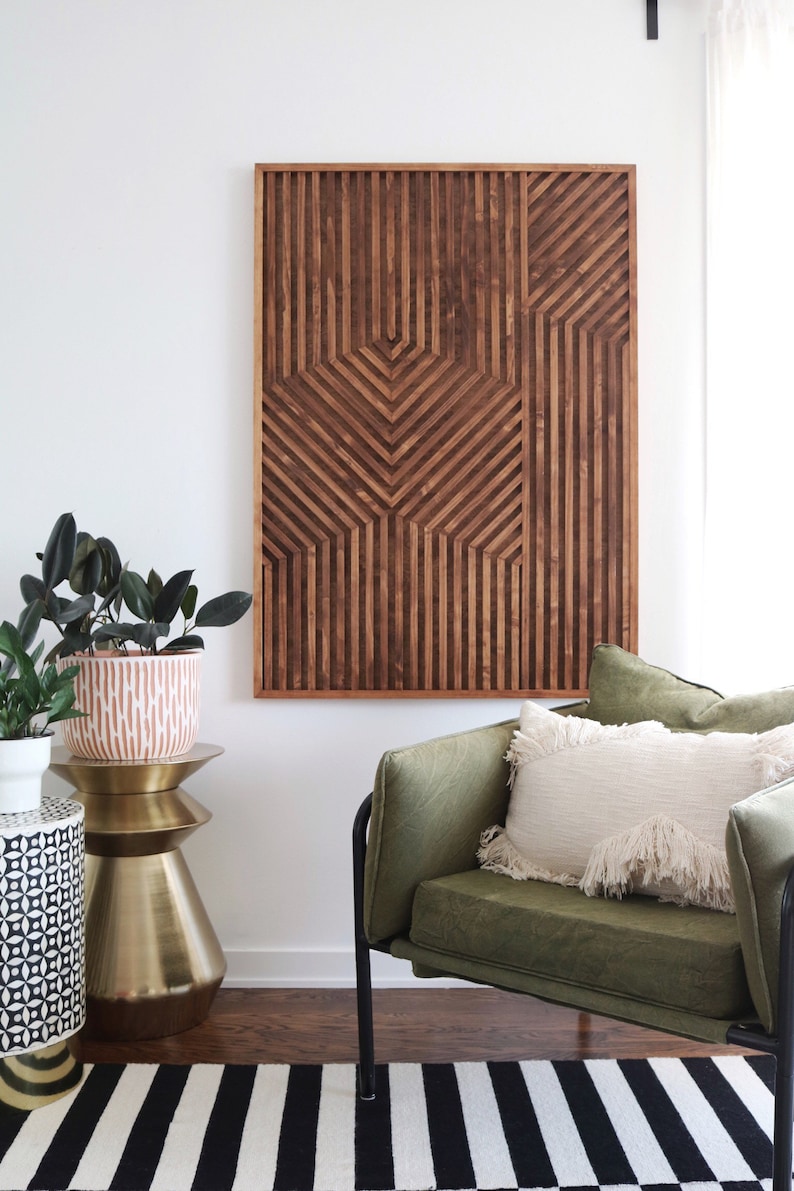 The art piece above isn't a diy, and you can buy it on Etsy if you don't feel like doing it yourself. But there are TONS of diy wood paneling wall art things on pinterest if you feel inclined. They're pretty simple and most just require a large piece of flat wood, some square dowels, and light power tools.
The one below, from Vintage Revivals, is one of the first that caught my eye.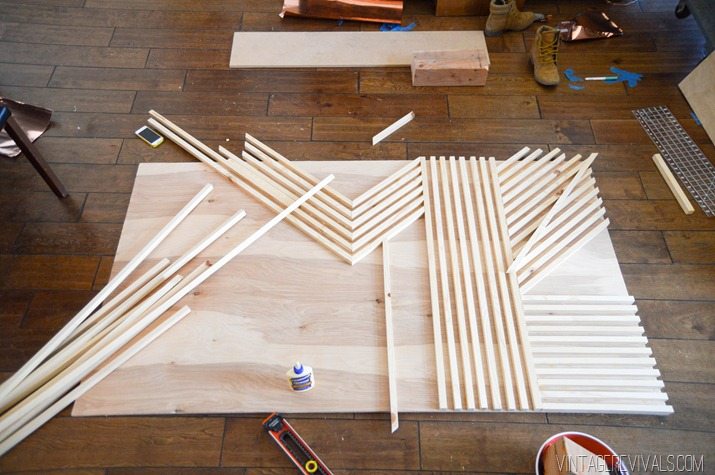 disguising doors + drawers
When I was in Sao Paulo, Brazil right before Corona became a thing outside of China, I stayed in this beautiful hotel room. The very first thing I noticed when I walked in was the light wood paneling.
In addition to how beautiful it looks, it also hides some features that aren't necessarily as cute, like a closet and a drawer. It was hidden so well that I literally didn't even know that closet was there the whole first day. Granted, I was winding down from a travel experience from hell and wasn't the most alert, but still.
I just love the way that disguising some features of the room like this simplifies it, gives it some continuity, and takes full advantage of the impact of the paneling.
blurring the line between ceiling and wall
They always say to not forget about the fifth wall: the ceiling. But something that I have been really into lately is carrying the same color/texture/pattern/etc. from the wall onto the ceiling.
Wood is the perfect material for this in my opinion. Whether you do a patterned paneling like the picture above, or just continuous plain wood planks, it makes an impact without necessarily being too overwhelming. Since wood is a natural material, it doesn't feel like the ceiling is closing in on you.
room divider
As many people who read this blog can probably already tell, I really love mid-century modern style. Like REALLY love it. And I think the pinnacle of great MCM design is a nice wooden dividing wall.
This is perfect for areas that you want to be an open concept but still have some sense of separation. Walls like the one above are perfect, because it visually distinguishes areas from each other without officially disconnecting then since you can peek through to other areas through it.
And I'm a sucker for some good spotlights to accentuate features in a home.
exterior wood walls
Whether it's a fully wood-paneled exterior, or if there are accents of wood sprinkled throughout, wood is a great way to give your exterior some warmth and character.
There's a really big trend right now of super boxy houses with lots of harsh straight lines. And I like them, but they always seem a little lifeless to me when they're just plain siding or stucco. But when you add a lil splash of wood in there, it immediately makes it seem more unique. And although it's still decidedly modern, it looks like there's some history to the house, even if it was built less than a year ago.
keep it homey, homies