The best interior design resources: blogs, IGs, Youtube channels + podcasts
Need some content to fill your Coronavirus quarantine? Here's all my favorite interior design content.
I enjoy interior design content, and since you're here, I'm assuming you do, too. Or maybe you've had a lil interest for a while, and now you're trying to learn more about design.
Here are some of my favorite channels/accounts/blogs to follow. They're guaranteed to entertain you at the least and give you some pretty serious inspiration at most. I mean, what better time to finally hang all those things you've been wanting to hang or rearrange your furniture like you've been wanting to than now?
Interior Design YouTube Channels
This is probably my favorite place to consume interior design content, and honestly just content in general. I'm the kind of person (and probably many of you are, too) who goes crazy over watching videos of the most mundane home things. Like I live for moving vlogs, decorating vlogs, and don't even get me started about room makeovers. It's just so much more satisfying seeing a video of a decorating/DIYing/moving process than it is to just read about it or see pictures.
So this section is a little more beefed up than the others.
I feel like you hear YouTube and interior design together and you think Mr. Kate. She's just a legend on there.
She's been at it a while, and she has an amazing eye for both design and DIY. I like her content for a ton of reasons, but one of my favorite things is that everything she does looks very upscale, even if it's s DIY (and I'm pretty sure she does a DIY in every makeover) She also does a great job of showing how you can leave your distinct mark on every project while still representing the style of the person you're designing for.
On top of the design, she's just a great person to watch. Super positive and sweet, kinda weird, has a cute baby, and her and her husband vibe off of each other really well in the videos.
By the way, her husband Joey was in the band, The Click 5 and both her and Joey were in the movie Taking 5. Lol blew my fucking mind when I learned that because I remember loving that movie when I was little. Small world.
Content: DIYs, makeovers, design challenges with subscribers, some personal content
I've been subscribed to MaCenna for several months now and it's been awesome to see her channel grow so quickly, because she definitely deserves it. She was literally at 10,000 subscribers half a year ago, and now she's pushing 300k at the time of writing this.
This is where I go for some thrifting inspiration. This girl goes into a thrift store, finds the most obscure thing, and turns it into something beautiful.
Her style leans more bohemian than mine, but I still get so much inspiration (and motivation) when I watch her videos. She's got a thing for DIYing pendant lights that always makes me feel like I'm not doing enough with my lighting.
Content: Thrift flips/DIYS, thrifting vlogs, personal home makeovers
This is where I get my power tools inspiration from.
I think that calling her projects DIYs doesn't do them justice because they're pretty hardcore. She doesn't shy away from big projects that quite frankly would intimidate the hell outta me.
She uses lots of wood accents in everything that she does. Her vibe is very industrial meets modern, I would say. And sometimes a little boho.
But everything that she does looks so great and so professional and she makes me look forward to the day that I have the workspace and the confidence with power tools that she has.
As a bonus, she has a verrry cute dog that makes an appearance in basically every video.
Content: DIYs, personal home makeovers, room makeovers
If you already consume design content on YouTube, you probably already know about The Sorry Girls, but I have to include them just in case.
On top of their tons of DIYs, they do room makeovers for all different types of rooms. They done dorms, businesses, teen rooms, apartments, and vacation homes.
Becky and Kelsey, the hosts, are just likeable. And they're super consistent with posting, so you can always expect to have new shit from them. Which I really appreciate.
Content: Room makeovers, DIYs, DIY challenges, thrift flips, dupes, lifestyle content
Interior Design Instagram
Although I think YouTube provides the most valuable content, Instagram has a place in my heart based purely on the fact that it's the easiest to interact with. So I'm always scrolling and getting constant inspiration.
I do tend to prefer content from more professional interior designers on here, whereas YouTube is great for DIYers.
Kelly is just cool as fuck, and she's who I aspire to be when I'm 50 years old.
She's a professional interior designer that does upscale commercial and residential projects. She also designs furniture and textiles.
One word that comes to mind when I think of her projects is lush. I think it comes from the genius balance between modern and vintage. There's always a very strong energy to everything she does, and you can feel the passion behind it.
I love following her Instagram to get inspiration to make my own place look more high end, but also to see her personal content and style. Because like I said, she's cool as fuck.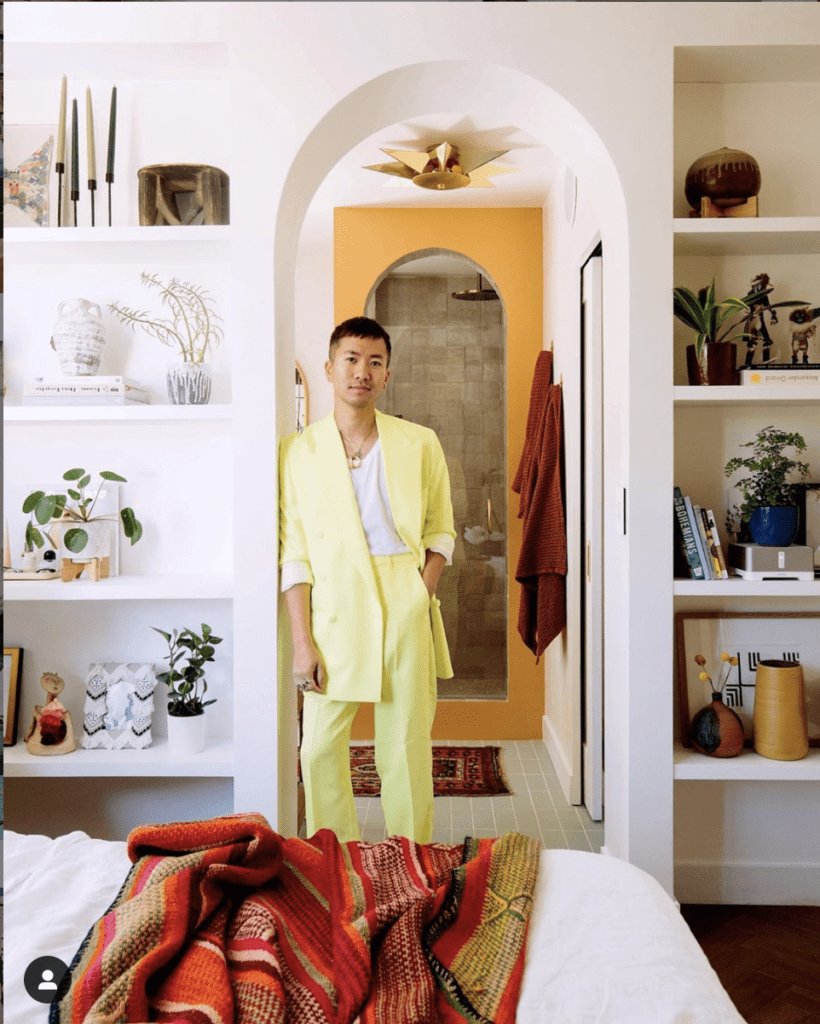 Dabito's account is one that just makes you happy as soon as you go onto it; it's just full of life. His style is eclectic, bright, and colorful. It's clear that he's super comfortable creating his own trends rather than just following what's in now.
He runs a blog called Old Brand New, which has great content, but I've been noticing that it's a little too cluttered with sponsored content now. So for that reason, I prefer his IG account
Interior Design Blogs
For a full, updated list of interior design blogs, categorized, check out my latest post, the best interior design blogs.
As someone who has been put on pretty much every email list imaginable and who gets like 50 emails a day but can't stand having a cluttered inbox, it says a lot if I intentionally want to receive almost daily emails.
So Clever by Architectural Digest has done the impossible.
I truly look forward to reading all of their newsletters that they send to me. There is a really wide variety of content that they include, but it's pretty much all revolved around homey shit, as we like to say here.
They'll do anything from an overview of a beautiful home or apartment, to a roundup of the best current home decor and furniture sales, news about a new ~aesthetic~ store opening and so on and so on.
It's pretty short and easy to digest, so it's a really quick dose of inspiration.
I save every email that I get from them in a folder on my email to go back and reference later.
Podcasts
As someone who's a commuter (well, was since I'm working from home for foreseeable future), podcasts are my best friend. And I love a good My Favorite Murder or The Read episode to keep me entertained. But I love being able to multitask while I'm driving to learn something new. And if I'm entertained at the same time, bonus.
Surprise, they have a podcast, too! This was a recent discovery for me, but I love it so much that I decided this needed a whole separate section with the other podcasts rather than just a shoutout along with the blog.
The premise of the show is that they bring on a designer — interior, furniture, graphic, etc. — and just have a conversation with them about their life and their career in design.
It's a super simple concept, but it's the hosts' questions that really make this podcast stand out to me. It all flows super well and is very conversational, but the questions that they ask the guests draw some really good information out of them and creates a ton of value for me as a listener.
Sometimes this podcast can seem a little stuffy, but that might just be because it's British tbh.
But despite me not really connecting with the hosts, there's some really solid content. They dive deep into specific topics, like color psychology, designing for elderly people, social media presence, etc.
Not necessarily the most exciting podcast out there, but it's extremely informative.
The tagline for this podcast is "a lifestyle approach to interior design," and I think that sums it up for you better than I can explain.
So basically the format of the show is that someone writes in with a question for the two hosts to address, and that's the theme for the whole episode. So each episode is super focused deeply on a specific topic, so you get some great information. They've done episodes on anything from designing a closet, to suggestions for what you should splurge on, to thoughtful holiday gift ideas to ways to make your home look more high end and less builder grade.
What I like about it is the "lifestyle" component to it. It's not so strictly focused on the how-tos of design and more on the function of design.
Have fun consuming and stay safe out there
I hope you are all staying safe out there and are staying home as much as you possibly can so you leave room for those who can't because of work. The only way this virus can be contained is if we all do our part to minimize contact, even if we aren't at risk ourselves.
I hope you're able to take this time to relax and invest in yourself. Use all of these suggestions to fill your time, do some home workouts, start a 2 week free trial of Skillshare to learn some new shit, or just spend time with your animals.
Take care of yourselves, and
keep it homey, homies
About me
Hey my name's Hannah Michelle Lambert, the voice behind homey homies. I'm an LA-based blogger and interior designer. I'm passionate about fun, adaptive, and affordable design that is filled with personality. And I'm a huge believer in a good DIY. Thanks for stopping by and I hope you find the inspiration you're looking for – and maybe a little extra 😉
---
You may also like…