We're back with another post in one of my favorite series here on the blog: an iconic room redesign. This is all about bringing an already legendary room into the modern times. And when you think of an iconic backdrop for a sitcom, what's the first show that usually comes to mind? That's right, baby. We're redesigning the iconic Friends apartment.
Monica and Rachel's apartment was a staple backdrop to the show – in addition to the Central Perk, of course. Let's ignore the fact that there's not a chance in hell that they could afford that apartment in NYC. Just because it was unrealistic, doesn't mean it wasn't iconic.
But it got me thinking – what would this apartment look like today? I want to keep all the charm and personality, but just update it with some modern design styles.
Okay, so let's see what we're working with:
The Iconic Friends Apartment: Monica's home
Here's the view of the iconic home that I'll be redesigning: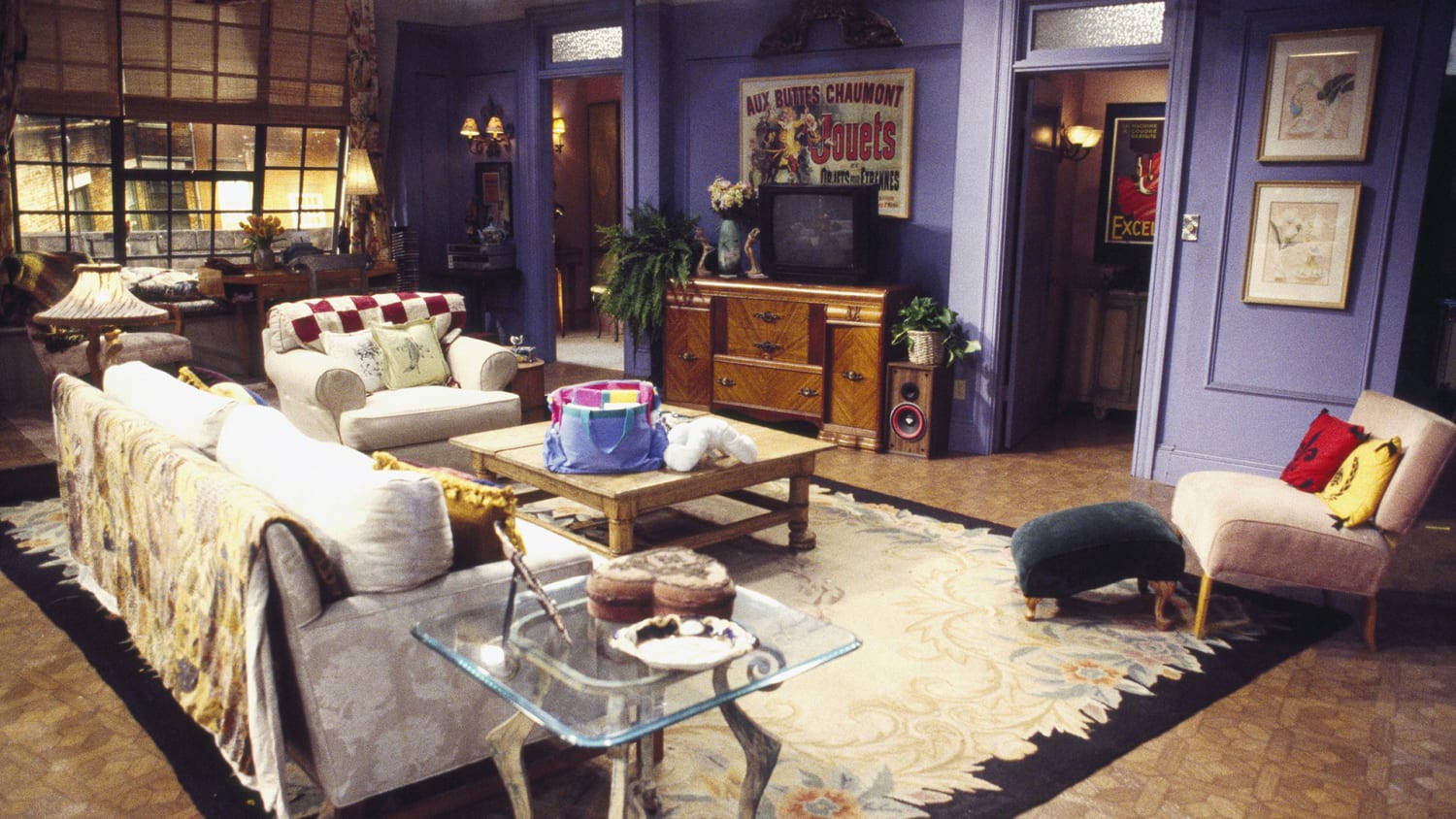 What's staying and what's changing?
I'm going to swap out some materials, but the floor plan will remain the same.
Here are the themes that are definitely going to stay: color, eclecticism, and maximalism. This apartment just wouldn't be the same without those.
What's gotta go:
The bright purple walls – I still want to keep the space colorful, but maybe not so elementary-looking. The purple will remain as one of the main accent colors in the space, though.
The traditional furniture – This was popular at the time, but I'd like to think that if this friend group were to live in 2022, they would have more modern, streamlined taste.
First, let's strip it down
Let's imagine that they're gutting the place and getting rid of everything. I'm talking ripping up floors, painting walls, the whole deal.
I would paint the walls a nice neutral but and bright but still warm white that can keep it sophisticated looking even if there is a lot of color in the furniture and accessories.
And we're changing out that orange-toned patterned linoleum with some nice, cooler-toned herringbone floor. Because my go-to for almost every design is a cooler-toned herringbone wood. You really can't go wrong.
Ignore any minor imperfections you see here (I did it by drawing over the picture in Procreate, be patient with me), because furniture will likely cover it. And if not, we'll touch it up in the end.
Here's what Monica's 'Friends' apartment would look like in 2022
This apartment is the embodiment of cool, stylish, and a little bit impractical. And if that doesn't describe the life of the Friend's characters, I don't know what does.
The updates to the 2022 version of the iconic Friends apartment
Let's start with the couch. I wanted to pay homage to the purple wall, but make a it a little more modern looking. So I went with a Lilac version of the iconic Mario Bellini sofa.
Another staple of the room: the Samsung frame TV. Everyone knows that a TV is a massive eyesore in an apartment. I'd like to think that Monica in 2022 would want a TV that doubles as a piece of art. It's the ultimate accessory to any maximalist home.
For the TV stand, I wanted to bring in a bit of the eclectic vibe by opting for a more detailed, semi-structural piece from West Elm. The wood grain contrasts with the grain of the wood. And then when you add in the oval wooden coffee table from Homary, it creates a trio of mis-matched wood to keep things interesting.
Some other details:
The plush, retro rug ties in the purple in the couch and gives some whimsy and color to the room.
The olive green lounge chair adds a touch of sophistication and brings in some dark color along with the forest green window seat. This apartment is obviously the hub for gathering, so a variety of lounging spaces is a complete necessity.
I had to scrap the dated, floral drapes for neutral, translucent beige curtains. These will give some flow and lightness to the space.
And of course, all the fun details. The disco ball planter is hanging over a gold and marble bar cart: both necessities for entertaining in my opinion. I had to throw in some fun, colorful throw pillows, too.
I also wanted to keep the mini gallery wall on the right side of the room. So I incorporated some colorful, maximalist art to bring the 21st century.
And that's the final result! Let me know what you think of this 2022 take on Monica's apartment. And drop a suggestion in the comments for the next iconic room redesign!
About me
Hey my name's Hannah Michelle Lambert, the voice behind homey homies. I'm an LA-based blogger and interior designer. I'm passionate about fun, adaptive, and affordable design that is filled with personality. And I'm a huge believer in a good DIY. Thanks for stopping by and I hope you find the inspiration you're looking for – and maybe a little extra 😉
---
Note: This post may contain affiliate links, so I may make a small commission if you make a purchase. But this does not increase the cost to you at all – it comes out of the seller's pockets.